MMA Viking's UFC Sweden II preview series continues with a all Swede match up featuring Stockholm's Papy Abedi and Gothenburg's Besam Yousef. The fight will be shown live on Facebook.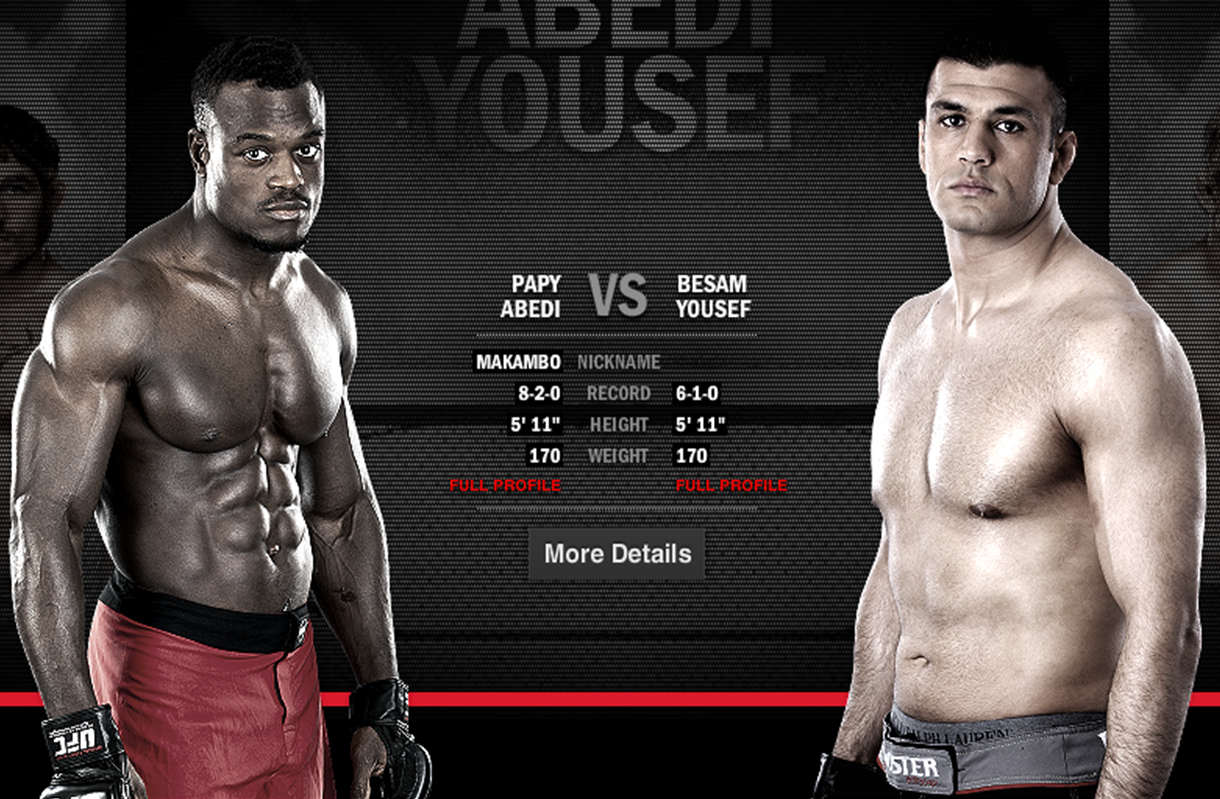 Papy Abedi (8-2, 0-2 UFC): Congo born but now a resident of Sweden Papy Abedi signed with the UFC as a undefeated middleweight prospect. Abedi dropped down to welterweight for his UFC debut where he was thrown straight to the fire by matching him up with former top contender Thiago Alves. Abedi lost to Alves by submission in the first round but showed that he came to fight and even managed hurt Alves with a stiff front kick to the face. Abedi's second UFC bout took place a year ago at the UFC Sweden I where he again started strong against James Head but faded away after opening minutes and got submitted late in the first round. Athletic Abedi comes from a extensive background in Judo that he has trained since he was a little kid. Early on his career Abedi won his bouts mainly by mixing his slick judo skills and heavy Ground and Pound. Lately Abedi has mostly relied on his striking on the feet and used his grappling only to keep the fight  on the feet. Abedi's best qualities are his solid grappling, heavy hands and explosiveness. Unfortunately using fast switch muscle fibers takes a lot of energy so endurance isn't one of his strong points, especially with a weight cut to welterweight it seems.
Papy Abedi vs Nathan Schouteren at Superior Challenge 6

Besam Yousef (6-1, 0-1 UFC):  Yousef, who made his UFC debut a year ago in UFC Sweden I, will fight his second UFC bout at the same venue Globen arena in Stockholm. Yousef's signing with the UFC a year ago came as a surprise to many as he hadn't faced any high level Euro fighters and didn't hold a position on European rankings. In his UFC debut Yousef put on a good fight against Norwegian Simeon Thoresen despite losing by submission in the second round. Yousef showed fearless attitude and solid overall game in the Octagon. Since the fight at the Globen Yousef has been battling with injuries, both his own and his opponents, which had lead to many of his scheduled fights getting cancelled. Yousef has some background in boxing and based on his previous fights he is dangerous in the clinch where he can use his brute strength to manhandle his opponents.
Match up: Both guys have power in their hands and are willing to use. Abedi might be faster one the feet. Abedi's strong grappling pedigree should give him the edge on that department too but Yousef, who comes from a grappling oriented camp, isn't clueless on the ground either.
Summary: Well one thing is for sure: this fight  is not going full rounds. Both guys are hittable on the feet while they pack dynamite in their hands and are willing to throw leather. If Abedi goes back to his old ways and mixes his judo takedowns with Ground and Pound, it might be a bad night for Yousef. But if the fight stays on the feet, it's anybody's game and the longer the fight goes, the more it should favor Yousef. In the UFC Abedi has gone 0-2 and Yousef is 0-1 with multiple cancellations so this is clearly a loser leaves town match up. It will interesting to see if this added pressure makes the fighters go all out in full berserk mode or will they point fight with a carefully drafted game plan.