MMAViking.com partner Unibet has plenty of opportunities for betting value on the massive UFC 167 card. Although there are no Nordic fighters on this card, it is still outsanding and with a special offer through our betting partner, you can get a huge sign-up bonus by clicking on the Unibet banner above or below. If you like underdogs, this may be the card for you.
Unibet Odds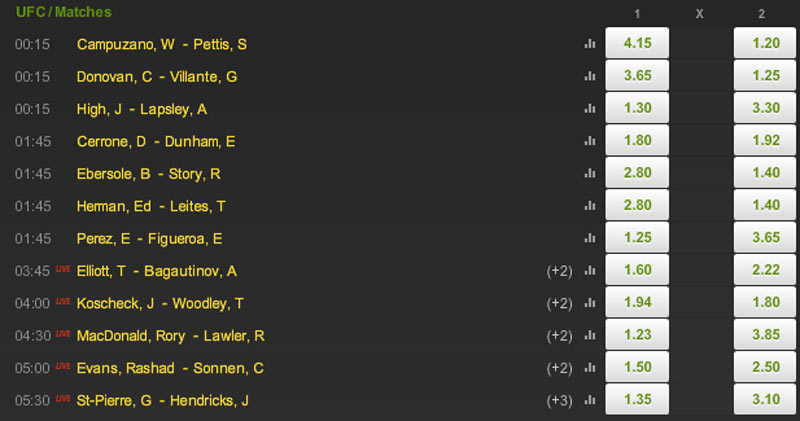 Click for the most current odds
Look no further than Robbie Lawler for a juicy bet at 3.85.  The American has won his two UFC bouts from his return, and has the KO power to end the Canadian Rory MacDonald.  Ruthless took out Kozcheck back in February, and could do it again here.
Another underdog could be Chael Sonnen at 2.50.  Sonnen is coming off an impressive win, submitting Mauricio Rua.  While Rashad Evans (1.50) will have the speed advantage, Sonnen has the size.  With an uninspired Evans losing earlier in the year to Antonio Rogerio Nogueira, it is unkown what Evans will step into the cage.
Johny Hendricks is another underdog at 3.10 with KO power.  While GSP has beaten many wrestlers and has looked superior for years, the wrestling ability and big left hand gives Hendricks a shot at this one.
MMAViking.com also likes Woodley over Koscheck, who has been injured of late.  Look for Woodley to nullify the wrestling and get the best of the action on the feet for a decision win.   Woodley is a slight favorite at 1.80.
If you like others post them below.
Official Weigh-In Video
Special Sign-up Bonus for Finland, Norway, and Denmark