Brand new Finnish promotion Grand Combat Entertainment has announced another bout for it's first ever event that will go down on Dec 14th in Salo, Finland. Rising Finnish welterweight Juho Valamaa (6-2) will battle hard hitting Frenchman Seydina Seck (15-9).
Valamaa is looking to keep his two fight win streak alive against tough opponent in Seck. The Finn won his previous bout in November at Cage 24 where his submitted Frenchman Romain Perras with an armbar in the first round. Valamaa is 6-1 in his last seven with a lone loss to another France based fighter in Shamil Ismailov who knocked out the Finn at Cage 22.
Valamaa's manager Olli Hartikainen is feeling confident for his protege:
"The Frenchman is much more experienced than Valamaa and most of his losses are to top level guys. He is dangerous on the feet so Juho has to stay alert right from the beginning. Juho has marvelous endurance and work ethic. Other than being a bit injury prone, he has no real weaknesses. It seems like his work with S&C coach Vesa Vuori has already paid off. Juho has tons of potential and the environment where he's at is suitable for further development as a fighter. The biggest problem is a lack of training partners. Valamaa will take time off from work next year, focus on MMA and go for training camps abroad. "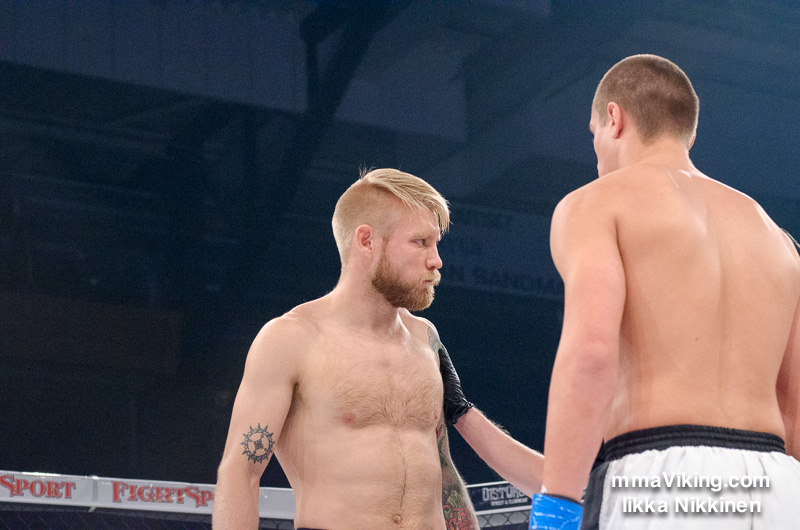 Seydina Seck is a experienced fighter who has fought close to a decade in the Euro circuit. Explosive Seck has had his ups and downs during his career but his heavy hands has gotten him some good wins. The Frenchman holds notable wins over UFC vet Simeon Thoresen and highly regarded Gael Grimaud. Seck has fought just once in 2013. He beat an unknown Russian Ilya Isaenkov by TKO in April.
GCE's first show will be headlined by lightweight match up between UFC vet Anton Kuivanen and Oriol Gaset of Spain.
Grand Combat Entertainment Promo Video