Photographer and writer Kittil Aarnes from MMA-Norway.com & Aarnes Photo visited Fighter Sport's main store to observe an autograph signing for Simeon Thoresen shortly after his historic win in the UFC. Thoresen finished his match in the second round with submission over Swede Besam Yousef for Norway's first victory in the Octagon.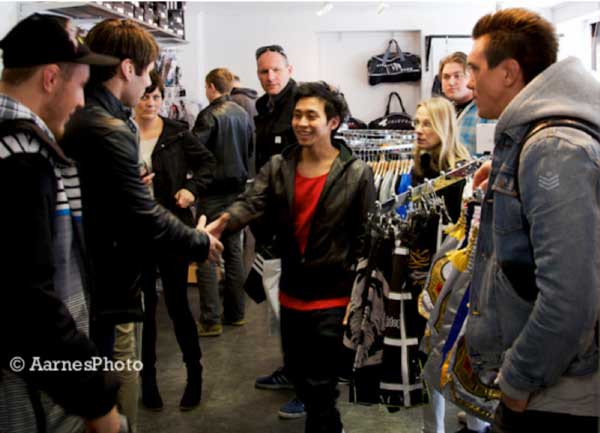 "Just as Simeon is both humble and confident, his career is a mix of experience and talent for future greatness." says Aarnes.  Learn more about the afternoon of autograph signing, taking pictures, and talking to fans about the big match on this sunny Saturday in Oslo, Norway.
(Pictures and article below from Kittil Aarnes, translated from Norwegian)
"Congratulations with your victory in the fight!" A young boy comes over and reaches out his hand to Simeon. Simeon has taken a break from signing autographs, but quickly gives the young boy's attention and politely.
"When is your next match?"Simeon thinks about it, but says that he expects to go no later than September, when the UFC will probably return to Europe, but that he hopes to have been a fight in July. He is in good shape, the injury from his last game, and have gotten blood on the tooth.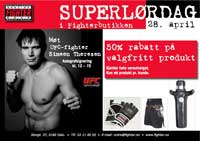 The experience of performing in front of 16,000 screaming fans can hardly be described with words, but when you see how the eyes of Simeon moves in enthusiasm as he says, we learn that this is great. This is what he wants and he wants it as quickly as possible.
It turns out that the young boy witnessed the fight to Simeon in the Globe, and he glows at least as much when he tells how the atmosphere was. "It was absolutely crazy atmosphere there. We were more than Norwegians who shouted and screamed when you were fighting, even though we were in the minority among the Swedes. " Bilal Chaundry, the boy called, had taken flight to Sweden together with 3 other Norwegians, and they were one of the many Norwegian enclaves that had found its way into the Globe Arena from thousands of Swedish supporters to vote for Simeon.
Simeon says he primarily was boed by the Swedes, it was a Swede he met, but that he also heard from the Norwegians and saw so many Norwegian flags that swayed in the arena. "It fired me up just to be in there and get boed," said Simeon as he goes in his characteristic grin, which has given him the nickname "The Grin".
"Some say that they get the nerves in his first UFC fight, it's a completely different arena to go on, but for me it felt like forever, just that I was even more excited by the energy the audience gave me." "I knew that he (Besam Yousef) was going to run on from the start, and he did well, so I stuck to game plan was to meet aggression with technique, and I saw the end of the first round that he was tired. He hit me almost, except when I was in Guarda his and got a few elbows to the head, they knew me, but apart from that I had not a mark after the game. Many people ask me if I was hit or shaken, but I was hardly hit at all "says Simeon confidently.
Simeon said that there was a change from Christmas and his contract with the UFC was in the box. He was recognized on the street, he got lots of new friend requests on Facebook and his post-match in UFC, he had to suddenly sign autographs, which he said felt very strange. "I was in training, and then suddenly there was a guy over and wondered if I could sign some stuff. I was completely put out, it was very strange. "Something tells us that this is something you have to get used to in the future, Simeon? "Yes, it's very strange but also very nice that people show interest.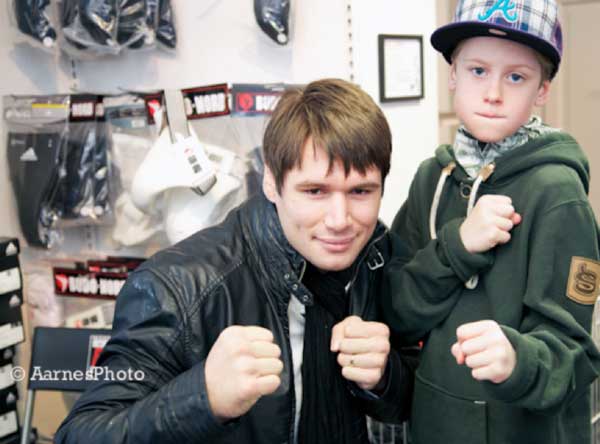 The time has passed one and the store is now completely full. Among the many who have found their way in, we see that among boys with tapout-shirts, including several families, children and girls. Fighter is running a promotion where you can get half price on an item that day, but those who have appeared for the offer's sake, is also clearly curious about who the dark, tall man standing at the end of the store and sign autographs are. A father and his two sons are on their way out of the store with their autograph in hand, and MMA Norway stops the little family for a chat.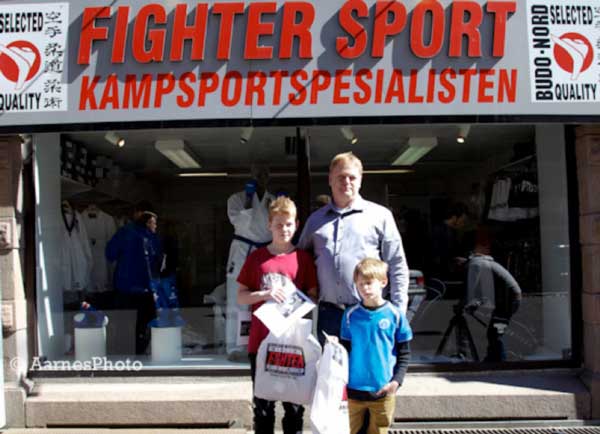 Preben, Peter and Ted Heen train karate, and the father says that when his children started eighteen months ago, he was also curious and took the opportunity to start up the activity and get in shape. Now the entire family of six train, and the boys in the family had made the trip down to the Fighter to purchase equipment. "Do you know who that has the autograph?" Both the kids shake their heads, but when we explain who it is, they both smile. They do not know so well of Mixed Martial Arts, but I understand that it is a martial art branch that blends many different styles and techniques.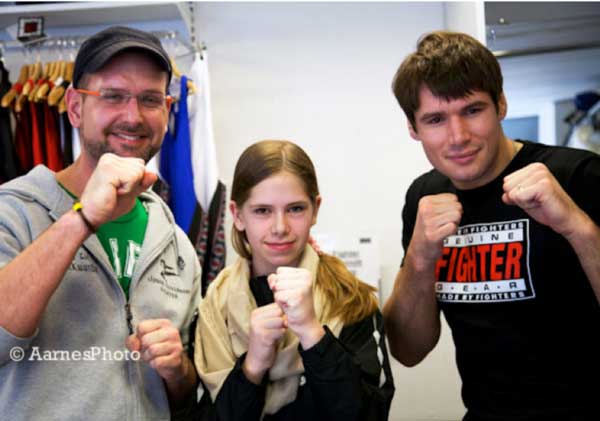 Inside the shop, we meet a father and daughter who also has the autograph of Simeon. Father says that he eagerly watched the match live to Simeon in the Globe. He was impressed with the level of the audience, it was a completely different atmosphere in the arena compared to other events he had attended in England. "Are you in MMA all together?" we ask. "Oh yes, we are eager fans all together! The whole family involved in martial arts, we are already 4 black belts and hope soon that we are 5! "Monica Davidson looking up at his father, and he tells us proudly that Monica, who is only thirteen years, already has a black belt in Taekwondo. "But I like to practice martial arts also" replicates she quickly. When asked what the father thinks that her daughter one day will go a MMA fight, he replies cash: "I have no problems! If she wants it, so it is clear she will get it. Just look at Gina Carano or Ronda Rousey, they are great athletes both!"
"Martial arts is good for human development. It teaches you humility, respect, discipline, and it's good for your health. It's a shame that not full contact is allowed in Norway. There are no good reasons to prohibit it. Many other sports have a lot more damage and risks, but they are still allowed. I have never seen a single child involved with martial arts bully another child. Martial arts forms like a positive person. There are only positive. " Jason Davidson glows when he talks about martial arts. The daughter stands and nods their heads when their father says. There is no doubt that this is a true martial arts family, and there is no doubt that martial arts means a lot to this family. We at MMA Norway delighted on behalf of our family and waiting in suspense to see if Monica and her siblings can be torch bearers for the Norwegian martial arts in the future.
He is actually more than interested in talking about his future in the UFC and he does it with such conviction that it is difficult and not imagine a future title contender. "Several people have talked about a meeting with Rory McDonald, I think I could become a good fight!" says Simeon. Simeon has also trained in the states and met the best in the division there. Simeon says that he has gone well on the training of all foreign fighters he has faced, and we quickly understand that this form of bodily experience to do their self-esteem. Simeon appears to be mentally strong, a trait that is an absolute necessity in a division so deep as a welterweight. It is the division where the wheat is separated from the client, and there is a division where the title holder has been unbeaten for a long time.
"Do you see yourself in a title fight in the future, Simeon?"
"That's what I hope. It is certainly my goal. " But the road is long, and only to Simeon train off a week of intensive pie eating and digesting last victory. "I really don't decide for myself. The UFC who decides everything. But if I get what I want, I take it very much sense at the time. I see a few games to build experience in the division, but the feeling is right then, so I would like to meet one of the best in the division."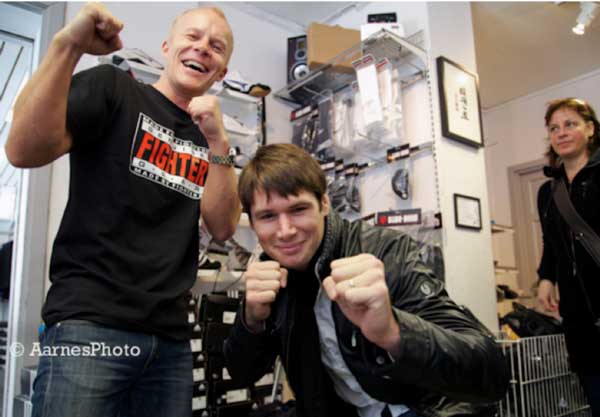 Another person who has spread her martial arts joy in the room this afternoon, Fredrik Bjærtnes, CEO and President of Fighter. Fredrik smiling and laughing, talking, escorted and shows customers that have entered the store with a matter of course. He is responsible for the greatest authority in martial arts Norway, Fighter, and tells passionately about how his business has evolved to represent a whole martial arts environment, across disciplines and styles. There is no doubt that the commitment is rooted in a genuine interest in Norway to supply the best equipment, and Frederick said, among other things, a new type of glove that is under development and is aimed at the MMA sport. It is important for Fredrik and not just martial arts supply Norway, the equipment already exists, but also be an innovator and developer of new ideas, concepts and equipment. This makes him a contender among the major international players.
"It's very nice for us to support the status Simeon Thoresen already have, and give Simeon a venue where he will meet fans and supporters. We will be the best player in the equipment market, and it is important to us that the goods we supply also gets credibility among the fighters that Simeon. We are going to invest much in MMA future, a large part of the future is there! "
As the afternoon draws to a close and the store closed, the Simeon remained. Fredrik will be more than happy to provide some equipment for Simeon and the two are moving along the shelves while the dust settles quietly in the rest of the store. The afternoon is over, and when we cast a last look at Simeon as he stands and evaluate a set of gloves, we see the outlines of a future champion. A Norwegian title holder in the UFC? We have faith.
Pictures from photographer and writer Kittil Aarnes can be found on MMA-Norway.com & the Aarnes Photo website will be ready shortly. Stay tuned!