Yosef Ali Mohammad (3-1-0) will get a shot at the title at the upcoming Superior Challenge X on May 3rd. The massive Swede will again step into the Superior cage and this time will face another Swede in Christian Golcic. Read the announcement sent out by the promotion today.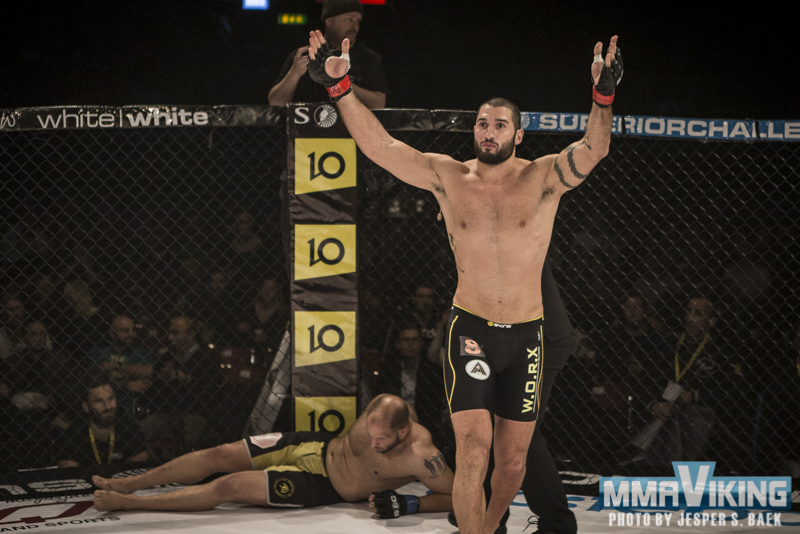 Press Release
Scandinavia's heaviest title match
Yosef Ali Mohammad tackles Christian Golcic at Superior Challenge X May 3 in Helsingborg Arena. The match is the organization's first title fight at heavyweight and a bout between Malmö's two biggest MMA clubs.
An incredibly exciting match between two very even fighters. They are the same length, same weight, same physique, the same age, have the same record and similar martial arts background. The difference is their fighting style which makes this traditional matching extra interesting with Yosef who grappler and Christian as standing fighter. There will probably be many Malmö residents who will go to Helsingborg to see this match between Malmö's two biggest MMA clubs. If prestige was not enough, it will also be Superior Challenge's first heavyweight belt on the line. I can hardly wait until I get to see these two 120 kg giants collide in the cage at Superior Challenge X. – Babak Aghavali , CEO Superior Group International
Sweden has a handful of talented young heavyweight on the rise as a contribution to the European heavyweight division as in the current situation is dominated by Russia and Poland. The two most accomplished heavyweights in Sweden today is Yosef and Christian both of which coincidentally happens to come from Malmö.
This makes Superior Challenge's first heavyweight title bout even a Malmo match between the city's two biggest MMA clubs. Yosef 3-1-0 has competed twice before in Superior Challenge but has only had to spend a total of 22 seconds in the cage. It is the time needed to finish two opponents via KO, first match in 15 seconds and the other at 7 seconds. The AVAM fighter has long been cited as one of Sweden's biggest hope for the future and his incredible physique and aggressive fighting style has made him a crowd favorite in a short time. His only loss is against Viktor Pesta 9-0-0 who recently signed with the UFC. When they met a year ago Viktor was 7-0-0 in the record and entrusted it took Yosef match with only 1-0-0 in the record. After three rounds the Swede was announced the unanimous decision but after an appeal was taken the victory was taken from him and given to Victor instead. Subsequently, Mohammad had time for two more matches and finished both under 1:25 minutes. The next time he steps into the cage, he set the standard for Superior Challenge heavyweight title .
Christian 3-1-0 is another one of Sweden's most promising young heavyweight talents. He has a background in Muay thai and has a Muay Thai Pro Record of 6-1-0 which he topped with a gold medal. Later he conquered yet another gold medal but then in submission wrestling. This will be the Malmö Muay Thai's MMA fighter's first match in Superior Challenge.