Iceland's Gunnar Nelson makes a huge move forward in visibility with a main card slot on the upcoming UFC on Fuel TV 7 card. UFC.com has put up the fight card showing the Nelson versus Justin Edwards bout number four on the fight card under the headlining interim title bout between Renan Barao and Michael McDonald.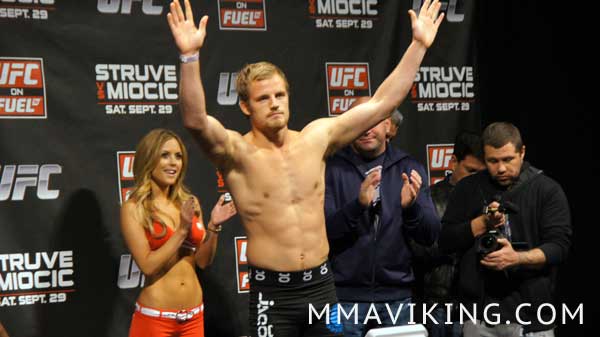 Typically the main card is reserved for the five most high profile bouts on the card. With just one UFC bout under his belt, a first round submission over DaMarques Johnson at September's UFC on Fuel TV 5, the move to the main card in his second bout is quite a statement.
Gunnar Nelson (10-0-1 MMA, 1-0 UFC) will be facing American Justin Edwards (8-2 MMA, 2-2 UFC) in a bout that will take place at London's Wembley Arena. Edwards is coming off his most impressive win, with an impressive 45 second victory over veteran Josh Neer for Submission of the Night at UFC on FX 5.
Fight Card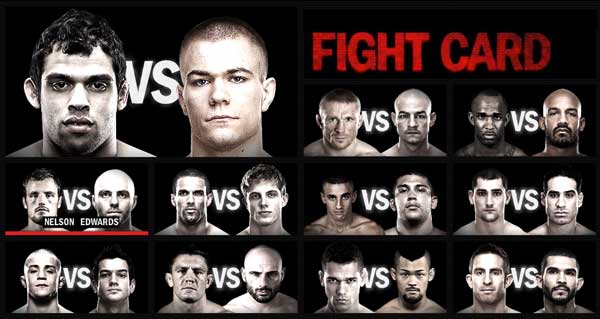 UFC ON FUEL TV 7: BARAO VS. MCDONALD
1. Renan Barao vs. Michael McDonald – Interim Bantamweight Title
2. Dennis Siver vs. Cub Swanson
3. Cyrille Diabate vs. Jimi Manuwa
4. Justin Edwards vs. Gunnar Nelson
5. Che Mills vs. Matthew Riddle
6. Terry Etim vs. Renee Forte
7. Danny Castillo vs. Paul Sass
8. Josh Grispi vs. Andy Ogle
9. Stanislav Nedkov vs. Tom Watson
10. Vaughan Lee vs. Motonobu Tezuka
11. Ulysses Gomez vs. Phil Harris
Note : More fights and changes to the fight card will still take place.