Jack Hermansson (17-4) broke his rib to start off the second round versus Thales Leites (27-9) at UFC 224, but ended up battling back to a third round TKO at the Jeunesse Arena in Rio de Janeiro, Brazil over the former UFC title challenger.
Ouch! 😱@JackTheJokerMMA is a warrior and comes out for the final round at #UFC224! pic.twitter.com/WJXO4rK1xX

— UFC Europe (@UFCEurope) May 12, 2018
"Thales is an exciting opponent and a big name." said the Swede based in Norway before the fight, and he put on one of the most amazing comebacks you will ever see in the Octagon.
In the first round "The Joker" looked to have the advantage on the feet, landing his jab frequently pushing the pace of the and landing shots on Leites. Leites scored a takedown in an effort to gain some momentum but a massive throw from the Swede reversed the momentum back in his favour. He went onto score another takedown from a trip which could have scored him the first round despite Leites having quite a bit of control throughout the round.
"I broke my rib in the first round, and it was difficult to continue."
The second round came as a huge turning point in the fight. The former Cage Warriors champion came out landing strikes forcing the double leg from Leites, however, an awkward landing from Hermansson left him screaming and wincing in pain. Leites controlled the fight on the ground for the rest of the round getting close with an arm triangle but was not able to get the finish. At the end of the round, it was hard to know whether the Swede would be able to continue. It looked as if there was an issue with his knee from the awkward landing.
Leites was the Superior Challenge Champion and fought for the middleweight UFC title back in 2009 against Anderson Silva.
Wow what heart!!@JackTheJokerMMA fights through the pain and STOPS Thales Leites at #UFC224!! 🇳🇴🇸🇪 pic.twitter.com/i0kJmKALvw

— UFC Europe (@UFCEurope) May 12, 2018
Despite the injury, Hermansson bit down and came out looking to finish. He instantly threw a flying and in turn, ended up locking in an arm guillotine which in turn didn't amount to much. The fight concluded with Hermansson breaking free from a tight anaconda chock to gain full mount. From here he went to work and ground and pounded his way to get the stoppage.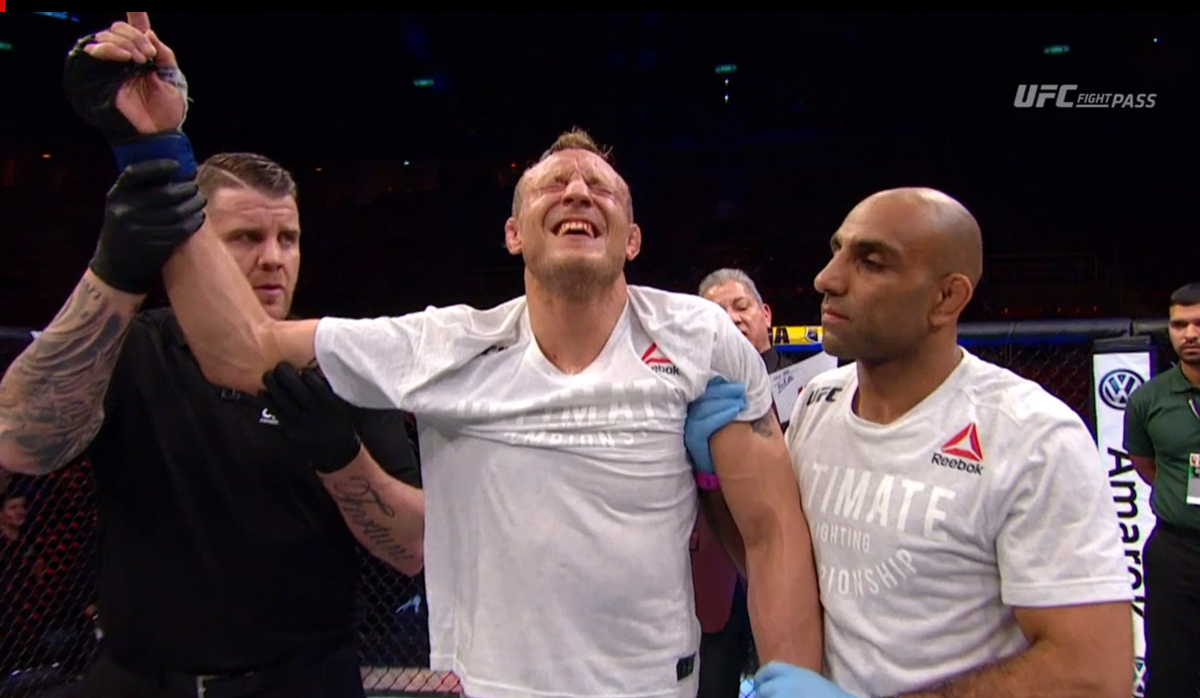 "I have the best ground and pound in the world. When I connect, no one stands a chance."
The official stoppage was at 2:10 of the third round by TKO (punches).
This win now brings the Swede who fights out of Norway to 4-2 in the UFC.
Note : Ryan O'Leary contributed to this article.