Today, the Heroes FC promotion, finalized the MMA and Muay Thai card set for March 23 in Halmstad, Sweden. The card includes a welterweight clash between Abus Magomedov and Andreas Ståhl, which is noted by Sherdog.com as one of the best 10 fights outside a major promotion. The card also has standouts MMA fighters such as Alan Carlos, Yosef Ali Muhammad, Per Franklin, Johan Jorup, and a o-main event between Martin Akhtar and Emil Hartsner. See the fight card below.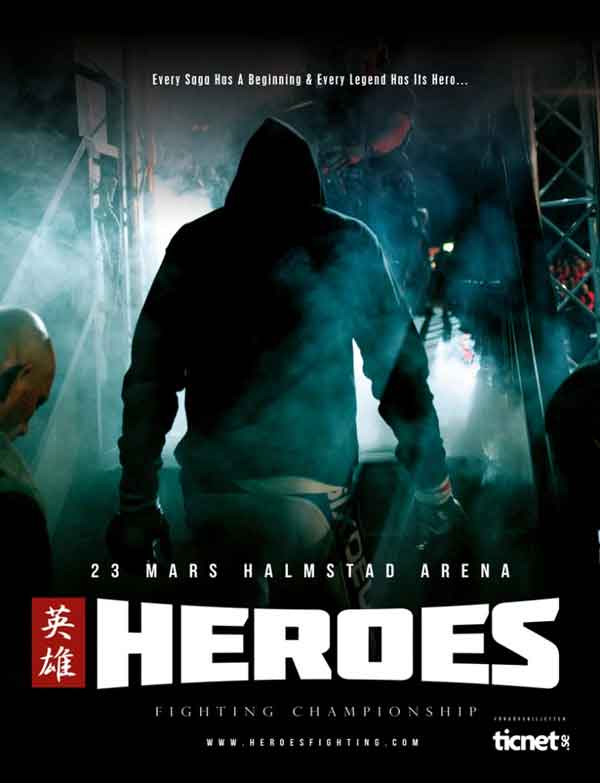 TV Commercial
Fight Card
The fightcard for Heroes Fighting Championship is now complete.
The audience at the Heroes Fighting Championship will see amazing games with outstanding fighters.
Below are all the fights.
Robert Naess VS Michel Ersoy – Featherweight -65,8 kg
Mohammed Abdallah VS Erik Carlsson – Welterweight -77,1 kg
Marcus Andersson VS Jonathan Salminen – Middleweight -83,9 kg
Kim Dahlgren VS Marcus Johansson – Muay Thai B-class -81 kg
LJ Adams VS Lina Akhtar Länsberg -63 kg
Kristoffer Källgren VS Christopher Wassberg – Lightweight -70,3 kg
Jonathan Svensson VS Guram Kutateladze – Lightweight -70,3 kg
Tim Waage VS Per Franklin – Welterweight -77,1 kg
Igor Zabolotniy VS Johan Jorup – Light heavyweight -93 kg
Abus Magomedov VS Andreas Ståhl – Welterweight -77,1 kg
Yosef Ali Muhammad VS Viktor Pesta – Heavyweight -120,1 kg
Christin Fiedler VS Madeleine Vall Muay Thai A-Class -58 kg
Martin Akhtar VS Emil Hartsner – Bantam Weight -61,2 kg Co-Main Event
Allan Love VS Alan Carlos – Middleweight -83,9 kg Co-Main Event
Mauro Serra VS Sanny Dahlbeck – Muay Thai A-class -70 kg Main Event
Betsafe in Norge, Sverige, Suomi and Danmark!