Should we calm down for a while? Most Finnish MMA fans and experts around Europe would like to see Tom Niinimäki (18-5-1) fight in the UFC, but "Stoneface" himself is mostly satisfied at his situation right now.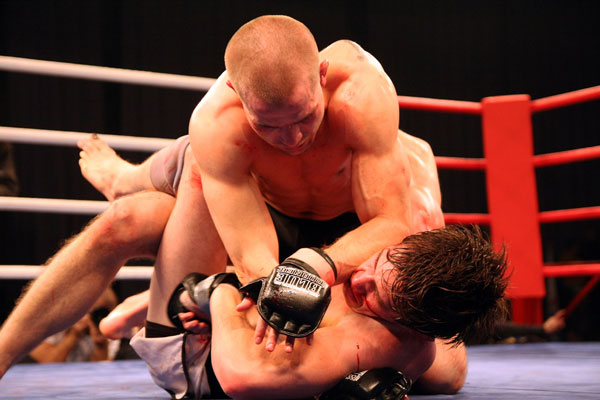 Niinimäki signed a year-long contract with the Finnish Cage promotion with a plan to get some career-advancing tough fights on home soil. And Cage did what they had to: Finnish featherweight star will defend his title in May against Chase Beebe (24-9-1).
"Signing with Cage seemed like a logical step now, they are definitely the best organization in Finland, and top-level in Europe", Niinimäki explains.
American Beebe has been fighting for Bellator FC on a non-exclusive contract, so the Finnish promotion made him one of the biggest offers in their history. 27 year-old fighter is a former WEC champion, and a Dream veteran as well.
Having fought both as a featherweight and as a bantamweight, Beebe has faced big-name fighters like Miguel Torres or Mike Easton, but crucial losses and personal problems have held back his career.
Nevertheless, for Niinimäki a win against Beebe would be a valuable proof of his skills.
"I'm really excited about this fight, I have to tip my hat to the Cage promotion. I don't even know what kind of other choices they had, but this is fine", Niinimäki told FightSport.fi.
When a man known for his ice-cold calmness says he is excited, there is a reason to believe. But Niinimäki is not expecting an easy fight, although Beebe just suffered a decision loss to Travis Marx at Bellator 90.
Beebe is a decorated college wrestler who is no stranger to hard striking either – a gritty fighter who poses a credible threat to the Finn.
Get more pictures like this from SHERDOG.COM
"He is the toughest opponent I've had so far. I need to be at my best to win. He is of course a tough wrestler, but he also has a pretty strong stand-up game, seems to be a kind of wild striker", Stoneface analyzes.
Year 2013 might be a big turning point for the Turku-based fighter. While racking up eight straight wins in three years since returning from a long hiatus, he has also had two slow years in a row. Niinimäki needs to make an impact now before years rolling by turn against him.
He only had two fights in 2012. North American debut against Brian Pearman at Titan FC 23 was impressive, but last minute replacement Vladimir Karasiov was not an worthy opponent at Cage 20 in November.
"It was really stressful after the fight against Paul Reed fell through. But it was important to have at least some kind of a fight."
Niinimäki maintains that in the end it was a good year personally.
"I had two valuable camps in the States, and had lots of great experiences there. Had two fights, and two finishes, it could have been worse, though I should have had more fights", Niinimäki recollects his fights, and visits to the Blackzilians camp in Florida.
Some two months before the May fight in Vantaa, Finland, Niinimäki is looking to set up a short training camp abroad again. Florida might not be an option at the moment, but there are some good connections and tough sparring partners closer to home.
"I planning to go train somewhere for a while, maybe Sweden or Norway, there's some familiar places over there. And why not the States, too, if it is possible", he ponders.
Niinimäki signed a contract with the Authentic Sports Management in 2012. While it has opened the doors to Blackzilians camp, ASM hasn't been able to offer him bigger chances career-wise. The problem is that Niinimäki and Finland are located too far from the offices in Boca Raton.
"ASM people wished that I could move to the States, so it would be easier to arrange all kinds of things. But they didn't necessarily understand that it is not so easy to do for me."
"I would definitely go, if all the things could be arranged. We had some talks after my last visit that I would have an apartment and some kind of job in Florida, if I moved there. But no one has discussed that lately. Anyway, I have a great gym here in Turku and I feel like I keep improving all the time. Maybe I will reconsider that, if the next fight does not go well", Niinimäki explains.
His Stoneface personality in the cage is not a show, Tom Niinimäki does not want to rush things outside the cage either. He will grab the opportunity if it arises, but right now he is happy with the Cage contract – which of course allows him to chase the dream if bigger organizations come calling.
"I have a clause in the contract which allows me to get out in that case. That's why it was an easy decision to sign the contract."
Check out Niinimäki's brand new website: http://www.tomniinimaki.com/