Superior Challenge 17 will go down in Stockholm this Saturday.  The card features some of the best local talent outside of the UFC, and given the track record of the promotion's 10 year history, the ones you see fighting in the Superior cage will be making their way to the Octagon soon.  "I am very pleased with this match card and I am convinced that Superior Challenge 17 will be the best gala so far." says Babak Ashti, Founder Superior Group.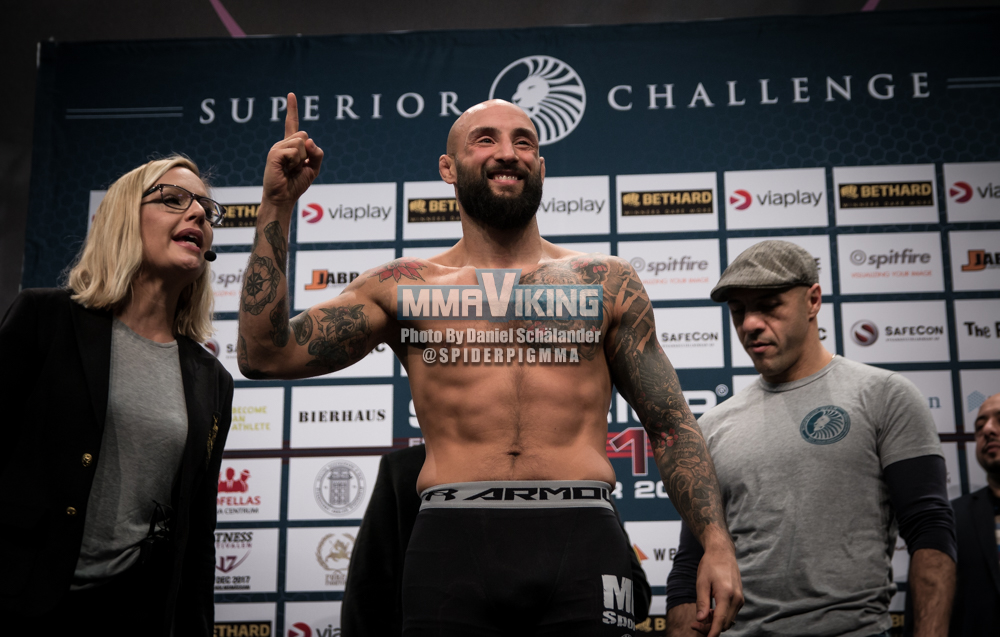 With Superior Challenge 1 going down April 5th of 2008 and this event on May 19th, 2018, the card will be a celebration of the promotion's 10 year anniversary.
While events have journeyed out to Malmö, Gothenburg, and Helsingobrg, the promotion is back to its roots in Stockholm.  The twist for this event is the Cirkus venue –yes, it was used as a circus in the 1800's– which will give fans an up-close theater type of setup for the first time.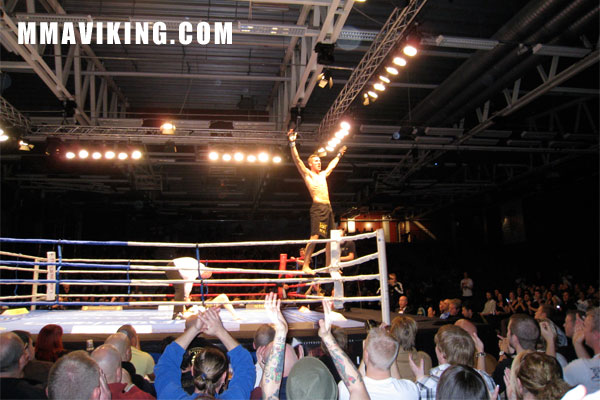 There are 11 fights on the card, with 5 on the undercard and 6 on the main card, and MMA Viking will be reporting cageside with live results and photos.  There are mostly Swedes, a few Norwegians, and a Finn to give Nordic fans someone to cheer for.  Even a belt is on the line before the event is over.  Check out a little preview here:
Undercard: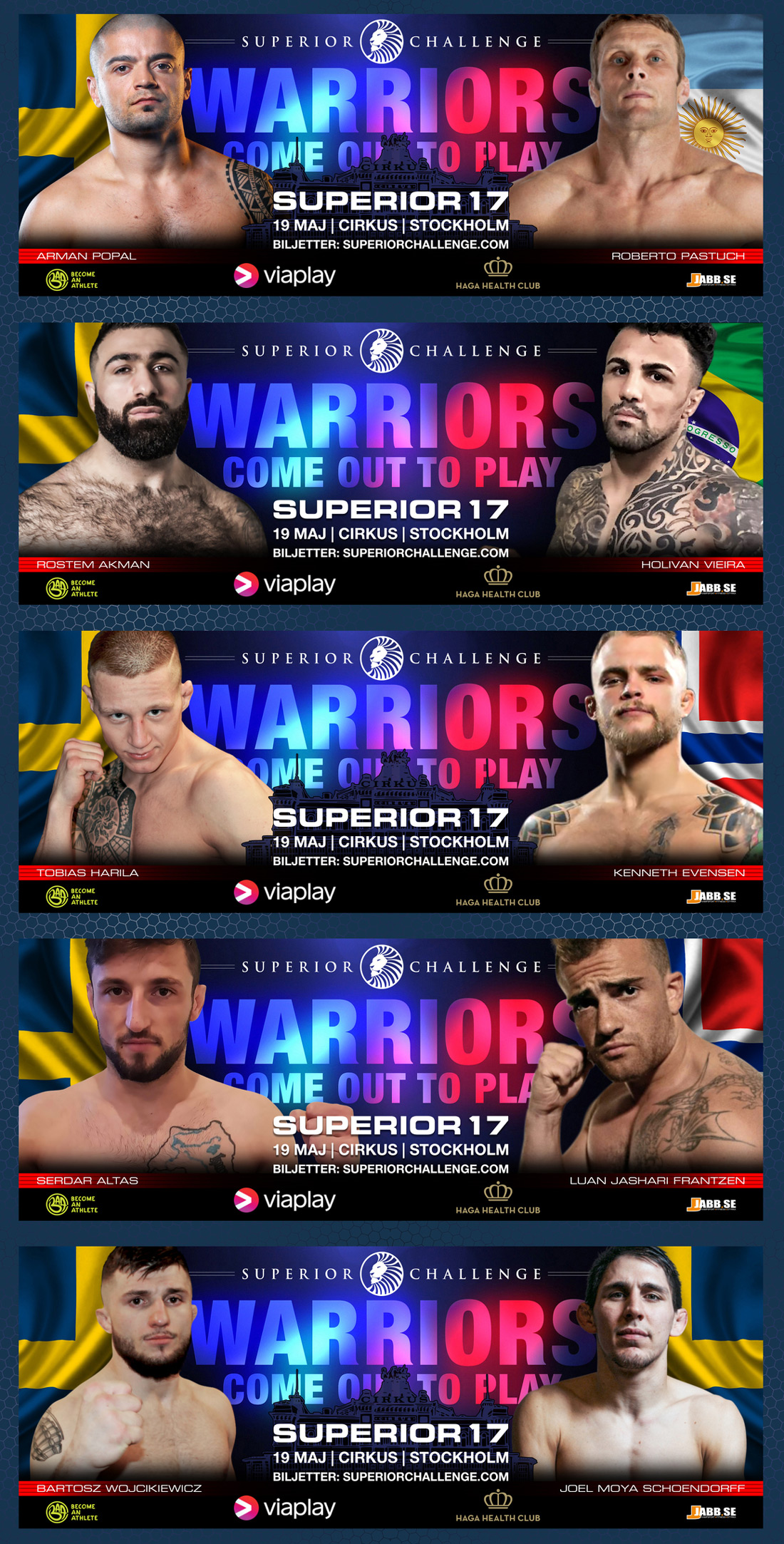 1. Bartosz Wojcikiewicz (0-0, Sweden) vs Joel Moya (1-2, Sweden) – Bantamweight -61,2 kg
Wojcikiewicz is out of Forca Fighting and will looking to start-off his pro MMA career with a win over Moya. Joel blazed through the amateurs with a 24-4 amateur earning double gold medals in the Swedish nationals, along with his even more impressive double IMMAF World silver medalist plus a IMMAF Euro gold medal. With a pro record of 1 win and 2 losses, he will be looking to get back on track against Wojcikiewicz.
2. Serdar Altas (0-0, Sweden) vs Luan Jashari Frantzen (0-0, Norway) – Flyweight -56,7 kg
A pro debut showdown between Atlas and Frantzen is early on the card. Luan comes out of Oslo Fight Center and has earned amateur wins in both Denmark and the UK. Altas is a huge prospect out of Sweden, and has been on a roll, winning the 2016 Euro championships and the All African championships before the most recent gold medal at the 2017 IMMAF World Championship.
3. Tobias Harila (0-0, Sweden) vs Kenneth Evensen (1-0, Norway) – Featherweight -65,8 kg
Norwegian Evensen (1-0) faces Swede Harila (0-0) in a battle of pro MMA newcomers.  "I am so excited to fight this Swedish boy" says the "Berserker" about facing "Bad Intention" in his backyard. "This is my pro debut and I promise u to give u one hell of a fight!" says Harila out of Västerås Fight Club.  "I have done 30 amateur fights FOR FREE!!! Cuz Im a fighter and I love to fight. Now Im fucking getting paid to do what I love and to make money you gotta fight." Tobias has represented Sweden in several IMMAF events, winning the 2017 IMMAF Asian Open Championship and the 2016 IMMAF All Africa Championship.
4. Rostem Akman (2-0, Sweden) vs Holivan Vieira (5-6, Brazil) – Welterweight -77,1 kg
Akman that took the bronze at the 2016 IMMAF World Championships is back in Superior where he won his first two pro MMA bouts. Rostem will be fighting a Brazilian with 8 pro bouts, with his most recent fights in Spain where he did win has last bout, which was in 2016.
5. Arman Popal (3-1, Sweden) vs Roberto Pastuch (5-3, Argentina) – Lightweight -70,3 kg
Popal is now building some good momentum with his run at Superior Challenge, including wins at SC 12, SC 14, and SC 16 with all stoppages. Pastuch is a tough and experienced fighter, and some may remember him from Superior Challenge 11 when he lost by unanimous decision to Fernando Gonzalez.
Main card:

6. Guram Kutateladze (7-2, Sweden) vs Nicolas Joannes (17-13, France) – Catchweight -68,5 kg
Kutateladze is one of the deadliest fighters around with just brutal striking and explosive power. The Sweden-based fighter hasn't lost since 2015 and has won his last four fights. He will fight a 30 fight veteran out of Team Pythagore, who does have a win at Cage 34 against Rasul Khataev. He has more recently been fighting in Belgium.
7. Marthin Hamlet (2-0, Norway) vs Koray Cengiz (7-2, Germany) – Light Heavyweight -93 kg
Undefeated Hamlet is ready for his third pro fight. The Norwegian wrestler will face German Cengiz who comes in with more than 4 times the pro MMA experience. "I am ready and looking forward to show that I have taken big steps." says Hamlet to MMA Viking. Marthin's explosiveness and wrestling pedigree puts him of the unique position of a potential UFC contract after just a handful of fights.
8. Karl Albrektsson (6-2, Sweden) vs Dmitry Tebekin (9-3, Russia) – Light Heavyweight -93 kg
"King Karl" will step into the Superior Challenge for the first time. The explosive fighter out of Pancrase Gym made a splash on the international scene with his last four bouts with the Rizin promotion in Japan. Tebekin has won his last four fights and is an M-1 veteran, and had a win at Cage 41 over Saku Heikola.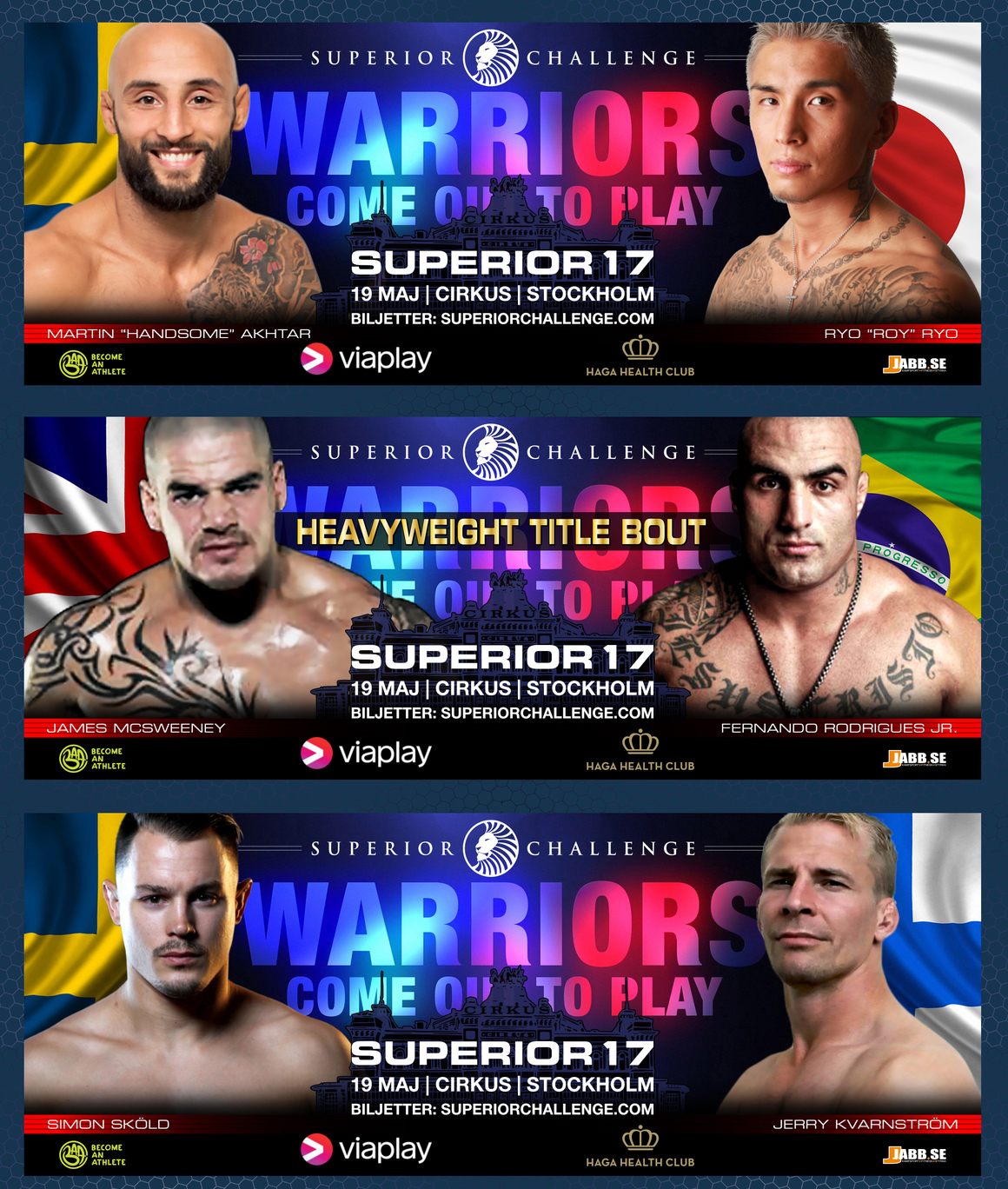 9. Simon Sköld (8-5, Sweden) vs Jerry Kvarnström (13-11, Finland) – Catchweight -67 kg – Co-Main Event
Kvarnström will face "The Gentleman" in a lightweight battle. It will be an opportunity for the 37 year old "AD/HD" to challenge the 30 year old Sköld in his backyard in the co-main event. Kvarnström is an experienced wrestler and has won his last two out of three bouts.  He turned pro in 2005, and a veteran of Nordic MMA heading into his 25th pro mma bout. Skold has won 6 straight bouts, with the last four bouts at Superior Challenge.  He last lost at Cage 23 in 2013 to Mika Hamalainen and has been improving with each fight.
10. James McSweeney (18-15, UK) vs Fernando Rodrigues JR (11-4, Brazil) – Heavyweight Title Bout – Co-Main Event
The UFC veteran "Sledgehammer" is back this time at heavyweight. McSweeney fought back at Superior Challenge 8 in 2012, where he lost to Matti Makela. He has been mostly inactive with his last fight in 2016 and only one win in his last 5 bouts. "Santo Forte" is out of Sao Paulo and lost his last two bouts in KSW with a 16 second and 26 second loss. He does however have two wins over Sweden's Yosef Ali Mohammad.
11. Martin Akhtar (10-5-1, Sweden) vs Ryo Ryo (7-3, Japan) – Bantamweight -61,2 kg – Main Event
"Handsome" gets a surprise headlining spot versus "Roy" on the card. Akhtar has been fighting pro since 2012 and has had ups and downs in his career including a solid 5-fight winning streak in 2015-2016. He is again coming off a win with a submission at Superior Challenge 16 in December and now faces a DEEP promotion veteran. Ryo once had a five fight winning streak, and will be in foreign territory as he travels outside of Japan for the first time in the final matchup of the evening.