Superior Challenge 21 is going down in Stockholm, Sweden Saturday night. Swede Karl Albrektsson (9-3-0) will take on Amilcar Alves (18-20-0) in the co-main event while the much anticipated showdown between Swedes Adam Westlund (3-0-0) and Tobias Harila (7-1-0) in the main event.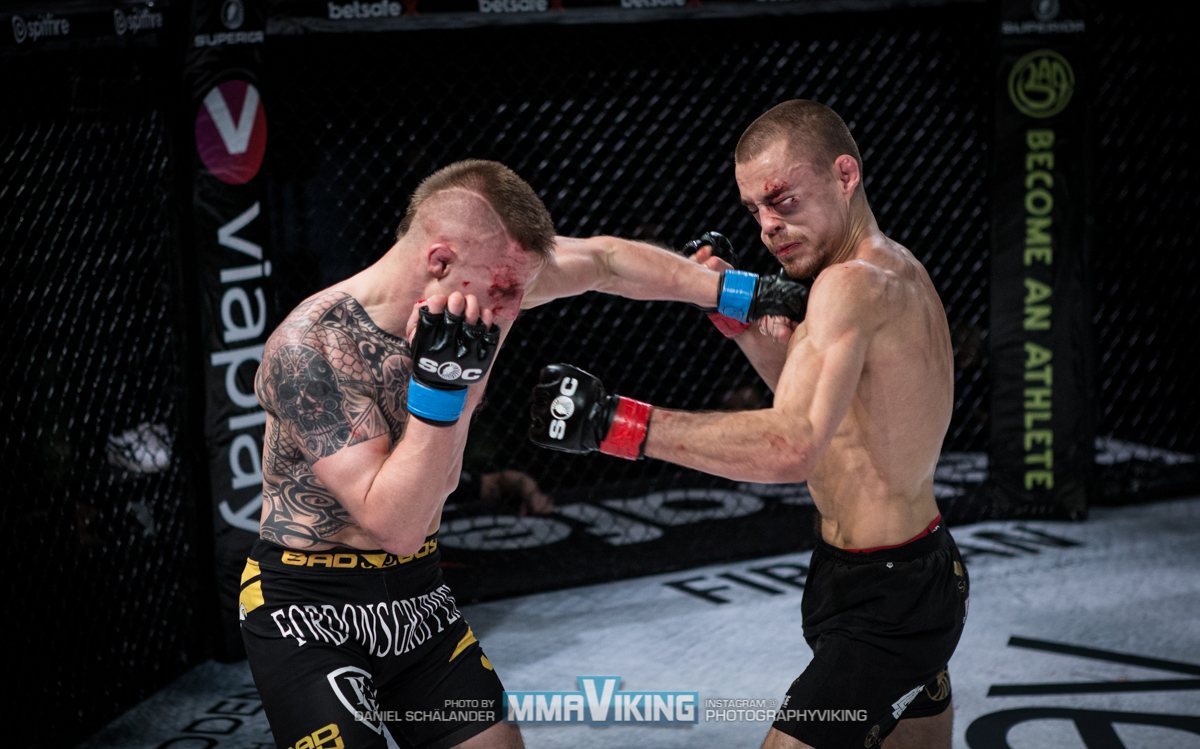 Play-by-Play
Fadi Asfar vs. Shoeb Akrami – Bantamweight
Uppsala's Karar versus Stockholm's Asfar are announced for the first bout of the night in the empty venue. Both fighters stepped on the scale before walking out to the cage, and it was Akrami that weighed 5 KG more and that size shows as they step into the cage and exchange kicks.
A double leg take-down attempt from Akrami, that is able to finish against the cage. But, the fight goes back to the feet. One minute left here and Akrami lands a good left and follows up as Asfar's back is against the cage. a HUGE right hand from Shoeb and the Pancrase MMA fighter is rocked. Shoeb follows up with a barrage of punches to the head until the referee jumps in to stop the bout. TKO in the first round at 4:31 for Shoeb Akrami.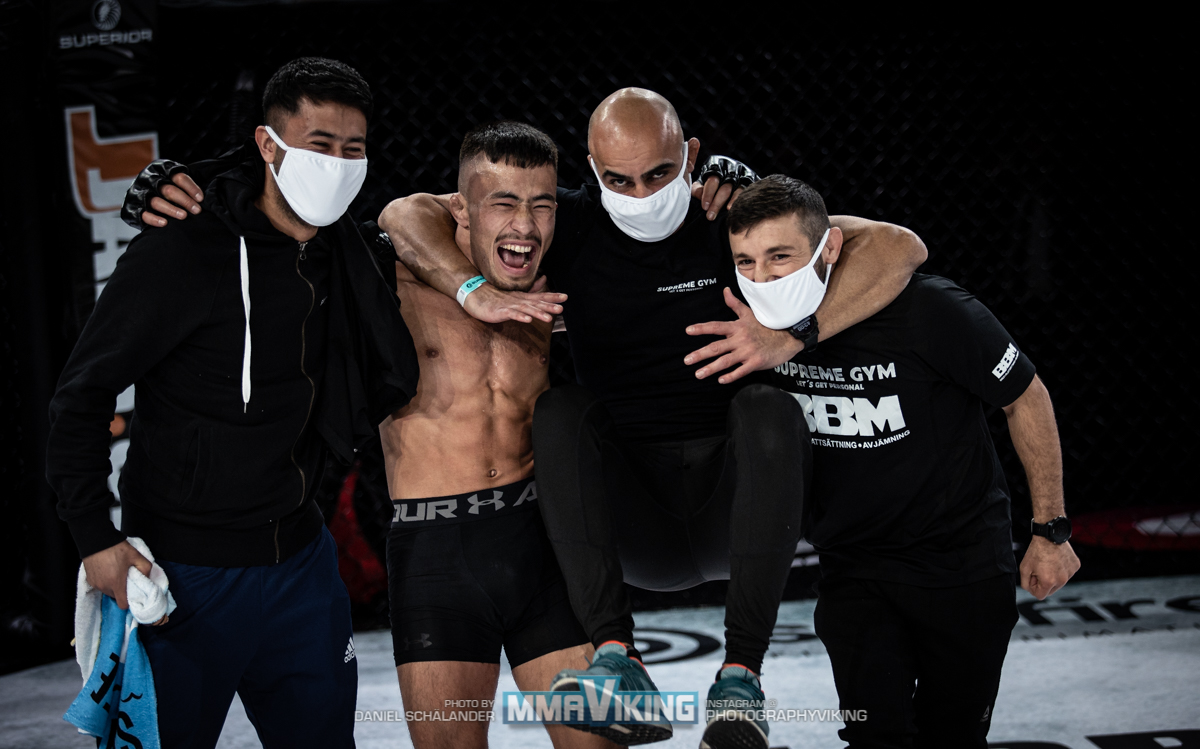 Moraad Moreno vs. Oskar Karlström Biller – Welterweight
Moreno commits to an explosive combination early, and looking to counter Biller. Both fighters using their jab. Moreno does find that counterstrike! A solid right hand grounds Oskar that is quickly back to his feet.
The two tie-up against the cage, with Moreno landing some nice elbows and punches on the break. The grappler from Eskilstuna wants this fight on the ground but can't finish his double-leg take-down. Moraad from Pancrase gym is looking real quick here early, and confident enough for a spinning backfist. Both fighters agressive in the tie-up landing knees and throwing elbows. Fast paced first round, but it is a clear one for Moraad.
Biller moving forward to start the second, as Moraad moves side to side like a butterfly. Both fighters landing punches. Up against the cage and a ripping right elbow for Moreno. Another elbow, and Biller tries to land a flying knee, but Moraad is just throwing punches in bunches in the clinch and then a knee to the face dropping Biller, who quickly flips to his back. Back to the feet, and Oskar lands a high-kick showing he is not giving up. Moreno gets on top and lands some powerful hammer punches on the grappler and just all over with more and more punches to the face, now in side mount and crushing elbows and punches to the face almost forcing a stoppage in the last second. Big round for Moreno.
In the clinch in the third round, and Moraad lands a left then a right knee to the face! Biller is in trouble as again he drops to the mat. Moraad lands a few more hammer fists, and just beating on Oskar. The fight goes back to the feet, but Oscar wants it on his terms on the ground, but Moraad won't let that happen… unless he is on top. Moraad posturing up and landing more punches to the face and the fight comes to end. Moraad Moreno wins by unanimous decision.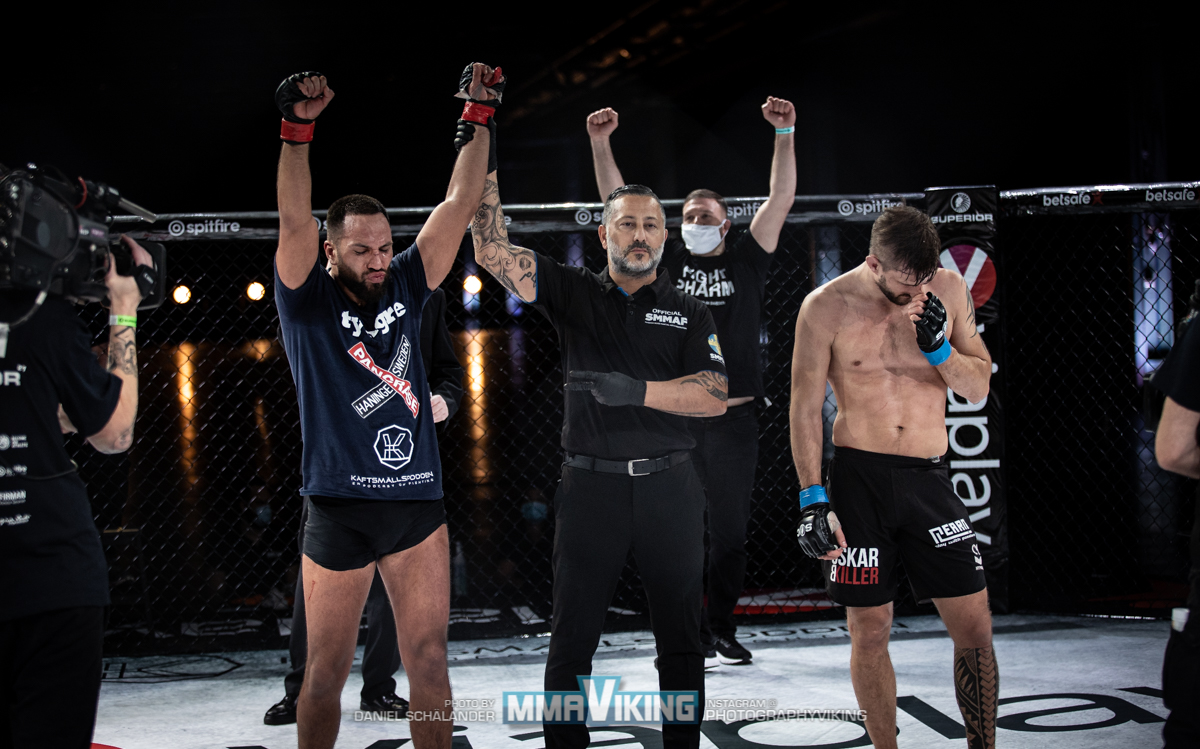 Fernando Flores vs. Robert Nystrom – 68 KG catchweight
Fermando landing some big punches early against the cage, and a stunned Nystrom shoots for a take-down. "El Toro" counters with a front headlock. Back to the feet, and Flores again looking to land that straight right hand. The southpaw Nyström can't find his rand and getting caught on the feet. Back to the ground, and the Halmstad fighter looking for his guillotine, but transitions to back gaining the advantage with over a minute left here. Bck to the feet, where the round ends after some more quality exchanges. Clear round for the Renyi fighter.
Robert trying to find his grow striking, but Fernando is able to land the cleaner punches. As Fernando charges, Nyström shoots in for a take-down, but ends up on his back as Flores defends. The Halmstad fighter's face is bloodied now, but is able to get back to the feet, where he takes a clean kick to the body. Flying knee lands from Fernando that decides to take the bout to the ground. The round ends on the feet, with Fernando ending with a little dance to the MC Hammer music that plays between the rounds.
Robert does not look discouraged as he comes out aggressive, but after he is hit he slides to his face on a slippery mat. Time is stopped and it is tried. What a fast pace, and both fighters in tremendous shape here. Fernando catches a kick, then kicks out Robert's leg for a quick take-down. Nystrom trying to finish one of his take-downs, and gets this one up against the cage. After a scramble, Nystrom gets back and sinks both hooks in, but eventually slips off. What a fight!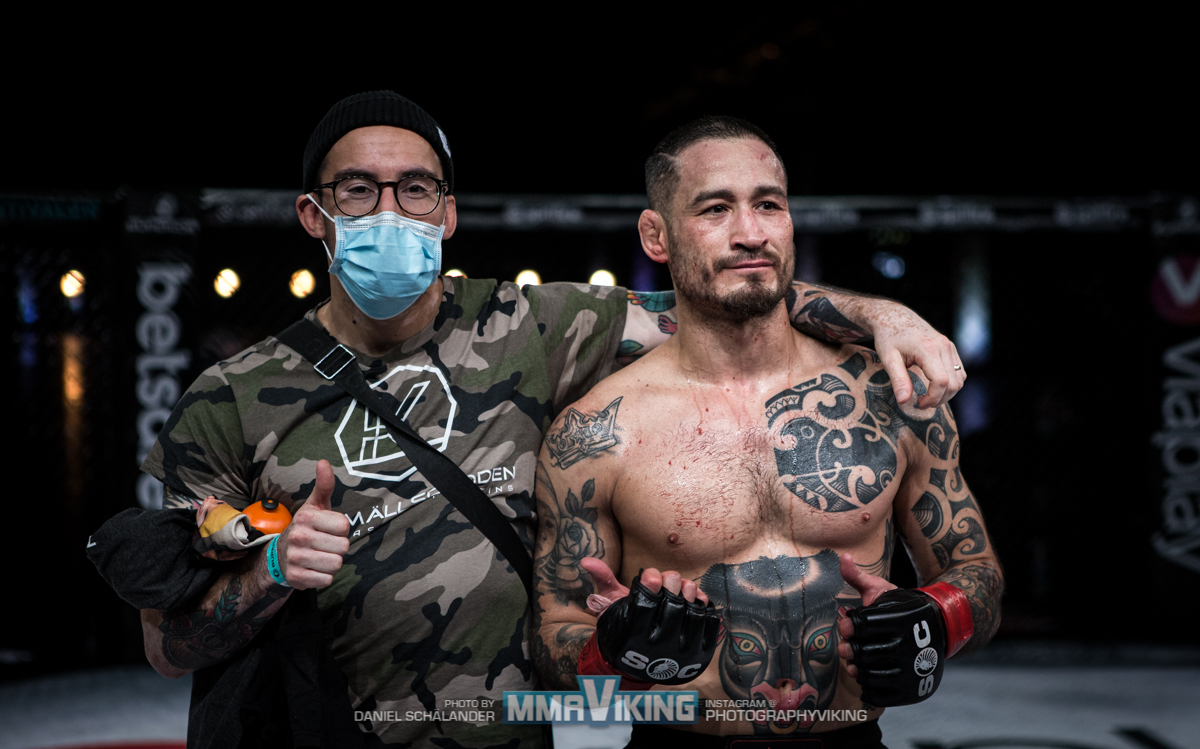 All three judges give it to Fernando Flores.
Robin Roos vs. Cristian Corujo – Welterweight
Corujo pressing forward, with Roos looking to counter. Roos has a nasty low right kick, which he lands again. Another solid right kick, then right hand for the Swede. The legs fo Christian are redenned from all the kicks, and doesn't know which leg to lead with.
Roos is a smooth machine just chopping down Christian with pumches up high and low, and even a right knee to the face as the visiting fighter attempts a take-down. Roos starts to land big punches, and more unanswered punches, and it does not look like Corujo can continue. TKO… it is all over. 2:19 in round 2 for Robin Roos.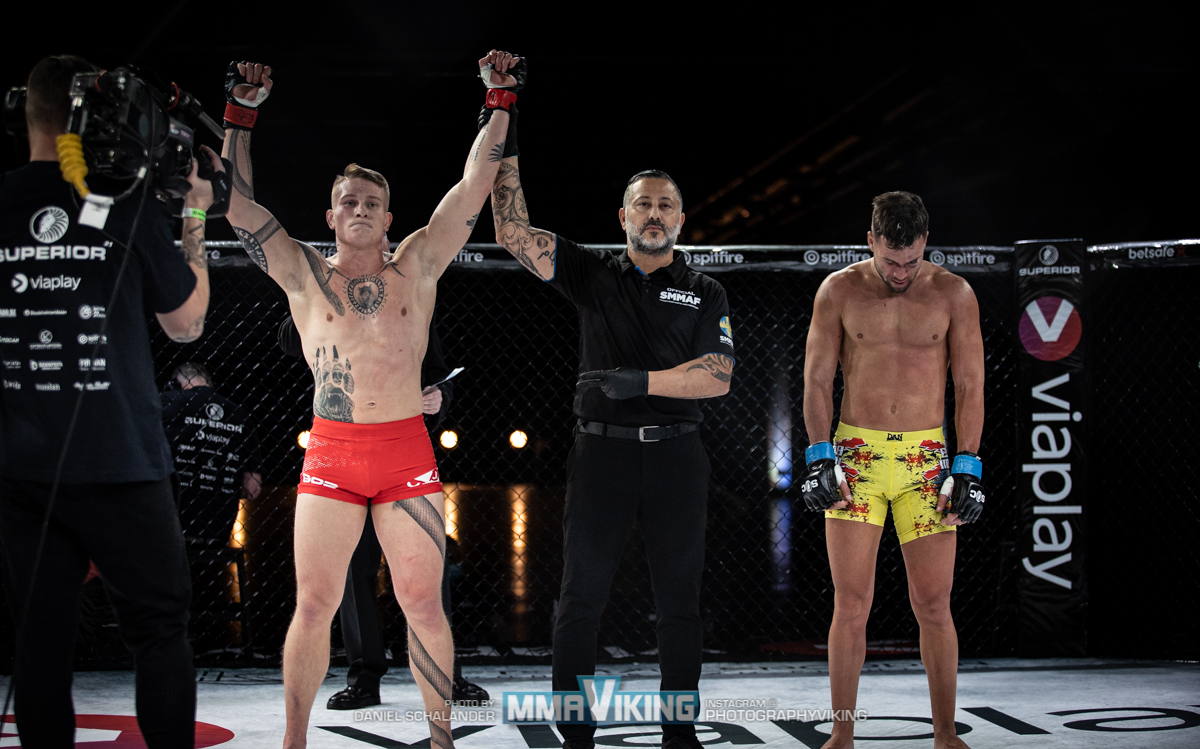 Bartosz Wojcikiewicz vs. Anton Larsson – Bantamweight
Wow. Larsson comes out and lands a shot right off the bell, but Wojcikiewicz jumps in for a take-down bringing the fight to the ground. Bartosz was building toward full mount, but Anton recovers. Wojcikiewicz in full control and taking back, looking for a rear-naked choke.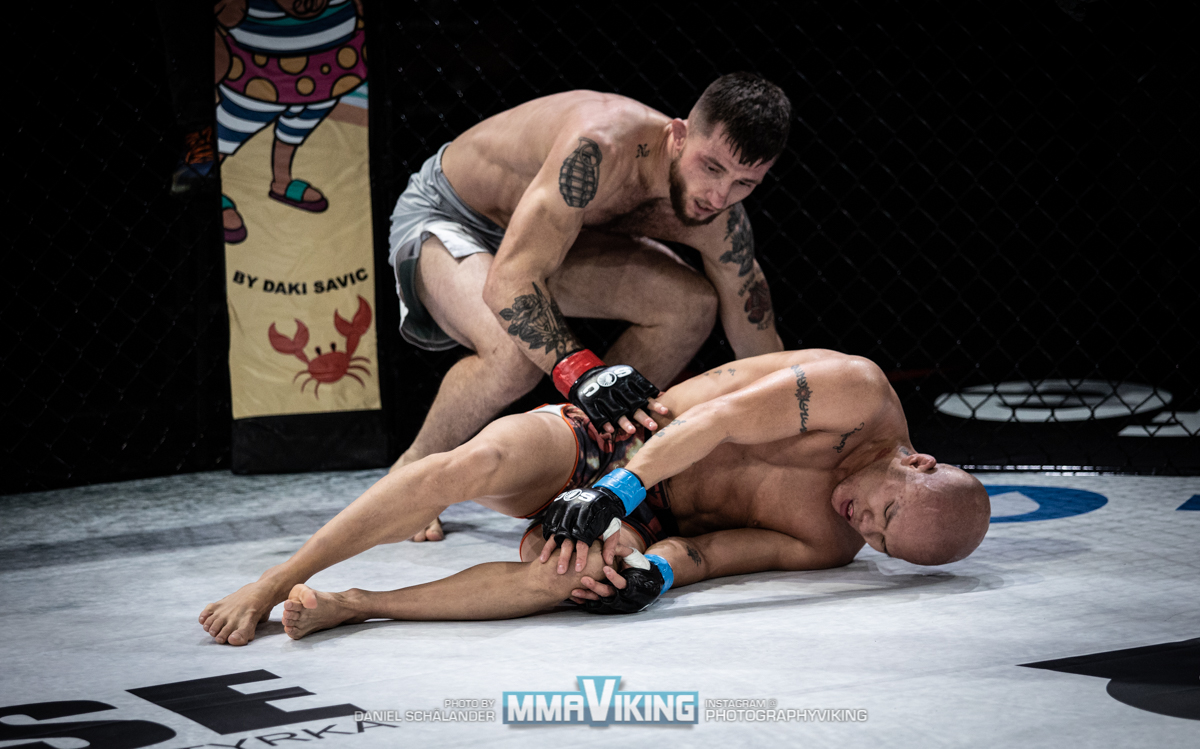 Oh, Larsson yells and it is his knee, which he looks to hyperextend. The fight is all over due to injury. The fighter from Umeå is in a lot of pain. Winner Wojcikiewicz at 4:30 in round 1.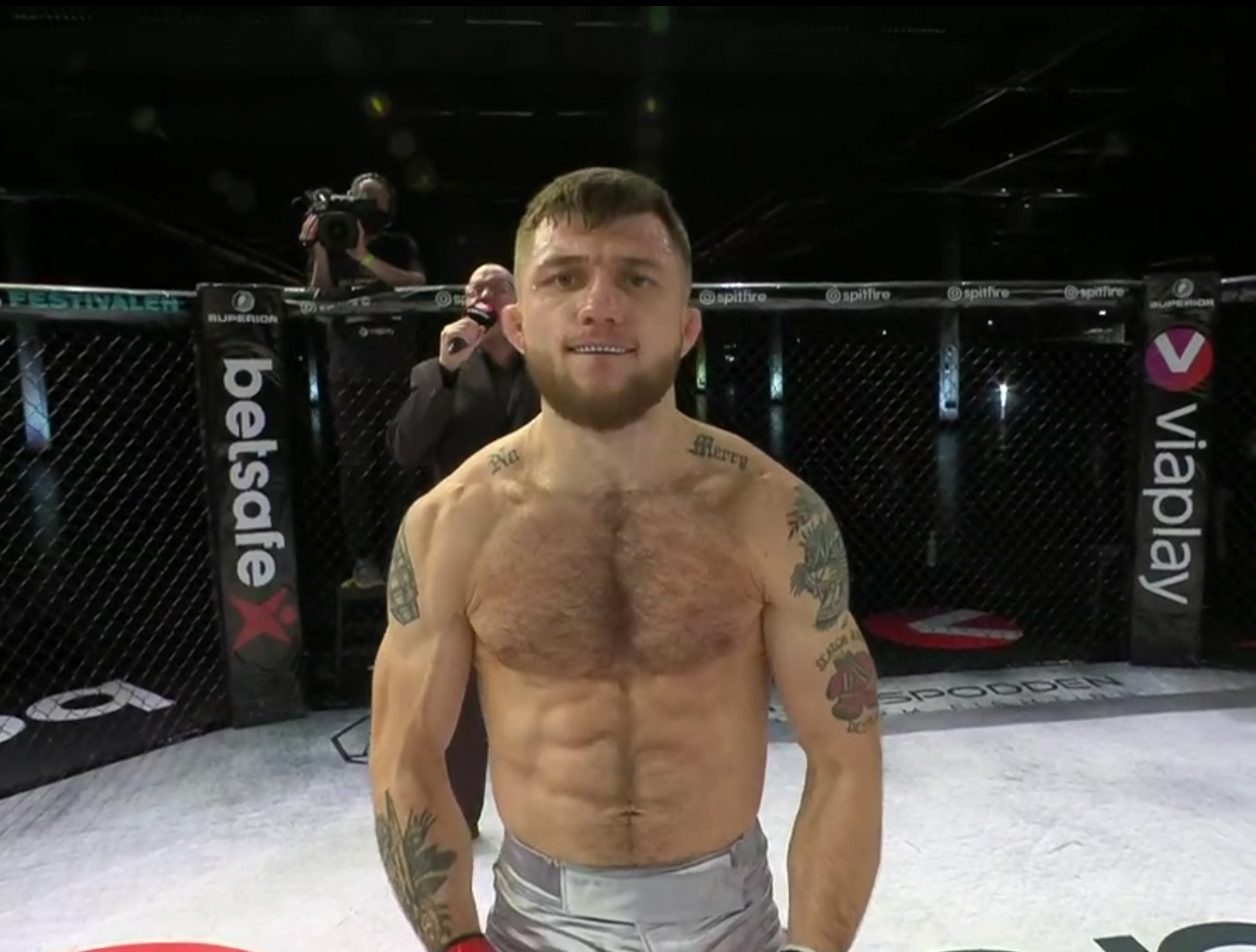 Karl Albrektsson vs. Amilcar Alves – Light Heavyweight
Right kick from Albrektsson early. The two exchange kicks. Body lock for the Swede that lands directly into half guard. King Karl landing punches and punches, and elbows. In complete control for the entire round.
The Pancrase fighter gets the fight to the ground and gets into side mount where he continues to punch his way with his left hand to the face for a TKO. Referee stoppage at 2:26 in the second round.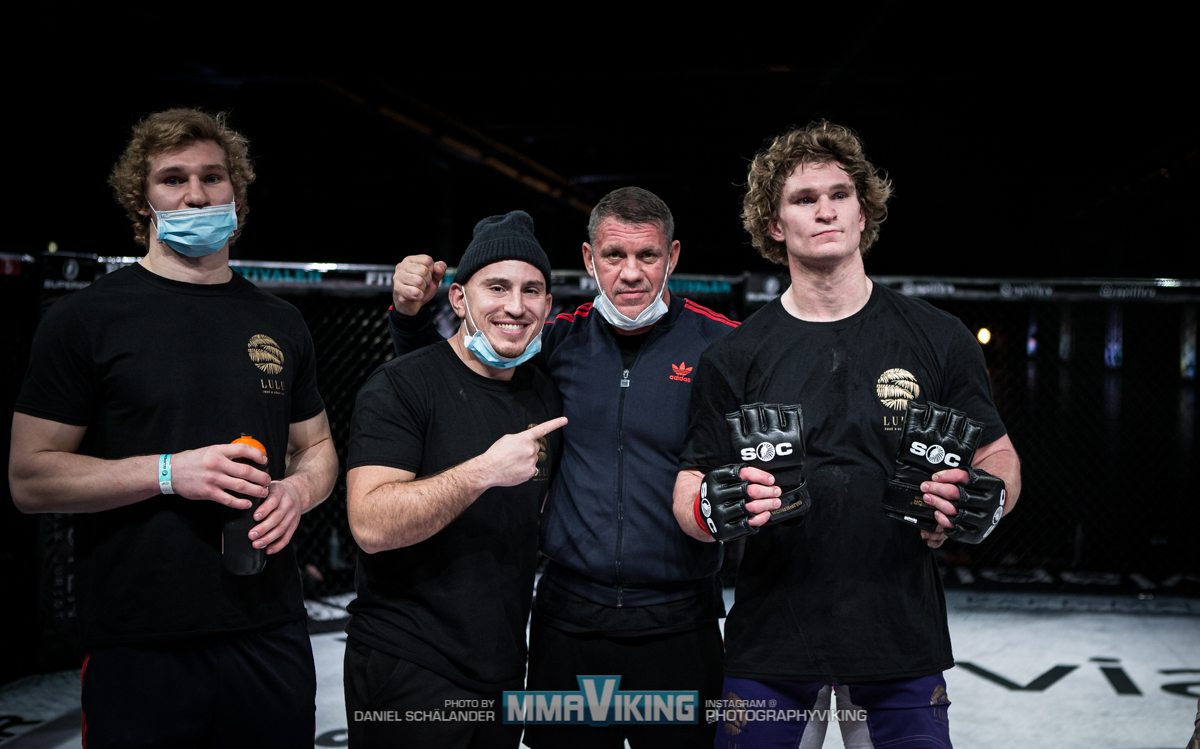 Adam Westlund vs. Tobias Harila – Lightweight
Westlund the taller fighter as he postures up in the face-off. Harila moving forward, they exchange early, then Westlund with a kick. Harila with a right, then clean left that drops Adam to his back! Tobias trying to finish with punches, but steps back and captures his breath on the feet. Adam happy to stay on the ground and invite Harila in his guard.
Right hand wobbles Adam, he is on skates. Adam fires back with punches, and a spinning kick. Tobias methodical in his movement forward. Robias mixing in kicks now. Adam looks like he is building his rythm. Good punch for Adam, that is throwing hard, clean right for Adam that is looking for a KO of his own. Harila looking for a counter shot, and lands a body then head shot. Nothing said, but I wonder if Harila hurt his hand, as he is not throwing punches. Adam agressive at the end here. Tobias face is bleading, and Adam's eye is swollen. What a round!
Westlund comes out with high-kicks to start the round. Now, it looks like the reach and the aggressiveness of Adam is really impacting Harila. Two elbows from Adam, that now is trying to get the fight to the ground. Another right elbow from Adam. Combination from Harila lands, but the power does not seem to be behind them. Now, Adam gets the take-down he was seeking. Back to the feet, but Westlund is all pressure and punches.
The tide has turned in this one, as it is all Westlund as of late. The left eye of Adam is nearly closed heading into the last frame. Tobias coming out with more desperation here, the aggressor. Adam now throwing his volume punches, and Tobias moves backwards. Tobias not letting himself get pushed against the cage, like the second and circles away. Solid right hand for Adam. Two minutes left, and it is intense. Both fighters throwing, but a counter left hand for Tobias drops Adam! One minute left and Tobias is landing punches on the grounded opponent. Adam rolls out, to the feet. Left hannd, now right hand from Harila. Adam shoots, but Tobias defends. Wow. What a fight! What a war!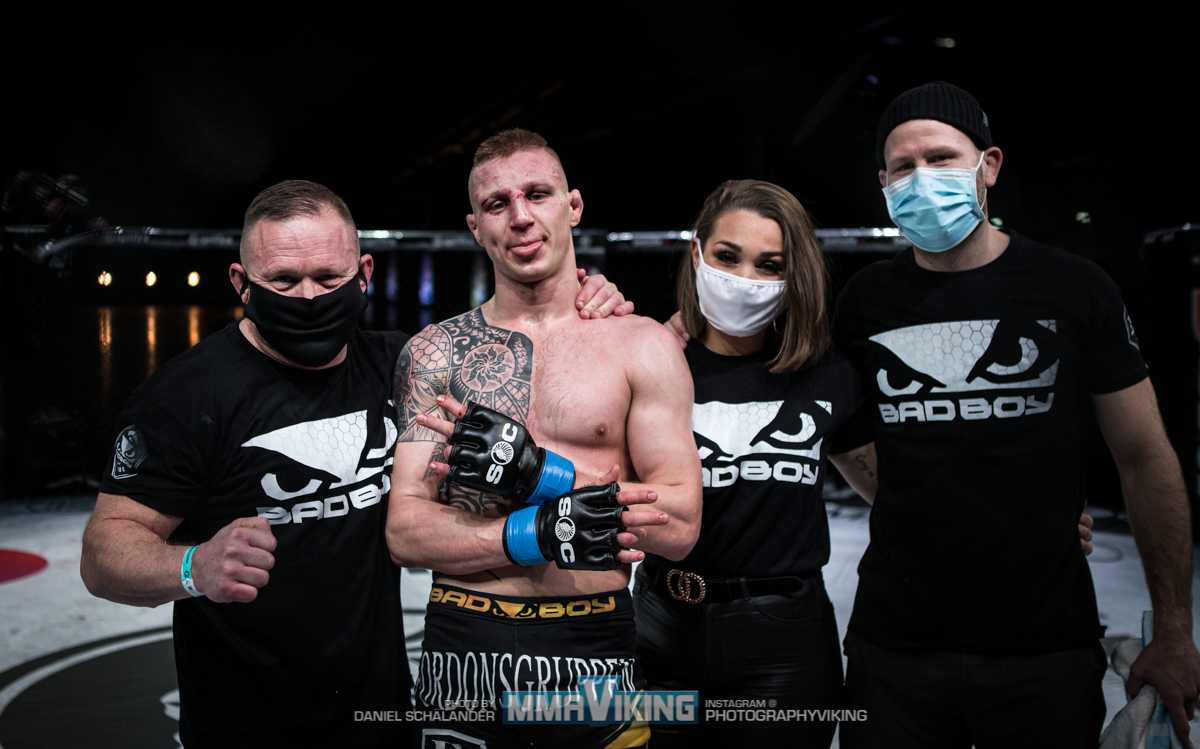 Winner by split decision Tobias Harila.