Makwan Amirkhani took on Andy Ogle in his UFC debut at the Tele2 Arena in Stockholm in front of 30,000+ fans, and 8 seconds after the bell rang it was over. In spectacular fashion Mr. Finland landed a perfect flying knee and punches after forcing a TKO referee stoppage winning mmaViking.com's 2015 Nordic Knock Out of the Year.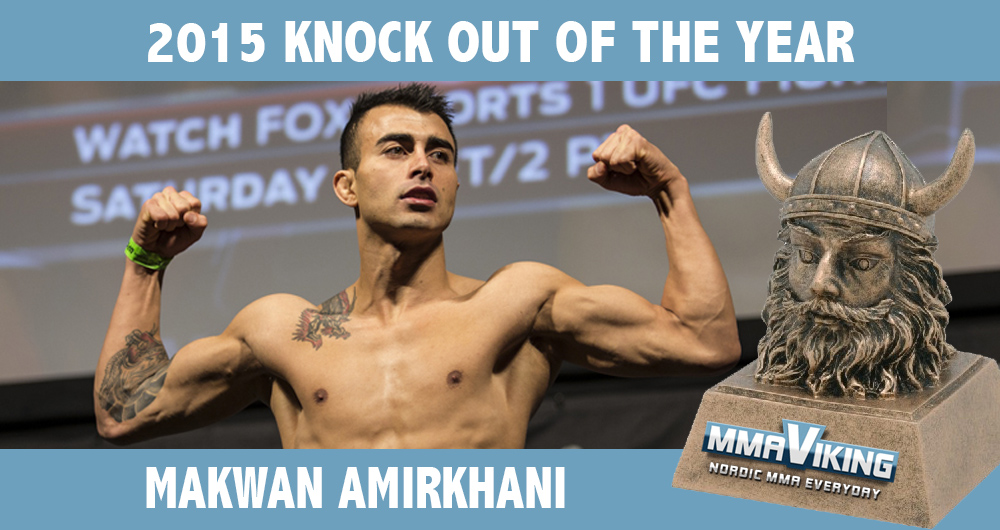 Previous winners include:
• 2014 Knock Out of the Year: Nicolas Dalby at Cage Warriors 66
• 2013 Knock Out of the Year: Kuivanen KO's Gonzalez at Superior Challenge 9
• 2012 Knock Out of the Year: Andreas Spång KO Brian Rogers at Bellator 66
• 2011 Knock Out of the Year: Kristian Lexell vs Allan Love at Battle of Botnia 4
While there may have been prettier and more devastating pure knock outs, this TKO stoppage was on the biggest platform in the Nordics ever. The UFC in Stockholm at the Tele2 Arena was an undeniable massive event, even taking place at nearly 3:00 for the worldwide audience.  The Finn made the most of the stage like no one else.
Live play-by-play from MMAViking.com that was cageside short and simple. "Amirkhani with a right knee to body, and Ogle is startled as he goes with his back to the cage.  A big right uppercut and it is over.  Makwan wins in 8 seconds!!!"
It was the fifth fastest KO in the Octagon. "I told you, first round baby, first round. I wrote it in a book. It was wonderful; I enjoy entertaining people. Next I want the UFC to give me some time to train and to beat the hell out of these guys." says Makwan after the fight.