MMAViking is pleased to announce the second UFC fight of the Finnish lightweight star Anton Kuivanen (16-5). The UFC officials released the information today that Kuivanen will fight Canadian Mitch Clarke at the UFC 149.  The event will take place on the 21st on July in the Scotiabank Saddledome in Calgary, Canada. Rumors circling around tell that the main event of the night will be featherweight champ Jose Aldo defending his belt against a challenger that is still undetermined at the time.
In his UFC debut Kuivanen dropped a decision after a hard fought battle to Jackson MMA's up-n-comer Justin Salas (10-3, 1-0 in the UFC). Kuivanen came out with a good pace and found success on the feet but in the second half of the fight Salas was able to outwrestle Kuivanen. Kuivanen had just five weeks to get ready for his UFC debut but for his second fight Kuivanen has over three months to prepare.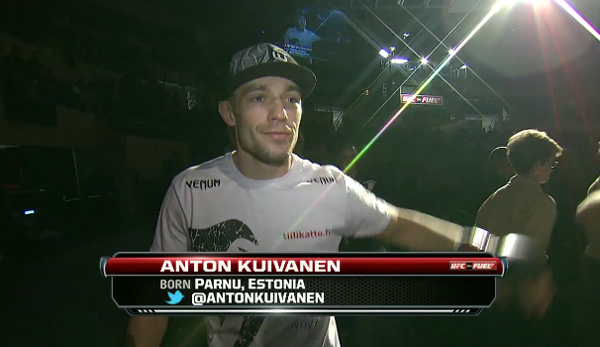 In his second UFC fight Kuivanen is matched up with another wrestler turned MMA fighter in Mitch Clarke. Clarke came to the UFC with a perfect 9-0 record but lost his UFC debut to American John Cholish who was able to TKO the Canadian grappler in the second round.
Kuivanen, who is currently ranked #5 in the European lightweight division, entered the Octagon riding a nine fight win streak. He has run up a 16 win and 5 loss record, including victories against highly regarded Thiago Meller (17-5), Ivan Buchinger (18-3) and Tim Radcliffe (12-4).  A crowd favorite in his home country Kuivanen is known for putting up exciting fights and with his aggressive and explosive style he has eight submission and four KO's among his 16 wins.
Find out more about Anton Kuivanen from MMAViking interviews:
UFC Lightweight Anton Kuivanen "I'm Hungrier Than Ever!"
Finnish Lightweight Anton Kuivanen on the UFC Deal: "It's a dream come true"
UFC Lightweight Anton Kuivanen Answers Questions from the Fans
Kuivanen is also featured in the Bloody Elbow's 2012 Scouting Report