Sweden's Battle of Botnia promotion will not have an event in 2012. Battle of Botnia 4, took place on September 24, 2011, and although another event was in consideration to take place this fall, it has now been pushed back to 2013.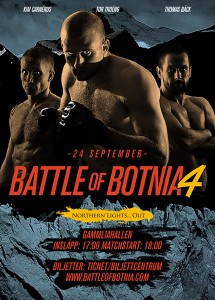 The popular events have been held in Umeå, which is in northern Sweden, since 2009.  It features a mix of MMA and kickboxing, and the promotion typically centers its events around popular local Renyi Fight Camp fighters such as Andreas Ståhl, David Haggström, and headliner Tor "the Hammer" Troeng.
"We are planning the next BoB for the spring" says Troeng about the timing for the next event.  The middleweight fighter who trains out of Umeå finished Tomas Kuzela at the last event with a second round submission to improve his record to 15 wins and 4 losses.
Johan Borssén, Battle of Botnia promotor, explains to the Västerbottens-Kuriren newspaper that an event usually takes four months to plan.  "We all have full time jobs and it takes a lot of time to prepare for an event" Borssén explains.  "What prevented the possibility for an event in the fall is that the organizers are made up of volunteers who have not had time."
The Umeå events have been popular, and usually fill up the stands with over enthusiastic 2,000 fans.
To see the last event from December, watch it in full here :