Heroes Fighting Championships have organized up a bus for those in the Stockholm area looking to travel to Halmstad to watch their first ever event next Saturday, March 23.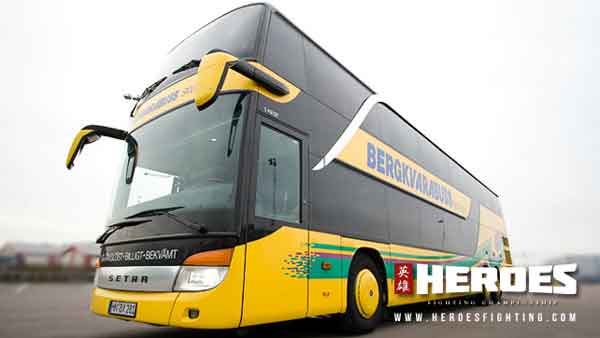 The package is 600 SEK and includes travel to and from Halmstad Arena and an entrance ticket. The promotion says that the buses are "modern and comfortable with amenities".
The bus will leave at 8:30 Saturday morning (departing from the cross street of Valhallavägen and Nybrogatan close to the Slagskeppe). The bus will leave around 23:30. At least one MMA Viking will be on the bus, so be sure to join us and say hello.
Buy your tickets at Slagskeppet / Rellos Gym.
Fight Card :
Main-event: Thai A-Klass -70 kg 3 ronder á 3min: Sanny Dahlbeck, 27-4-1 vs. Mauro Serra, 19-6-2
Co main-event: MMA -83,9 kg: Alan Carlos, 10-7-0 vs. Allan Love, 9-4-0
Co main-event: MMA -61,2 kg: Martin Akhtar, 2-0-0 vs. Emil Hartsner, 3-0-0
Thai A-klass -58 kg 5 ronder á 3min: Madeleine Vall, 43-13-0 vs. Christin Fiedler, 20-10-0
MMA -120,1 kg: Yosef Ali Mohammad, 1-0-0 vs. Viktor Pesta, 7-0-0
MMA -77,1 kg: Andreas Ståhl, 7-0-0 vs. Abus Magomedov, 7-0-0
MMA -93 kg: Johan Jorup, 4-1-0 vs. Igor Zabolotniy, 3-2-0 –Jorup is injured, so the bout will not happen
MMA -77,1 kg: Per Franklin, 4-2-0 vs. Tim Waage, 1-1-0
MMA -70,3 kg: Jonathan Svensson, 4-0-0 vs. Guram Katateladze, 3-0-0
MMA -70,3 kg: Kristoffer Källgren, 2-1-0 vs. Christopher Wassberg, 2-2-0
MMA -63 kg: Lina Länsberg, 0-1-0 vs. LJ Adams, 1-0-0
Thai -81 kg B-Klass 5 ronder a´ 2min: Marcus Johansson, 6-2-0 vs. KIm Dahlgren, 5-1-0
MMA -83,9 kg: Marcus Andersson, 3-0-0 vs. Jonathan Salminen, 1-0-0
MMA -77,1 kg: Mohammed Abdallah, 2-1-0 vs. Erik Carlsson, 1-0-0
MMA -65,8 kg: Michel Erso, 0-2-0 vs. Robert Naess, Proffsdebut