Professional MMA events held in Turku, Finland are traditionally built around local talent, and Saturday's Cage 21 doesn't make an exception. That's the only way to go in a town which has once again raised a new generation of top fighters.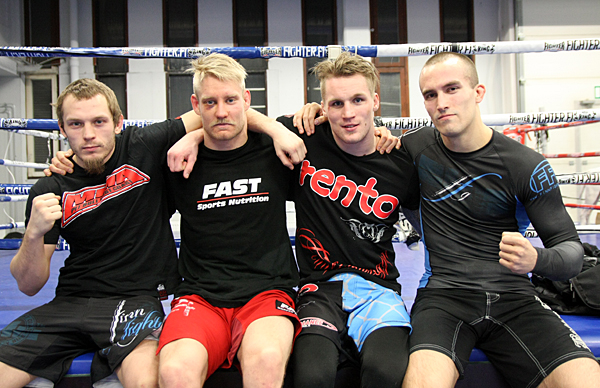 Nearly 15 years have passed since The first Nordic MMA event, the Finnfight 1, took place in Turku, but when The Cage promotion returns to the west coast, it is time to take a look at the rising stars who headline the show. MMAviking.com visited the Finnfighters' Gym to catch up with all five FFG fighters during their final preparations.
GETTING BACK AT TRACK
Timo-Juhani Hirvikangas will be headlining his second straight Cage main event after FFG training partner Juha Saarinen injured his knee. Few days before the home town show "Tipi" is thrilled, but also a little hesitant. He likes to fight in front of his own people, but the loss he suffered to Olivier Pastor in November was a tough blow.
He is determined to bounce back, and return as a better fighter against Ukraine's Yevgeni Odnorog.
"I learned a lot from the loss, that's the way it works. I need to do things smarter now, starting from the weight cut, and the whole fight. My weight looks good now, and I've been healthy this time", Hirvikangas says recalling his troubles before the last fight.
While he might might desperate to get back in the win column, Hirvikangas is also confident. He has only seen one fight from his opponent, but the loss motivated him to put in some serious work day after day. And if you regularly spar with Tom Niinimäki, you should be ready to fight just about anybody.
"Odnorog looked like a guy who who can bot strike and grapple, a well-rounded fighter. Apparently he is more of a technical grappler, but it is hard to say anything certain of these guys coming from the east."
"I have a plan, but fights rarely go as planned, I have to be ready for everything. I would like test my striking, but I don't mind if he tries to take down and sticks his head in to the guillotine. It is educating to fight for three rounds, but I would rather get it done quickly this time", Hirvikangas plans.
THE RETURN OF THE AMIRKHANI SHOW
The Nordic Showman of the Year made one of his most spectacular walkouts when he last fought in Turku a year ago, but the fight didn't go according the plans, since it took him full two rounds to score a win against Aleksejs Povulans – the only decision victory in his record. Makwan Amirkhani looks to change that now.
"It left a bad taste, since I was ill, but I never want to skip a fight that I have agreed to take. Now it's time show my home crowd what I can really do. And of course there might be some kind of show", Makwan laughs.
Amirkhani faces Tom Duquesnoy, who is undefeated so far. The 19 year-old Frenchman has put up a good record quickly, though Saturday night in Turku will probably be his biggest test so far. To Amirkhani everything seems clear.
"I'll just go in there like before: calm, fearless and confident. I expect good striking from this guy, but it's no use, since the I'm taking the fight down and it won't last long. He is a young prospect who probably wants to show everyone he is a future star – unfortunately, I have to end his good run on Saturday."
"When I heard from my manager that his nickname is "Fire Kid", I said it's time to put out the fire", Amirkhani states.
DO THE VALAMAA GRIND
Juho Valamaa might be one of the best kept secrets in the Finnish MMA scene. Injuries have slowed down his career, but he has made a few impressive outings while healthy. And there is one bullet-proof indication of his talent: every single one of his tough training partners complains how tough it is to spar with the tireless grinder.
Valamaa suffered a bad shoulder injury last spring, now he claims to be closing in on top shape again. There was no signs of ring rust when he choked out his French opponent in 30 seconds in November. Now he faces an another Frenchman, late replacement Martin Ngongo.
"I feel like I'm in a good shape, I've been able to train properly since last summer, and I could continue hard training straight after my last fight. Doesn't matter to me whether we fight standing up or going to the ground."
After countless tough breaks, Valamaa looks ahead one fight at a time, although he has a vision of a good year.
"I haven't made any bigger plans, but I'm aiming high now, no doubt about it. If everything goes well, I would like to take at least four fights this year."
ANOTHER GRAPPLING WIZARD?
FFG has long been known for its talented grapplers, so it should be no surprise that the next big prospect out of Turku feels comfortable in a gi. Teemu Packalen is a BJJ purple belt who has made a name in the grappling scene. However, at the same time he has been aiming for a MMA career.
Packalen stormed his way through the amateur ranks and debuted as a pro in October. Now it is time to show his skills for the local people. Unfortunately, his original opponent Otso Kataja fell ill, and the promotion is pressing hard to find a new man to face Packalen.
"This fight has occupied my mind for weeks, all my friends and my family will be there. That is why we wanted the debut fight somewhere else, to ease to pressure. It was a good move, now I have a some kind feeling about this whole pro thing."
He is rookie in a cage, but Packalen has plenty of experience from competing elsewhere. Although he can always rely on his ground game, home town debutant would like to test his improved sriking as well.
"Well, the fight always starts standing up. I'm not going to force the fight into the ground. I've been working a lot on my striking, that shouldn't be a problem", Packalen ponders.
A CURIOUS ONE-OFF EXPERIMENT
Not many people know what to expect when Tuomo Peltoniemi enters the cage on Saturday, including his opponent Jussi Halonen. It's no wonder since Peltoniemi had his last MMA fight eight years ago.
But he hasn't been taking time of, either. A familiar face at the FFG, he has competed in BJJ and submission wrestling, and has kept himself busy coaching prospects like Aleksi Kainulainen. Peltoniemi is not your average MMA fighter in any way. During the eight years he has studied a double master's degree at the Turku University.
"It was spring 2005 when I last had a pro fight. I really don't know what to expect now. I never felt nervous before the fights when I was younger – then again, I was really young and felt immortal. Nowadays you get all kinds of aches even from training", Peltoniemi grins.
At 29, he feels the urge to test his skills, at least once more, most of all because he has had the time to train properly for a while. Peltoniemi thinks he has a slight advantage over Halonen, since no one has any old videotapes of his previous fights.
"I still wanted to check out this thing, so there won't be any regrets later. I wanted a good fight, and this match-up feels good, both of us have a different set of tools for getting the win. The one does his thing better, will win."