Cage Lightweight Title Fight: Anton Kuivanen (18-6-0), Finland vs. Eric Reynolds (17-6-0), USA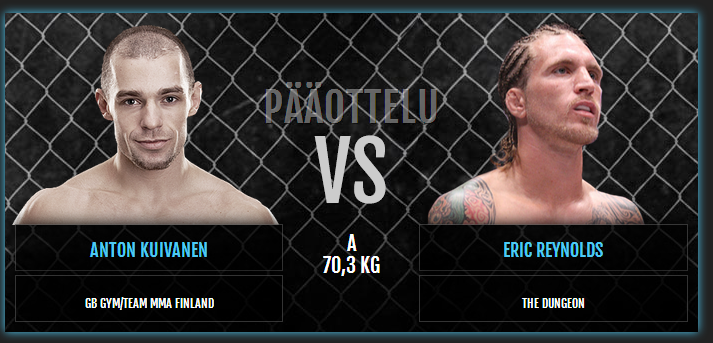 Finland's most popular fighter Anton Kuivanen puts his Cage belt on line against American vet Eric "It's a Wrap" Reynolds.
Anton Kuivanen fights for the second time in his "home promotion" Cage after going 1-2 in the tough as coffin nails UFC lightweight division. In the UFC Kuivanen lost his debut to Justin Salas by a decision, then won a decision over Mitch Clarke before getting submitted by Michael Chiesa at UFC 157 in February of 2013. Before his UFC stint Kuivanen had a impressive run in the Euro circuit with nine consecutive wins that includes victories over highly regarded Thiago Meller (19-5), Ivan Buchinger (23-4) and Tim Radcliffe (12-4). He has eight submission and four KO's among his 17 career wins. Athletic and physically powerful Kuivanen is a skilled allrounder with a preference to striking. In his lat fight at Cage 22 the Finn put on a rock solid performance against TUF vet Jason Pierce (10-2). Kuivanen controlled the action on the feet with crisp striking and easily fended off Pierce's takedown attempts.
American Eric Reynolds is an experienced fighter who has been fighting pro since 2007. Most of his fights have taken place in Florida based promotions such as WFC and XFC but Reynolds also fought three times for Bellator FC. Reynolds is known for fighting with an aggressive and sometimes even reckless style. Out of his 23 pro fights only three has gone full rounds and he has taken fifteen of his seventeen wins by finishes. Reynolds won his Bellator debut with a headkick KO over Thomas Schulte but was then thrown to the deep end with Eddie Alvarez and Jorge Masvidal being the next two opponents. Game Reynolds made it to third round with both top lightweights but was eventually finished by RNCs in both fights. Reynolds holds notable wins over Greg Loughran and Jonatas Novaes. In December of 2012 at XFC 21 Reynolds fought against Nick Newell, who fights with basically one and a half arms due to a birth defect, and lost by rear naked choke in the first round.
Summary: This is an even match up between two fighters who definitely have the skills and the mindset to throw a real barnburner for the crowd. This is one of those fights that is really hard to predict how the fight will play out. Kuivanen might have the edge on the feet and prefer to keep the fight standing while Reynolds could be the one to initiate grappling exchanges. Whatever happens, we're sure that this fight will deliver entertainment for the fight fans.
Anton Kuivanen vs Jason Pierce at Cage 22

Eric Reynolds vs Kevin Forant at XFC 24