It's three weeks prior to February 28th's Cage 29 in Helsinki, and most of the opposing fighters to the Finns were announced today by the promotion. Most notable is the heavyweight debut of Finn Marcus Vänttinen (24-5) who will face a massive and athletic Jarjis Danho (4-0).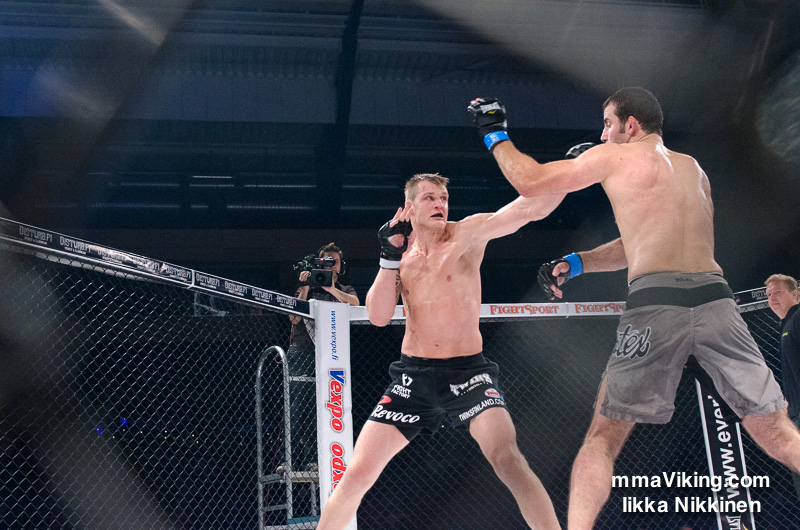 "Caveman" will have no easy task against the fighter from Syrian Arab Republic, who is quick and dynamic undefeated striker with the nickname "Man Mountain". Vänttinen out of Hardknocks Helsinki has not fought since November 2013. The 27 year old is on the verge of breaking through to the UFC, and this win could do it.
Mikael Nyyssönen (7-0) will battle another undefeated fighter in Frenchman Thibault Gouti (9-0). The Tampere fighter out of MMA Team 300 has finished all three opponents in 2014.
Former UFC fighter Anton Kuivanen is still in search of an opponent, after original opponent Wesley Murch withdrew due to a shoulder injury.
Suvi Salmimies out of Team East Front will take on an experienced Izabela Badurek who is on a three fight winning streak, including a win last Saturday at ACB 13 in Poland.

Vänttinen's opponent Jarjis Danho (black gloves) – Photo from Sherdog.com
Updated Fight Card
Marcus Vänttinen, 24-5, HardKnocks Helsinki vs. Jarjis Danho, Syrian Arab Republic, 4-0 – 93+ kg
Anton Kuivanen, Primus Fight Team, 20-8 vs. TBA – 70,3 kg
Mikael Nyyssönen, Team MMA 300, 7-0 vs. Thibault Gouti, France, 9-0 – 70,3 kg
Mikko Ahmala, HardKnocks Helsinki, 4-2 vs. Julien Piednoir, France, 4-1 – 77,1 kg
Saku Heikkola, Heracles Valkeakoski, 3-5 vs. Majej Surin Slovakia, 4-1-1 – 93 kg
Aleksi Nurminen, RNC Sport Club, 3-1 vs. Jonathan Ramon, France, 6-7 – 70,3 kg
Suvi Salmimies, Team East Front, 2-0-1 vs. Izabela Badurek, Poland, 5-2 -56,7 kg`
Jussi Halonen, Hardknocks Helsinki, 4-3 vs. Laurent Beranger, France, 4-2 – 77,1 kg
Niko Myllynen, RNC Sports Club, 3-2 vs Kevin Ruart, Sveitsi, 2-1 – 70,3 kg