MMAViking.com is live in Helsinki for Saturday night's CAGE 30. In the main event of CAGE 30 is former UFC fighter Anton Kuivanen, who faces England's Sean "Sexy Curls" Carter. MMAViking.com will be reporting live cageside, so stay here for live results and photos.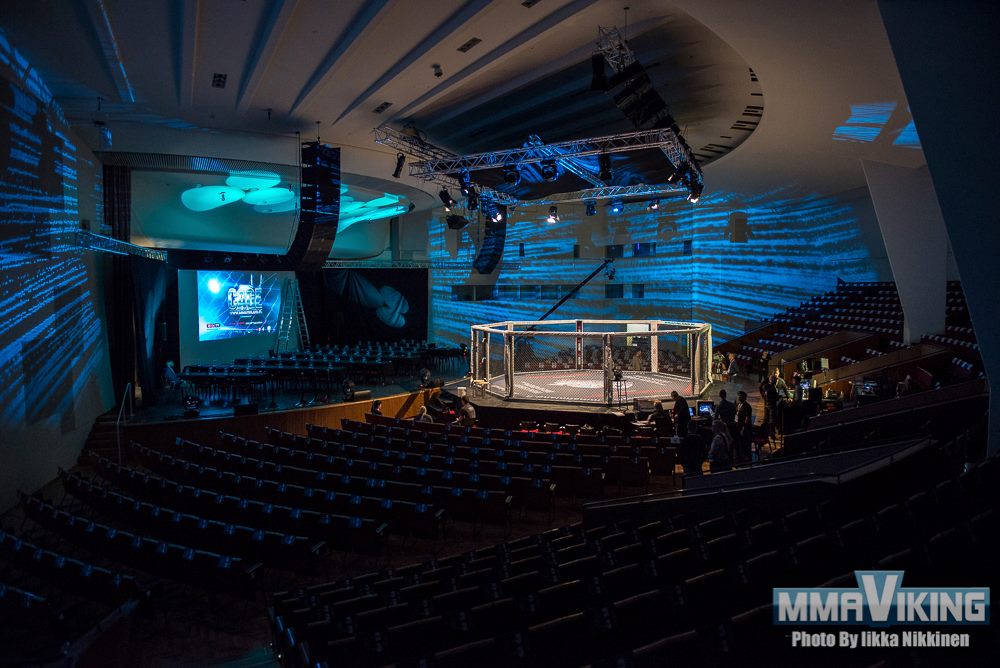 Dane Søren Bak will head to Finland to take on one of the nation's most popular fighters in Aleksi Nurminen.  Team East Front's Suvi Salmimies (3-0-1) will face a self described "tough chick" as she takes on Liliya Kazak (3-3-1) from Belarus Kudo Team. Kazak has more experience, and even battled and loss to current UFC champion Joanna Jedrzejczyk back in 2012.  Veteran Saku Heikkola (4-5-0-1) from Valkeakosken Heracles will face England's Dan Konecke (3-4-1) and HardKnocks Helsinki Mikko Ahmala (4-3-0) will look to rebound from his CAGE 29 loss against as he faces Ismael Naurdiev (3-1-0) Fighters Academy Salzburg, Austria.
Fight Card & Results
Saku Heikkola vs. Dan Konecke -93 kg
Round 1 – Konecke opens up with a leg kick, Heikkola returns fire. Konecke goes for a takedown and completes it against the fence. The Brit in Heikkola's half guard with both guys throwing strikes. The Finn tries to roll Konecke off him and after a brief struggle gets what he wants ending on top. Konecke goes for rubber guard and then rolls for  leg lock. Heikkola spins to his back and starts raining down heavy strikes. Konecke is in trouble as the strong Finn throws heavy leather from the top position. Konecke shows off good ground game and manages to reverse the position. Konecke with a knee to the body on the ground. Heikkola uses a kimura sweep to reverse the position once again. Again heavy strikes from Heikkola as round one comes to end.
Round 2 – Heikkola hunting down Konecke with single strikes. The brit looks a bit winded as he eats a tweep from the Finn. Heikkola connects with a jab and a heavy right hand follows. Konecke goes for a sloppy takedown and ends up on the bottom with Heikkola raining down strikes and elbows. Konecke looks exhausted as Heikkola keeps the pressure on him with constant ground and pound. Heikkola's big right hand makes Konecke roll to turtle position. Heikkola lands another big right hand with the ref looking closely. The ref warns Heikkola about shots to back of the head. Konecke looks to be done.
Round 3 – Konecke attacks with laboured movements, nothing connects. Heikkola with a low kick and a jab. Konecke initiates clinch but gets taken down by Heikkola. Heikkola lands couple of strikes and then goes for a sloppy kimura that sends him on the bottom. Heikkola spins for a omoplata and gets a tap with a modified shoulder lock.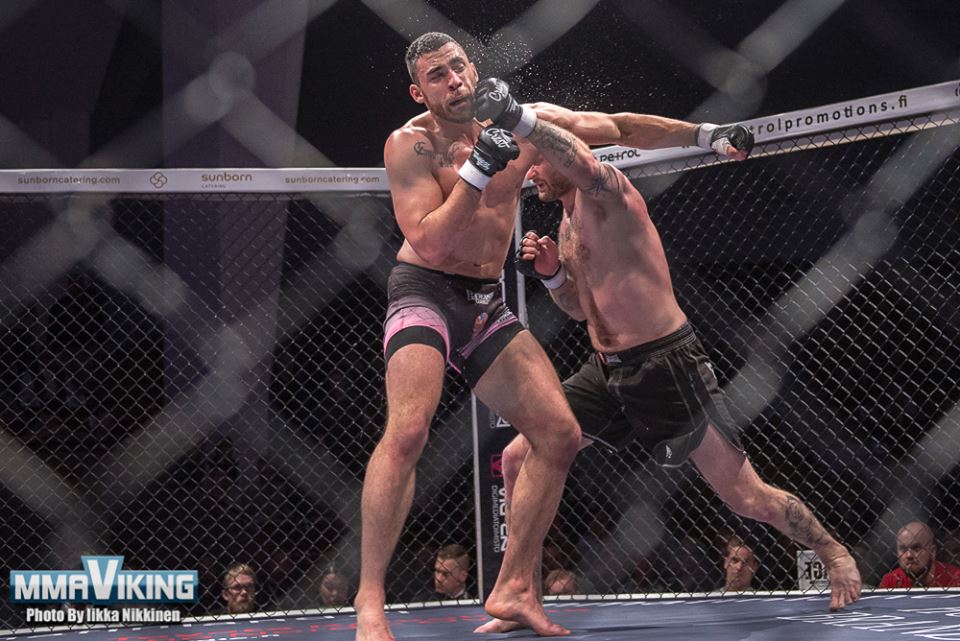 Winner: Saku Heikkola by modified omoplata R3
Mikko Ahmala vs. Ismael Naurdiev -77,1 kg
Round 1 – Naurdiev pushes forward aggressively and runs Ahmala through the cage door. Action begins after a brief break and loudmouthing from the crowd. Naurdiev connects with a right hand, picks Ahmala up and send him flying. Ahmala returns the favor with a takedown but Naurdiev gets back to his feet. Naurdiev shoots for a takedown, connects his hands and slams Ahmala hard to the floor again. The Finn is in trouble as Naurdiev rains down strikes from the top. Naurdiev punishes Ahmala with elbows from the mount and continues to maul the Finn from back mount. Referee Sinkkonen has seen enough and calls it quits.
Winner: Naurdiev by TKO R1
Suvi Salmimies vs. Liliya Kazak -56,7 kg
Round 1 – Kazak opens up with a leg kick, Salmimies returns fire with a head kick. Salmimies pushes Kazak against the cage and the two clinch. Kazak pulls guard and immediately starts looking for an arm. It doesn't take long for Kazak to get what she wants. Salmimies tries to defend briefly but armbar is tight and the Finn has to tap out.
Winner: Kazak by armbar R1.
Aleksi Nurminen vs. Soren Bak -70,3 kg
Round 1 – After a break the action continues with the clash of two Nordic top lightweight prospects. Nurminen opens with a kick but gets taken down by Bak. Bak in sidemount delivering short punches. Nurminen rolls for armbar but Bak slips out and takes Nurminen's back. Bak goes for an armbar and Nurminen looks to be in danger. The Finn stays calm, defends and stands up but Bak shoots in again and completes a takedown. Bak on top, Nurminen goes for a leg lock. Bak stays on top and delivers single strikes on the Finn. Nurminen sweeps Bak and lands a heavy strike from his back. The two stand up and Bak connects with a knee. Action goes to the ground again with Bak having mount on Nurminen. The round ends with Bak punishing Nurminen from back mount.
Round 2 – Nurminen connects with a knee to the body but Bak pushes forward and takes him down. Bak in side mount again raining down strikes. Bak takes Nurminen's back and continues to punish the Finn with strikes. Bak with short elbows from back mount. Nurminen stands on his feet and tries to shake Bak off his back but the Dane stays glued on him. Bak working hard on a rear naked choke but Nurminen defends well and punches Bak in the face. Nurminen reverses the position, slaps a triangle on Bak and mauls his face with elbows as the bell rings. What a fight!
Round 3- Nurminen connects with a left hook and a straight right. Bak is relentless and shoots for a takedown but ends up in Nurminen's modified guillotine. Choke looks tight but Bak doesn't give up. Nurminen hurts Bak with strikes and elbows on the feet. Bak looking tired now. Nurminen punishes the Dane with knees from the clinch. Nurminen raining down elbows from Bak's guard but Bak kicks him off and is still fighting strong. Nurminen connects with an elbow on the feet. Bak finds new energy and take Nurminen down with double leg. Brilliant performance by the two young talents!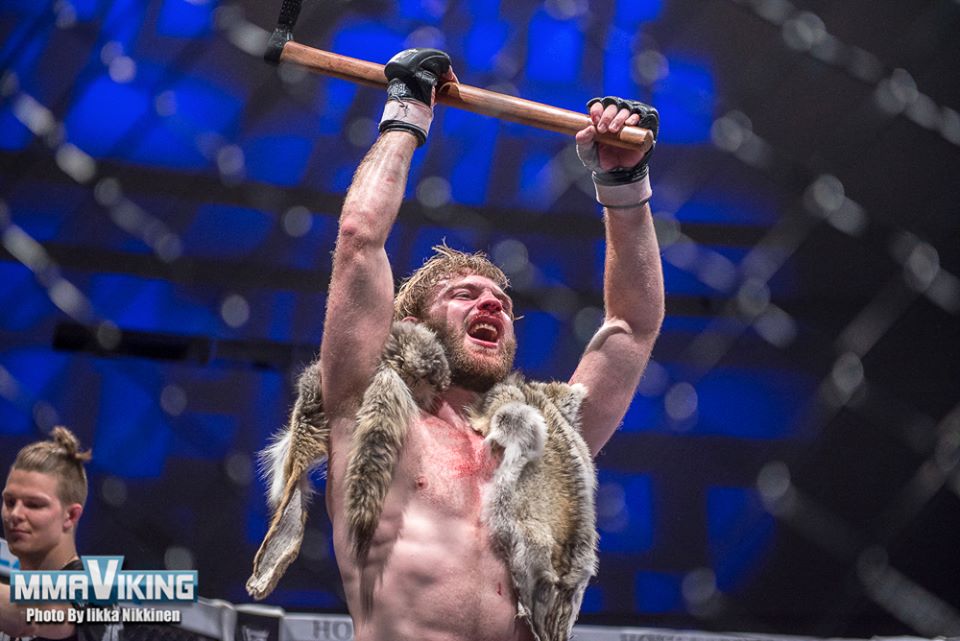 Winner: Soren Bak by UD.
Mikael Nyyssönen vs. Alex Rodriguez -70,3 kg
Round 1 -Rodriguez connects with a punch, shoots on Nyyssönen and takes him down. Nyyssönen goes for a deep half sweep but Rodriguez stays on top. Rodriguez with short elbows from half guard. Nyyssönen tries to apply arm triangle choke from the bottom but it's not there. Rodriguez hammers Nyyssönen with strikes from half guard and then takes his back. Rodriguez slaps on rear naked choke and puts Nyyssönen to sleep.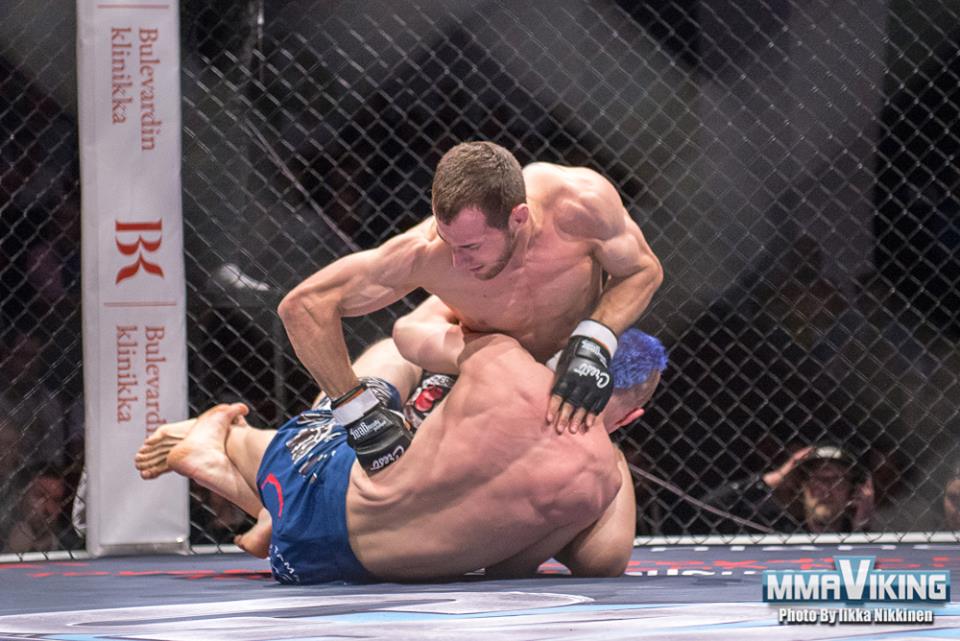 Winner: Rodriguez by rear naked choke R1.
Rafael Domingos vs. Lukas Zemantauskas -70,3 kg
Round 1 –  Eighteen year old Zemantauskas looks like a karateka on the feet but gets quickly taken down by the Brazilian grappler. Domingos passes easily to side mount. Zemantauskas tries to get on his feet but leaves his head out which is something you simply can't do against Domingos. The Brazilian cranks on a guillotine choke, squeezes hard and there's the tap. Domingos celebrates with a back flip as the crowd cheer loudly for him.
Winner: Domingos by guillotine choke R1.
Main event: Anton Kuivanen vs. Sean Carter -70,3 kg
Round 1 – Kuivanen with a front kick to the body. Brief exchange of strikes with not much landing. Kuivanen connects with a right hand. Kuivanen with a lead leg head kick that partly connects. Wild striking exchange against the fence with both guys landing. Kuivanen lands a one two combination. And another one. Kuivanen with a left hook. Carter moves forward but doesn't attack with anything. Kuivanen lands another right hand and a knee to the body. Kuivanen moves forward with a body shot. Carter lands a good punch and Kuivanen circles away. Kuivanen takes Carter down with a double leg but leaves his head to a guillotine choke. The Finn pulls his head out and rains down solid strikes on Carter.
Round 2 – Kuivanen lands a solid kick to the body but Carter returns fire with an overhand right. Kuivanen takes the fight to the ground with a quick take down. Kuivanen stands up from Carter's guard and lands a good shot. Kuivanen now working ground and pound in Carter's half guard. Kuivanen with a right hand from top. Carter is looking for sweeps but Kuivanen maintaining his top position. Carter makes it to his feet and tries to take the Finn down against the fence. Kuivanen lands a big right hand and follows with a head kick. Carter has a chin, that's for sure. Carter is looking a bit slow now and eats an uppercut. The round two ends with both guys going for head kicks.
Round 3 – Kuivanen connects with a barrage of strikes that drop Carter to the ground. Crowd goes wild as Kuivanen drums Carter from the top. Kuivanen continues to smash Carter with punches and elbows with the ref looking closely. Carter tries to play guard game but Kuivanen is the only one attacking with anything. Gutsy Carter somehow makes it back to his feet but Kuivanen just picks him up from the clinch and slams him to the ground. Kuivanen with the ground and pound again. Carter is eating strikes left and right but the Englishman isn't giving up.
Winner: Kuivanen by UD
We will have full photo galleries of each bout. Come back after the event for more!