As MMAViking.com reported yesterday, Cage Warriors hasn't been satisfied with the ruleset approved or denial of matchups proposed for its first card to be held in Sweden. The planned August 23 card Cage Warriors 71 will now be moved from Stockholm to Amman, Jordan since only one bout had been approved to proceed under unified rules, leaving other bouts absent of elbows, upkicks from the ground, and foot stomps. See the press release below from Cage Warriors regarding the "reluctant" decision.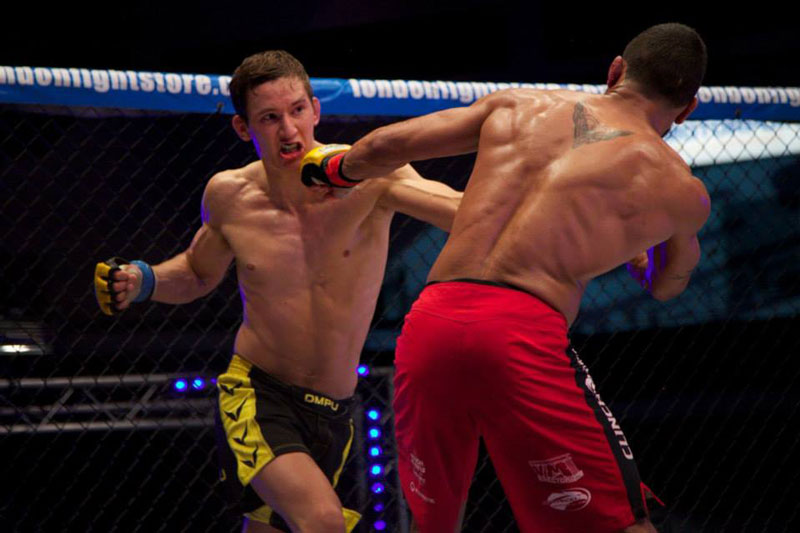 Press Release
Cage Warriors Fighting Championship (CWFC) can this evening confirm that it has reluctantly taken the decision to move next month's CWFC 71 event to Amman, Jordan.
Originally scheduled to take place in Stockholm on Saturday, August 23, CWFC 71 was due to be another historic Cage Warriors event, with Sweden set to become the thirteenth country to play host to Europe's leading mixed martial arts promotion.
However, issues outside of CWFC's control have forced officials to move the event to Jordan, with CWFC 71 now booked to go ahead at Amman's King Hussein Boxing Arena on Friday, August 22.
CWFC 71 will be Cage Warriors Fighting Championship's tenth event of 2014. Bouts and further details will be announced in due course.
The decision to move CWFC 71 from Sweden to Jordan has come as a result of the nonsensical refusal of the Swedish Mixed Martial Arts Federation (SMMAF) to approve several bouts to be contested under full unified rules.
Of the initial five bouts that were submitted for approval, only one – a featherweight bout between Martin Svensson (13-5) and Dave Hill (12-3) – received permission to be contested under full unified rules.
The remaining four did not receive the necessary approval, with the SMMAF claiming in a statement: "The committee has found that several matches applied for by Cage Warriors have not made the required level."
In addition to referring to "unequal matching", the SMMAF stated its belief that the fighters involved do not possess enough experience to compete under full unified rules.
Cage Warriors Fighting Championship has been at the core of the global MMA community since its inception in 2002 but, in particular, the significant growth of the promotion since 2010 has been built on a foundation laid by the ability of its fighters and the quality of its matching, courtesy of our exceptional matchmaker Ian Dean.
As a promotion, CWFC is shocked and bemused by the SMMAF's apparent reasoning for preventing these bouts from taking place, given that Cage Warriors Fighting Championship has developed into one of the world's leading promotions based largely on these very qualities.
This has led CWFC officials to question the motives of the SMMAF in this instance, as up until this issue arose, both parties had co-operated effortlessly to lay the platform for CWFC to stage an event in Sweden.
From the outset, CWFC officials assured the SMMAF that their protocol would be followed throughout each step in the process, and even agreed to allow the CWFC 71 undercard bouts to be contested under the SMMAF's 'Swedish rules' i.e. with elbows and up-kicks prohibited.
"Moving this event out of Sweden is a decision we really wanted to avoid, but because of the actions of the SMMAF, we have unfortunately been left with no choice in the matter," said Cage Warriors CEO Graham Boylan.
"To ask our elite fighters, who are among the best in Europe and the world as a whole, to compete under a diluted set of rules to what they have been doing throughout their professional careers is an abhorrent insult to these outstanding athletes and their abilities.
"Jack Hermansson is our middleweight champion and Jack Mason is probably the most experienced fighter in the UK, but their respective bouts were not approved. It's absolutely absurd.
"Suggesting that such fighters are not capable of competing under full unified rules is ludicrous beyond belief and I would never even consider asking them to compete under anything other than full unified rules.
"The SMMAF have left us in an impossible, and very sad, situation here, and unfortunately our only option is to take our athletes elsewhere for this event."
The four bouts which did not receive SMMAF approval for full unified rules are: Jack Hermansson (8-2) versus Cheick Kone (11-3) – CWFC agreed to this title bout being contested over three five-minute rounds; Pannie Kianzad (5-0) versus Alexandra Buch (8-3); Jack Mason (28-13) versus Jonatan Westin (6-2); Liam James (8-6) versus Frantz Slioa (4-0). Applications for further bouts were in the process of being submitted until today's decision to move the event from Sweden.
Furthermore, the SMMAF's pro-committee has claimed publicly that there was no conflict of interest involved in their decisions, despite one committee member being the current manager and coach of Martin Svensson, one of the fighters involved in the only CWFC 71 bout that was approved for full unified rules.
Nevertheless, while the SMMAF has ultimately prevented Cage Warriors from staging this event in Sweden, the promotion is extremely appreciative of the widespread support it has received from the Swedish MMA community, particularly from former SMMAF and IMMAF president August Wallen.
"I'm very sad about this situation," August Wallen said. "Many have worked hard to get Cage Warriors to Sweden and, as someone who helped to build MMA here, I'm concerned as I believe this could be a major setback for the development of MMA in the whole region.
"As a coach, I have looked forward to taking part in this great Cage Warriors event and I feel bad for all the fighters who have worked hard but will now be denied the chance to fight here in Sweden in front of a global audience."
Those sentiments have been echoed by Tue Trnka, CWFC's Head of Operations in Scandinavia, who has worked tirelessly to put the framework in place for the first ever Cage Warriors event in Sweden.
He said: "I'm shocked and appalled by the ridiculous actions of the SMMAF's pro-committee. This is hurting so many local fighters, as well as the entire Nordic MMA scene, which has now taken a massive hit.
"I strongly disagree with the SMMAF's negative decisions and I find their lack of dialogue both disrespectful and arrogant, considering the vast impact their decisions will have on so many people.
"We've done everything that was asked of us, and yet it seemingly comes down to just two people on the pro-committee, who for some reason have decided to vote against these fights.
"If you look at some of the UFC's undercard fights in Sweden, all of which have been approved for full unified rules by the SMMAF, and compare them to the fights we applied for, I find it hard not to wonder if there is some bias involved.
"This was a massive opportunity for Swedish and Nordic MMA, but bureaucracy has won out here and Swedish MMA has suffered an enormous blow."
In spite of these developments, Cage Warriors Fighting Championship will not abandon its plans to expand in Scandinavia, with the promotion more determined than ever to stage an inaugural event in Sweden.
"Our first event in Denmark was a huge success last March and I have no doubt that the same would have been the case in Sweden on August 23," said Graham Boylan.
"That will now have to wait slightly longer than we had initially hoped for, but I can assure our Swedish fans that it'll be worth the wait when CWFC finally gets there.
"The actions of the SMMAF have set a worrying precedent for MMA in Sweden, but this has not deterred us at all. Between fighters and fans, Sweden has played a major role in the growth of Cage Warriors and I have no doubt that it will continue to do so."