Swede Lina Akthar Länsberg (2 wins, 1 loss, #5 Nordic ranked) is fighting on Cage Warriors 71 this Friday. The card was originally scheduled for Stockholm, until SMMAF didn't approve all the main card fights for unified rules resulting in the move to Amman, Jordan.  MMAViking.com talked to the 2012 Muay Thai World Champion who trains at of Malmö Muay Thai & MMA days prior to her bout against England's Laura "Hot Head" Howart (2 wins, 0 losses).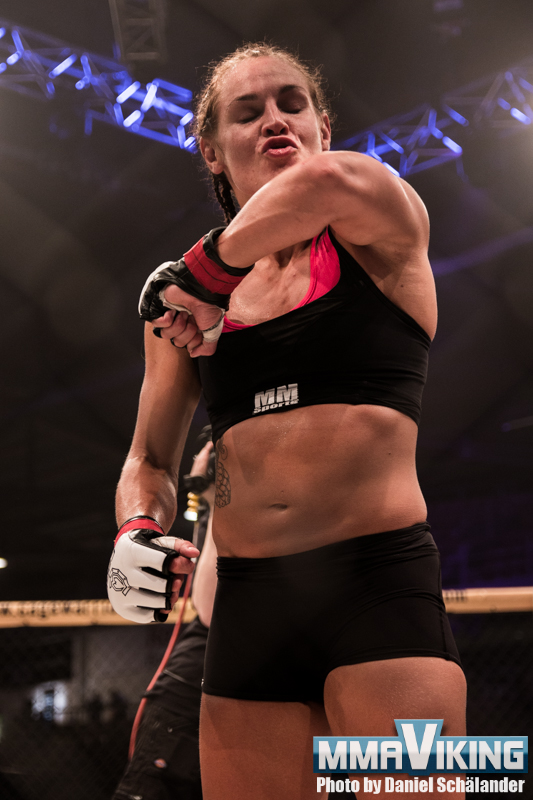 It's been a while since the CW and SMMAF debacle, what are your thoughts on it?
Well, what can you say? It's a shame. But most of all it's really bad that the PRO committee didn't want to stand behind that high quality of fights, when it in many ways would have been a big lift for Swedish MMA. There are no arguments to deny these fights the unified rule set, especially not when we see a lot more doubtful fights from the UFC. So, not wanting to do it or "politics" is the only reason I can see.
How will the move of the event impact you?
First and foremost it is a shame for Sweden and all my other "colleagues" that wont be able to fight. Of course I prefer to fight infront of a homecrowd all the support it brings, but I'm used to travel for my fights.  I appreciate Cage Warriors, and that they will of course covers all the extra expenses.
You'll be fighting undefeated Laura Howarth, how do you see that fight going and what are you expecting from her?
Laura Howart seems to be pretty good all round, but her best quality is her strength. And I'm going there with the intent to win, and the elbows are on my side!
It seems you have shifted focus from muay thai to MMA entirely, would you say thats accurate?
My focus have definitely shifted to MMA, but thaiboxing has been my life for so long, and therefor professional titles will still be interesting, as long as it doesn't affect my MMA career.
The event takes place at the King Hussein Boxing Arena in Amman, Jordan, this Friday, August 22, 2014.  Follow MMAViking.com for live results of the event.  There will be a live stream on Viaplay in Scandinavia.