Cage Warriors 71 takes place today in Amman, Jordan today. Headlining the card is Swede Jack Hermansson defending his title against Bulgarian Deyan Topalski (11-2). Plus, four other Swedes will fight including Martin Svensson, Jonatan Westin, Pannie Kianzad, and Lina Akhtar Länsberg. Read play-by-play and results below.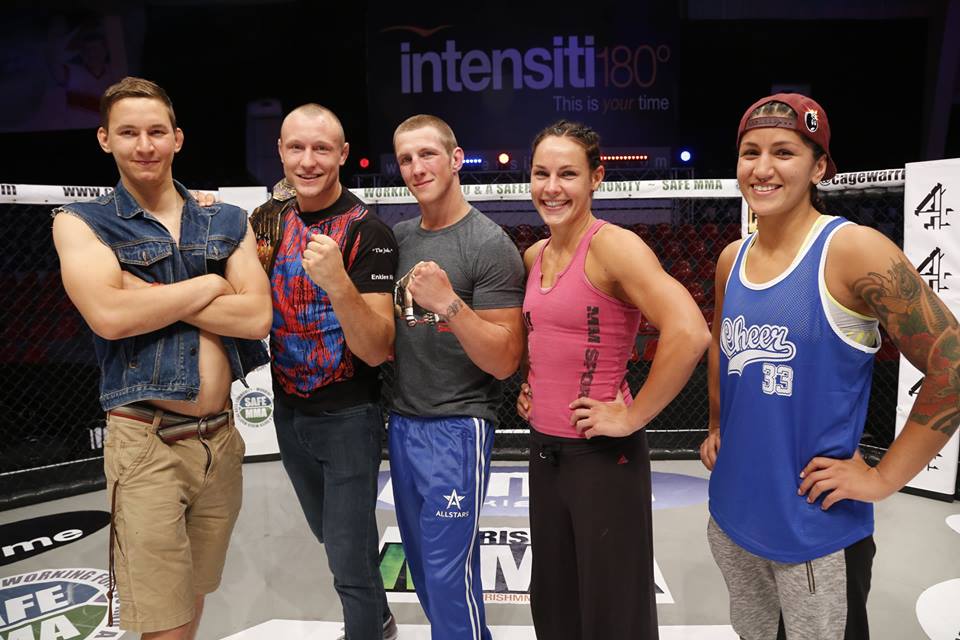 Results
Swede Lina Akhtar Länsberg vs. Laura Howarth
Round 1
Länsberg looks good in the standup, landing at will. Huge elbows to end the round, and Howarth quits on the stool between rounds, and it is over. TKO for the Muay Thai world champion. Dominant performance from the Swede.
Swede Pannie Kianzad vs. Megan van Houtum
Pannie looks calm and relaxed entering the cage with her signature "just bleed" shirt. Rumble Sports head coach Tue Trnka will be in Pannie's corner for this fight.
Round 1
Pannie looks much more at home on the feet but Megan rushes in a takedown and establishes half guard and some solid ground and pound. Banzai gets up and pushes forward but gets thrown in the clinch again. Once more Pannie get's up but gets taken down a third time from the clinch after attempting to pounce on Van Houtumns back. Megan lets Pannie up again and goes for another throw but this time Kianzad lands on top in the Judokas guard. The round ends in a reversed guard with none of the fighters being able to accomplish much of anything.
MMAViking scores the round 10-9 for Van Houtum
Round 2
Kianzad looking far superior on the feet and is keeping her distance more and landing some very good shots. Megan seems to have lost some stamina and the throws arem't landing anywhere near as easily as they did in the beginning of the first round. The Swede gains top position after a failed throw attempt by Van Houtum and is wearing her down with each landed blow. Megan is fading hard as Pannie asserts her dominance from the top. A very clear round won by the Swede.
MMAViking scores the round 10-9 Kianzad
Round 3
Third and final round is on and Pannie is landing vicious blows but gets careless in the clinch and gets a ride on "Van Houtum Airlines". Megan lands in Kesa Gatame but Pannie finds a way to sneak around the back door and takes the back and mounts. Pannie is pounding away and it is all over! The second Swedish victory is a fact.
Pannie "Banzai" Kianzad wins by TKO in Round 3
Swede Jonatan Westin vs. Jack Mason
Long time coach and friend Måns Nilsson and stand in from Malmö Martin Akhtar in the corner of Westin.
Round 1
Westin starts wild throwing spinning kicks all over the place and then jumps in a guillotine. It looks tight but experienced Mason gets out. Westin goes for a switch and takes top position. A grin shows on Masons face as he tries to stand up and he talks with the referee who steps in and stops the fight. Mason has sustained an injury, it's not clear on what's wrong yet. A short fight for our third Swedish athlete and the Vikings are stacking win after win, can Martin "Big Fucking Swede" Svensson keep the streak going?
Westin wins via Submission (injury) in Round 1
Swede Martin Svensson vs. Dave Hill
Round 1
Martin gets takedown early but is not accepting the position and is working the switch just like Westin. Svensson stands up and turns the tables and controls Hill in the clinch. Dave hill falls down after a failed takedown and Svensson and is looking to capitalize and passes Dave's guard. Martin is experienced on the ground holding a brown belt in BJJ. Svensson lets Hill up and looks to land some bombs standing up. As Martin lunges forward with a big knee he gets caught and slammed to the ground by the Britt.
Very close round MMAViking scores it 10-9 Svensson
Round 2
The second round begins with a swift takedown by Hill but gets countered instantly with an omoplata attempt by the Swede who sweeps and passes. Dave Hill is very good at creating small scrambles and Svensson has to fight to keep his positions. Martin stands up again and takes the center. Hill lands another agile double leg but has a hard time keeping the Swede down as Svensson stands up once more. Svensson looks strong in the clinch and gets a trip takedown and mount for just a moment before Hill recovers to half guard.
MMAViking scores another very tight round 10-9 to the Swede
Round 3
Hill launches in with a big left over hand but gets caught in Svenssons web and gets taken down from the clinch. Svensson on top but he has a hard time punishing Dave on the ground being busy with keeping his position. Once again Svensson towers over Hill and takes the fight to the feet. Hill is connecting with some looping punches but only momentarily before getting taken down once more AGAIN. Each round is like a replay of the previous one so far but now Svensson establishes the back mount and is looking for the rear naked, he almost gets it before Hill escapes. Now Svensson is turning the heat up and as the bell rings there shouldn't be any question as to who gets their hand raised as the decision is announced. I believe Svensson would have gotten the finish should this have been a five round fight.
The decision reads 30-27 for Malmös very own Martin "Big Fucking Swede" Svensson.
Swedish CW Champion Jack Hermansson vs. Deyan Topalski
Tue Trnka and Mohsen Bahari in the corner of champ Hermansson. It's very cool to see our Scandinavian fighters support each other on location in Amman. Will "The Joker" give us a full house tonight.
Round 1
Jack amped up as always. Deyan takes the center, the multiple time kickboxing champion will most certainly look to keep this fight standing. Hermansson catches a leg kick and pounces! Jack is looking for the back against the cage wall and gets one hook in and is threatening with the rear naked. Now Jack locks in the body triangle, with one minute left will Jack finish?! And out of nowhere from the back mount Jack starts hammering in lethal hooks to the face of Topalsk. Topalski did not see those coming and is visually stunned before getting flopped over to belly down and brutally finished by the Norweigan Swede Jack "The Joker" Hermansson. Holy Sh*t.
Winner by TKO Jack Hermansson!