My top list this year is a bit different from last years "Best of 2013".  This edition is as much about the stories as the moments captured.  See the top 5 below.
5 – "The last belt"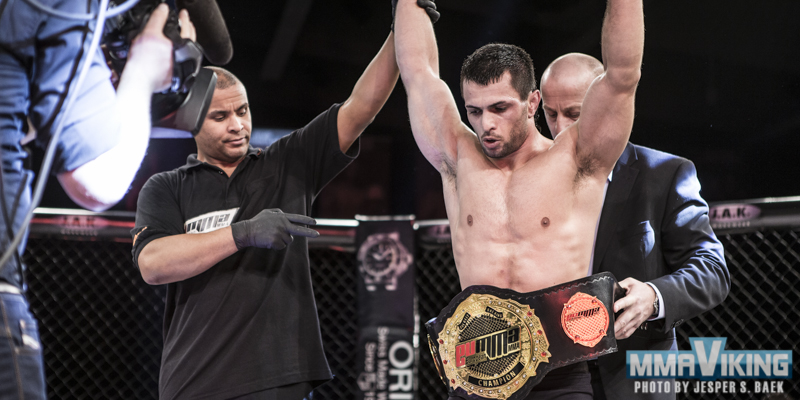 The Danish promotion "European MMA" has had a couple of busy years, but in 2014 they only had one show (EUMMA 8). It was also the last show for the long time promoter and self-proclaimed "Godfather of Danish MMA", Otto Knudsen, so on February 22nd he could crown his last champion when Ayub "Zap" Tashkilot (12-3) defeated Ott Tonissaar (8-2) from Estonia in the main event title fight.
Since then it has been almost a year of silence, so perhaps EUMMA 8 was also the final show of the organisation.
4 – "Hellboy in Sweden"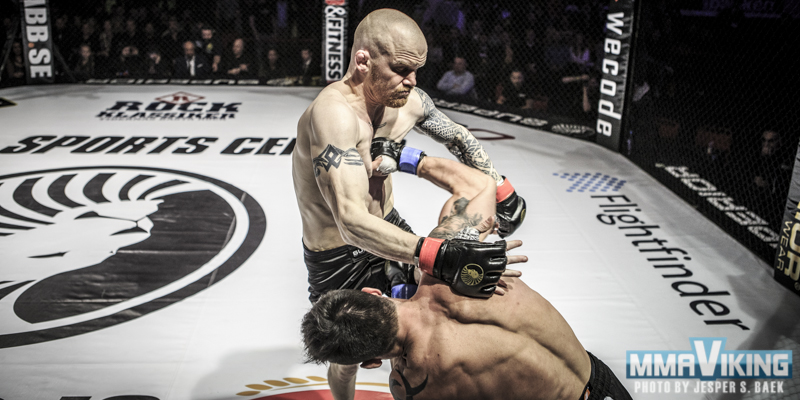 The Norwegian legend Joachim "Hellboy" Hansen (23-13) has spent the majority of his fighting career in Japan, but in November 2014 he guested Superior Challenge 11, where he faced Diego Nunes (19-6) from Brazil in the main event title fight. The fight was most likely Joachim's last on Scandinavian soil, as the 35 year old veteran is closing in on retirement. The fans were excited, and so were we, but Nunes KO'ed the Hellboy 1:51 into the second round, silencing the crowd in AXA Sportscenter in Södertalje.
3 – "A tall order"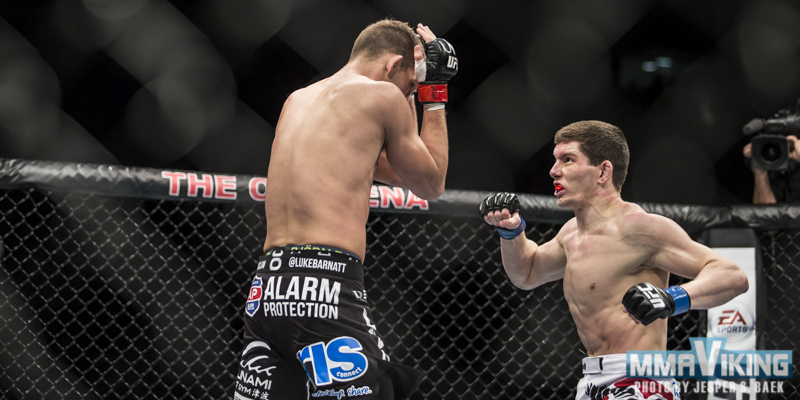 Sweden's Mats Nilsson (11-3) made his UFC debut in London in March of 2014. His opponent was the towering 6'6" tall Brit Luke "Bigslow" Barnatt (8-2) who forced Mats to adjust his entire camp and fighting style. Imagine throwing a straight jab …at 55 degrees.
Mats fought valiantly, but in the dying minute of round one he was overwhelmed with a barrage of punches and a hard knee, making the debut a TKO loss for Nilsson.
Today (January 3rd) Mats will get a second chance to prove his skills in the UFC octagon, as he is facing Dagestani Omari Akhmedov (13-2) at UFC 182 in Las Vegas. I'm definitely watching that!
2 – "Icelandic destruction"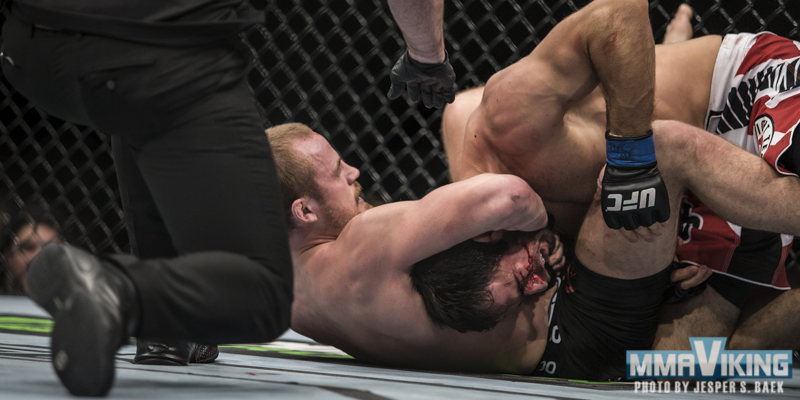 Gunnar "Gunni" Nelson (13-1) has looked phenomenal in the octagon since his debut in 2012. Not counting his recent outing, where he lost a hard fought 5-rounder to Rick Story (18-8). Earlier this year however, he literally punched and choked the life out of Omari Akhmedov (13-2) in the O2 Arena in London. Gunnar looked unstoppable. That night he was like Neo in the Matrix.
1 – "The Allstars flip"
When Alexander "The Mauler" Gustafsson TKO'ed Jimi Manuwa in London earlier this year, we saw a new "thing" from the Swede: "The Allstars flip". I can't quite describe it, but it was entertaining! When the flip happened I had my focus on the dazed Manuwa, still on the ground, but in the background we get a glimpse of the peculiar flip. Clearly that gymnastic discipline is not a part of the Allstars training schedule. Hopefully we will see the flip (or a variation) once more, when The Mauler faces Anthony "Rumble" Johnson later this month in front of 30.000 fans in Tele2Arena in Stockholm. I'll be there once again with my camera, but this time I will keep the focus on Alex.
Check out my Top 5 from 2013 here, and my portfolio site at jesperbaek.com.