Previously Carelia Fight shows have been mainly focused on presenting local talent for the local crowd but this time the promoter has made a decision to "go big" with the fight card in order to pull new crowd from a distance. It's safe to say that the promoter has succeeded in the task as the card has a nice chunk of top Finnish talent on it: Niko Puhakka, Lucio Linhares, Ville Räsänen, Juha Saarinen, Toni Valtonen and Timo-Juhani Hirvikangas.
In the first part of the massive preview package we take a look at main and co-main event of the night of the September 1 card in Imatra, Finland.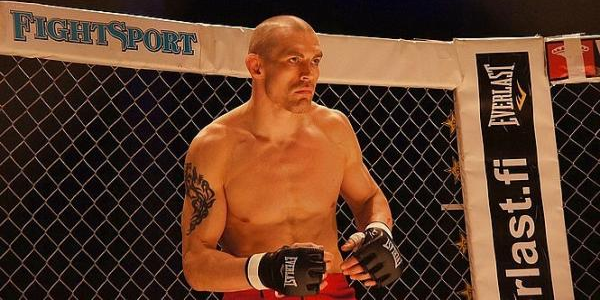 Main event
LHW: Lucio "Spartan" Linhares (17-7) vs. Boubacar Balde (6-4), France:  Finnzillian Lucio Linhares meets Frenchman Boubacar Balde in a fight that has exciting slugfest written all over it.
Helsinki based Brazilian Linhares is a UFC veteran with heavy hands and a high quality ground game. Linhares was thrown to the deep end in the UFC when he was first matched up with Hulkesque knee breaker Rousimar "Toquinho" Palhares and then with top contender Yushin Okami, who TKO'ed him in the second round. Eventhough Palhares submitted Linhares late in the second round,  he got to show his excellent ground game in that fight and even managed to slap on a triangle choke Palhares. Outside of his UFC fights Linhares has mainly used Stand & Bang approach in his fights. His main weapon of choice is a heavy overhand right nicknamed "Big Bertha" that has put many of his opponents to sleep.  Linhares is 4-1 since his UFC stint with the lone loss coming to UFC welterweight Kenny Robertson whose spinning backfist put Linhares out cold at Fight Festival 31. Linhares has been training and honing his grappling skills in Brazil for the summer and finished off his training camp in Finland.
Frenchman Boubacar Balde is a physically powerful brawler who fights with aggression and isn't looking for decision victories. Balde is dangerous with knees in the clinch and he also has good throws from there. He has shown good killer instinct in his past fights and pushes for the finish when he manages to hurt his opponent. As a result of this only one of his six wins have come by decision while scoring three knock out and two submission victories. Likes Linhares also Balde is 4-1 in his last five. The only loss came by split decision to Sylvain Potard in May of 2012.
Summary: Linhares is in the evening of his pro career but the veteran is making one last run in MMA and has put in the work needed to compete successful at the top level. Balde has never been submitted in his fights but then again he has never faced a grappler of Linhares' caliber. If Linhares can turn this to a grappling fest, he should take this pretty handily. But if this ends up being a slugfest, like many of Linhares' bouts, only one thing is for sure: someone is going to sleep.

Lucio "Spartan" Linhares Highlight


Boubacar Balde Highlight

Co-main event
Catchweight 80 kg: Ville Räsänen (11-4) vs. Sergei Bal (11-7), Russia: Imatra's own Ville Räsänen meets Russian striker Sergei Bal in a rubber match that has a promise of ruthless violence in it.
Over the years Ville Räsänen has steadily improved as a fighter and climbed up the rankings. Currently Räsänen is among the top welterweights in the Nordic countries. The Finn is a big boy for the welterweight division and he relies mostly to his powerful grappling in his fights. On the feet Räsänen is a hard nosed brawler who isn't afraid to eat a punch to land his own.  He is 4-1 in his last five after suffering a surprise loss to Lithuanian Vaidas Valancius at Cage 18 in March of 2012. Räsänen has now taken a leave of absence from his daytime work to be able to train fulltime for this fight and the upcoming MMA season.  Räsänen's coach told MMA Viking that the Finn has been working rigorously on his striking game and sparred with Kempo Karate world champ Vyacheslav Andreev among others.
Sergei Bal is the kind of fighter you would except from the famed RusFighters Sport Club. Like RusFighters stars Alexander Shlemenko and Andrey Koreshkov also Bal is armed with devastating striking skills combined with stonecold calmness and killer instrinct. Bal isn't very big or physical imposing for a welterweight which has lead to him losing to powerful grappler who have been able to put the Russian on his back. Bal isn't helpless by any means on the ground but his accurate yet brutal strikes and light foot work on the feet is definitely his strong suit. Bal is 3-2 in his last five with both losses coming to grappling heavy fighters in Murad Magomedov and highly regarded welterweight prospect Magomed Saadulaev.
Summary: Bal knocked out Räsänen back in 2008 but Räsänen's coach Mikko Suvanto paid back for his pupil right away and TKO'ed Bal four months later. Both of these fights happened so long ago that they are irrelevant when analyzing this rematch between the two.  Common denominator is French striker Seydina Seck who both have fought recently. Räsänen outpointed Seck last fall while Bal took his head off with a brutal head kick in February of 2012. Räsänen should have the edge in the grappling department while Bal is probably still the more refined striker on the feet. In any case this fight should deliver loads of entertainment and excitement for the crowd in Imatra.

Ville Räsänen vs Seydina Seck


Sergei Bal vs Seydina Seck with a  Headkick Knock Out.

Preview part 2 will be published 29th of August:
Niko Puhakka (25-11) vs. Sebastien Garguier (9-9), France
Toni Valtonen (24-13) vs. Ilja Skondric (9-8), Slovakia
Preview part 3 will be published on 30th of August:
Juha Saarinen (8-2) vs. Florian Martin (2-1), France
Timo-Juhani Hirvikangas (4-1) vs. Freddy Debessel (7-4), France
Prelims
Aleksi Mäntykivi vs. Jani Salmi
Eeva Siiskonen vs. Florence Berthe, France