Today Rumble of the Kings held a press conference to announce a November 16th fight card on it's "Friday Fight Night" card. In addition to the boxing main event of Swede Frida Wallberg facing Australian Diana Prazak for the WBC, IBF and WIBA belts, the card will also feature an exciting MMA bout between Sweden's Lina Eklund Versus Norway's Margaret Aase at Rumble of the Kings.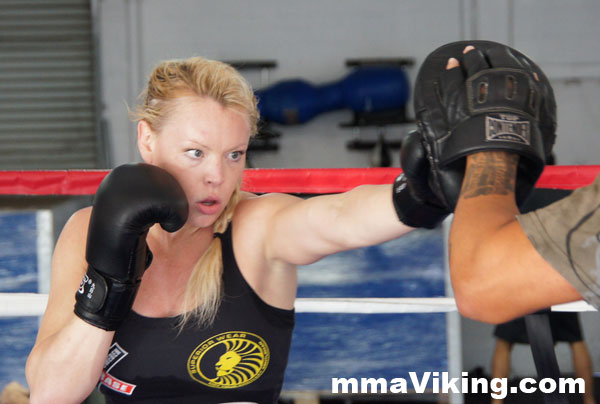 Rumble Announcement & Interview with Eklund
Read the article, originally written in Swedish by Daniel Hol on www.rumbleofthekings.com.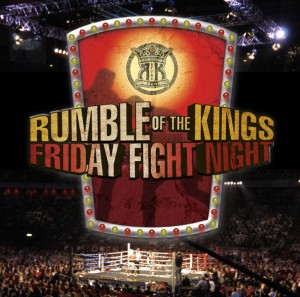 Swedish gladiators pitted against Norway's best fighter
Lina Eklund is perhaps best known as the tough and uncompromising Gladiator Lynx in TV4's Gladiators. But behind the hard TV character conceals a light-hearted and frisky thoroughbred athlete with a passion to fight. In November, the rope to go his fourth professional MMA match and is thus faced with really tough opposition in the form of, "Norway's best fighter" Margaret Aase.
"Will not make that mistake again"
Just over three years ago, after more than two decades of dedication and success in elite gymnastics and body fitness saddled Lina Eklund on to MMA fights. Pro debut took place in Stockholm in April 2011 and the result was a convincing victory via submission. The success gave an immediate taste of professional life and Lina flew to the U.S. to train and to seek more challenges. In early 2012 came the offer of a new game, a challenge Lina chose to accept, although the conditions were far from perfect.
– There was a lot that did not fit before the game in the U.S., it was pretty short notice, I was ill-prepared and so on. But I really wanted to go match, so I said yes even though my trainer, Omar Bouiche really discouraged me. What happened next was that I went to great hair (laughs). She whom I met were good, but she was also much bigger than me, at least seven kilograms on match days. I do not want to explain away anything, but, I learned a lot of the game, a useful experience and I will not make the same mistake again.
Margaret Aase – "Norway's best fighter"
Lina, however, quickly bounced back from the loss in the United States with a true warrior's victory in april this year at a competition in Belgium. A show of strength and equally as proof that Lina evolving into a more complete fights. Now she is approaching the next big challenge, the toughest so far in the MMA ring, a match against Margaret Aase who has nearly a hundred prizes in competitions in sumbmission wrestling and Brazilian Jiu Jitsu. Moreover, won the 22-year-old Norwegian recently VIASAT martial dokusåspa "Norges beste fighter".

Eklund's most recent fight
– I really do not know much about her, not more than that she is talented, has a background in BJJ and of course she won the competition Norges beste fighter. Though I have not checked anything in the series (laughs). I usually do not actually study my opponents like that very much, I rely more on the plan that my coach put forward and what he says to me about my opponent. Recently, I have been training very prominent, which is the part of "my game" that I had to improve the most. I have also begun to peak fitness and drops some weight in preparation purposes.
"The audience does very much"
Lina says that she trains at least twice a day, five days a week, usually much more than that. She describes herself as a physically and mentally strong competitor with severe disturbed nerves that get a kick out of that race, especially if it is for a large audience.
– Yes, it's clear that the audience does very much and it will be extra fun to does battle in Sweden again! Rumble Of The Kings's the biggest gala in Sweden and I was really really happy when I got this game. Of course I want to win and do well, both for myself, the audience and the organizers. When I go to bed at night it often pops up different scenarios in my mind on how I can win the match (laughter), from knockout to various submissions and stuff. I see myself as a winner and now we need to do our homework right and go out and perform when it matters.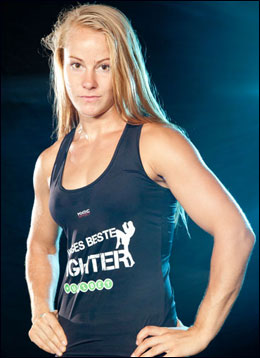 Very tough opponent
That it will require a great effort by Eklund to win in Linköping, November 16th at Rumble Of The Kings, there is no doubt. The Norwegian opponent, Margaret Aase started training Jiu-Jitsu already at the age of eight and has over the years won both the European and World Championships titles in Sport Jiu-Jitsu and Brazilian Jiu-Jitsu. Margaret `s last great success thus came earlier this year in the reality show" Norway's best fighter "where she not only defeated three compatriots in MMA but also took home hundreds of thousands of racing and training scholarship. Some of that money she invested right now in San Diego, United States on the Club Gracie Humaita where Margaret practicing and preparing for the upcoming match with several of the world's foremost practitioners in the right Brazilian Jiu Jitsu and MMA.
"Gladiators is a show – MMA is real"
in TV program Gladiators, we have seen the "Lynx" by Linas character named, wrestle down, turn over and overpower opponents on the assembly line. Lina says her competitive instinct is exactly the same in the television program in a pro fight, but that there is nevertheless vital differences.
– Gladiator "Lynx" is a character, a role that I go in and play to entertain the viewers. I give everything and want to win every moment I participate in but it's still not the same as going for a "real" game. Sure, the audience is right there, the performance requirements and physical stress but it's still a show, a game and a game. When I go an MMA match, it's for real, I'm myself and compete for my own sake. The gladiators I can not go and pull an armbar anyway, but in the ring I will be more than happy (laughs).
Whether Lina Eklund Gladiator Muscles and Win enough to defeat the "Norway's best fighter" remains to be seen, but there is no doubt that, whatever the outcome will be a very interesting duel between two excellent sportswomen who both aim to reach the pinnacle . The match will take place on 16th November at the Cloetta Center in Linköping, you can see they either on-site or via live TV.
For more information on the event and how you can witness Rumble Of The Kings found on www.rumbleofthekings.com
Tickets : http://www.ticnet.se/event/rumble-of-the-kings-biljetter/231719