MMA Viking continues its "Meet the Fighter" series with Yoislandy Izquierdo. He faces Stockholm's own Reza "Mad Dog" Madadi on the prelim card of the UFC in Sweden. Let's learn more about the man that will be facing one of Sweden's most popular fighters.
Yoislandy Izquierdo (6-0 Overall, 0-0 UFC)

Get more pictures like this from SHERDOG.COM
Usually Cuban fighters come to MMA with a background in Olympic combat sports of wrestling, boxing or judo but this is not the case with the Cuban born and now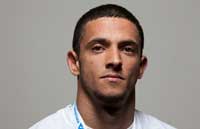 Florida based UFC debutant Yoislandy "Cuba" Izquierdo.  Izquierdo drifted to MMA from an interesting background in Karate and San Shou. Former Cuban army soldier competed with in both arts with good success winning world titles in both.
Izquierdo has gone in 6-0 in professional bouts in a short time and he will make his UFC debut with less than two years of pro experience under his belt. He got his UFC deal based on his last to wins in the CFA promotion: first he Ground and Pounded promising Chris Garcia to TKO in the second round and then used the same method to beat previously undefeated prospect Patrick Cenoble in the first round.
"Madadi is a tough opponent. He has a good ground game and wrestling background. But I have been training hard and I intend on coming away with the victory." – Yoislandy Izquierdo
Because of his background in Karate, Izquierdo fights with a different stance and rhythm than most MMA fighters. Izquierdo has a wide karate style stance, keep his hands quite low and strikes as a leftie. His best weapons on the feet are a stinging left straight and quick high kicks from both sides. In the clinch Izquierdo punishes his opponents with constant knee strikes.
Like many Karate fighters his head movement leaves room for improvement. On the grappling department his ground game is on a better level compared to his wrestling. Izquierdo is a well-conditioned athlete who is also mentally tough and doesn't fold under pressure. 28 year old Izquierdo trains at the Young Tigers in Florida with UFC bantamweight Alex Caceres among others.
Yoislandy "Cuba" Izquierdo vs Patrick Cenoble at CFA