Finland's hottest prospect Musa Amagov headlines the Karkkila Fight Night show on the 14th of April in Karkkila, Finland. In the main event the Chechen striker meets Knight of Plunge gyms Arnold Vanyan who tries to pay back for his teammates Sergei Kabalinov and Dainius Almokas who both got destroyed by the talented Amagov.
Another interesting Finnish up-n-comer on the card is GB Gym's wrestling powerhouse Jussi Halonen. The heavy handed Halonen is a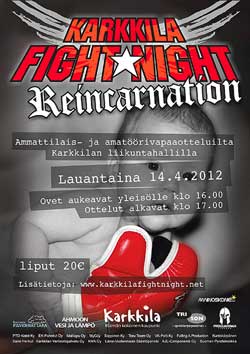 member of the Finnish national wrestling team which means he brings excellent wrestling and imposing physical attributes to the octagon. At the Cage 16 in October of 2011 Halonen broke his hand but surgery went well, the hand is healed up and it's time to get back to action.  Halonen is matched up with Knight of Plunge grappler Pavel Berioza who fights for the first time in Finland.
Swedish amateur Shootfighting champion Michel Ersoy and Pancrase Gym striker Martin Fouda are pitted against GB Gym's Jarmo Paunonen and Mika Hämäläinen who both will make their professional eebut.
Main card
LW: Musa Amagov (3-0-0 ) GB Gym / Team MMA Finland vs Arnold Vanyan ( 4-2-0 ) Team Knight of Plunge Belarus
WW: Jussi Halonen ( 2-0-0 ) GB Gym / Team MMA Finland vs Pavel Berioza (2-0-0 ) Team Knight of Plunge Russia
LW: Jani Salmi ( debyt ) GB Gym / Team MMA Finland vs Teemu Koskinen ( 1-0-0 ) Grappling Team Pori
FW: Mika Hämäläinen ( debyt ) GB Gym / Team MMA Finland vs Martin Fouda ( 1-2-0 ) Pancrase Gym Sweden
FW: Jarmo Paunonen ( debyt ) GB Gym / Team MMA Finland vs Michel Ersoy ( debyt )
Prelims (amateur bouts)
LW: Ossi Vuorinen MMA Karkkila vs Tatu Silvasti Sports Academy Nro 1
FW: Tomi Koskinen MMA Karkkila vs TBA
FW:Tuomas Grönvall GB Gym vs Kari Kuukka MMA Team 300
MW: Riku Westman Hipko vs Mika Kuronen MMA Tuto
WW: Toni Aaltonen Grappling Team Pori vs Petteri Pääkönen Hipko
LW: Jyri Mikkilä Sports Academy Nro1 vs Rauno Lehtinen Tampereen Kamppailu-Urheilijat
FW: Sebastian Sundvik Sports Academy Nro 1 vs Ilpo Penttala Tampereen Kamppailu-Urheilijat
Women 60kg: Niina Aaltonen GB Gym vs Vuokko Katainen MMA Kuopio