Fight Night Finland goes back to where it all started for Karkkila Fight Night this Saturday, and the card has had its share of late replacements and additions. The card now has a main event as Hardknocks Helsinki fighter Rasul Khataev (4-2) now faces Italian Nicolae Negrea (6-2). The event takes place at the Karkkilan Liikuntahalli.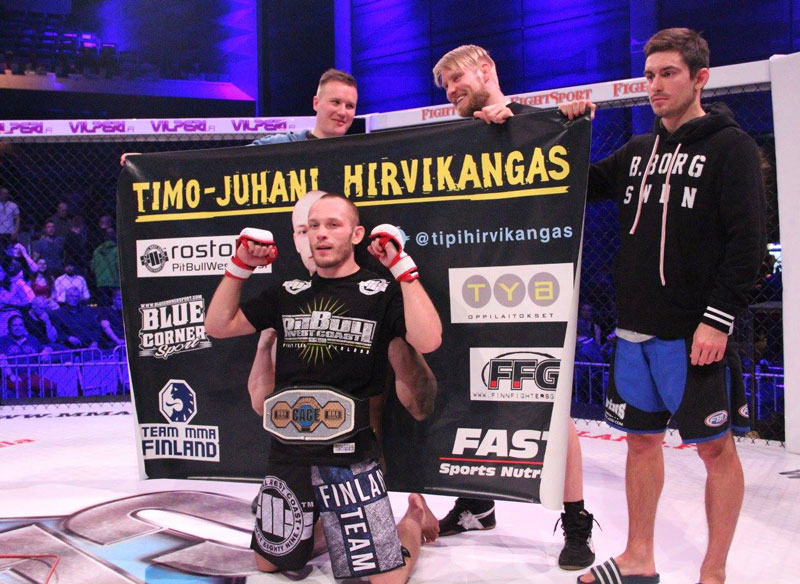 "This is Khataev's first with the new A rules (3 x 5 minute) and he's also making a comeback from an injury from last spring. It wasn't easy finding an opponent for the hot headed fighter from HardKnocks Helsinki." comments matchmaker Olli Hartikainen.
Patrik Pietilä's now has his third, but the origin of the new opponent still comes from Sweden, Arman Popal. Popal will be making his professional debut, he has fought ten times as an amateur and he holds eight victories from those fights.
The card will have a nice blend of pro MMA fights along with several amateur fights using IMMAF rules. Nordic's top ranked bantamweight Timo 'Tipi" Juhani Hirvikangas will have a boxing fight against promoter Ossi Vuorinen.
Fight Card Line-Up
Amateur Boxing
Rasmus Bergman Karkkilan SISU vs Topias Vaittinen Porin NMKY -64kg
MMA IMMAF 2*5 min
Tiia Kohtamäki GB Gym vs Minna Grusander FFG -52.5kg
Lari Lindeman Salon Zanshinkan vs Mikko Pasanen Jyväskylän Fight Club -77.1kg
Petri Hämäläinen GB Gym vs Jesse Koivuniemi KKU -70.3kg
20 minute break
FNF Boxing
Ossi Vuorinen Team FNF vs Timo–Juhani Hirvikangas FFG -70kg
MMA IMMAF 2*5 min
Aleksi Putkonen GB Gym vs Mika Kallio Jyväskylän Fight Club -77.1kg
Zanko Eliassi FFG vs Janne Kuusela Sisu Gym -74kg
Kennet Mattson GB Gym vs Atte Alakortesniemi RNC -77.1kg
MMA Pro 3 X5 min
Patrik Pietilä GB Gym / Primus Fight Team vs Arman Popal Team Superior Sweden -72.6kg
Hannu Nylund Barreto Lahti vs Aleksi Savolainen MMA Imatra -71kg
Jani Salmi GB Gym / Primus Fight Team vs Janne Häkkinen MMA Utti / Team East Front -70.3kg
Rasul Khataev, HardKnocks Helsinki vs Nicolea Negrea Italy -67 kg
Note : Aleksi Toivonen, from Lahti is yet unfortunately without an opponent. Toivonen is known as an excellent grappler and so far no one has signed the contract to challenge Toivonen in an IMMAF rules bout.