It's been just over a week since Sweden's Diego Gonzalez lost a unanimous decision to Daniel Acacio at Superior Challenge 7 "Rise of Champions".  By the end of round one of the bout, it looked like the Brazilian was just one step ahead of the local fighter who hasn't had a bout since March 2010.
"I will be back stronger than ever."
– Diego Gonzalez
For those of us that have followed Gonzalez's MMA career, you may be asking some of the same questions that I posed after the recent bout…. How was the surgically repaired knee? Ring rust after the long layoff? There was no questioning the heart of Gonzalez, who fought hard through the end.

Get more pictures like this from SHERDOG.COM
One thing was for sure about the three round title fight, both Acacio and Gonzalez came to fight. Big punches, with the intent to end the fight were being thrown all the way to the final bell. It was a high-level, quality fight, and the first with sanctioned unified rules by the Swedish MMA Federation (SMMAF).
We check in with the HILTI fighter, to hear his thoughts on the bout.  He answers some of the questions about the performance and what's next. The no excuses fighter, gives this exclusive interview to MMA Viking.
Interview
MMA Viking – You had a tough loss to Daniel Acacio last weekend. What do you think was the main reason that you were unable to secure a victory in the bout?
Acacio did a really good job. I didn't perform the way I can but that's the game. You have good days and bad days. I don't think I deserve a rematch right now, but hopefully I'll get back on track soon and get a chance to show what I really can do.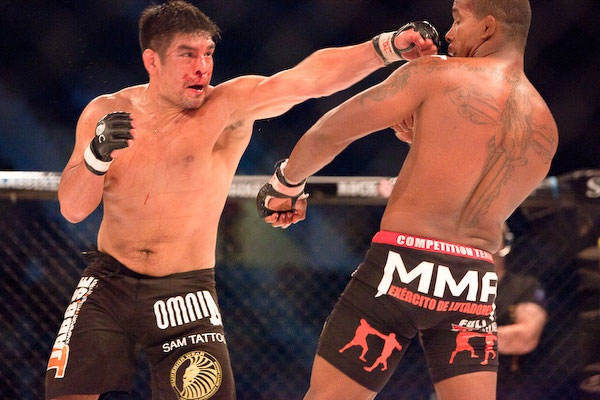 Get more pictures like this from SHERDOG.COM
MMA Viking – There is much said about the challenge of fighters coming back after a year layoff. You had almost 14 months from your last fight. How did you feel after the layoff?
The time away and the surgery affected me a lot more than I thought it would. I wasn't reacting the way I usually do and found myself thinking too much and hesitating. But what can I say?  GThis is a part of the game also.
MMA Viking – Where do you go from here? Are you looking to get back into another bout, or take some time off?
I want to get back as soon as possible and fight a lot. Would like to fight at least 4 more times this year. Need to get the ring rust away. I love to train hard and fight. It's my life.
I just signed a deal with omni4 and the plan is to go down to lightweight. It will fit my height more. But we are not going to rush it so we start now and slowly work our way down and stay there. Take a couple of more fights at welterweight on the way and when the time is right make a comfortable cut down to lightweight. Probably at the end of the year.
I take this experience and make the best of it. Work on my holes and keep evolving. I will be back stronger than ever.
MMA Viking looks forward to the next phase in Gonzalez's career.  Gonzalez's sponsors include Jabb.se, Sam Tattoo in Råsunda, and omni4.