Dmitrijs Homjakovs (4-1) faced Mounir Lazzez (7-0) at Brave 16 in one of the most insane fights you will ever see.  The Latvian born fighter, raised and based in Sweden took on Lazziz in the catchweight bout that was an all out war of power punches, elbows, spinning backfists, and more.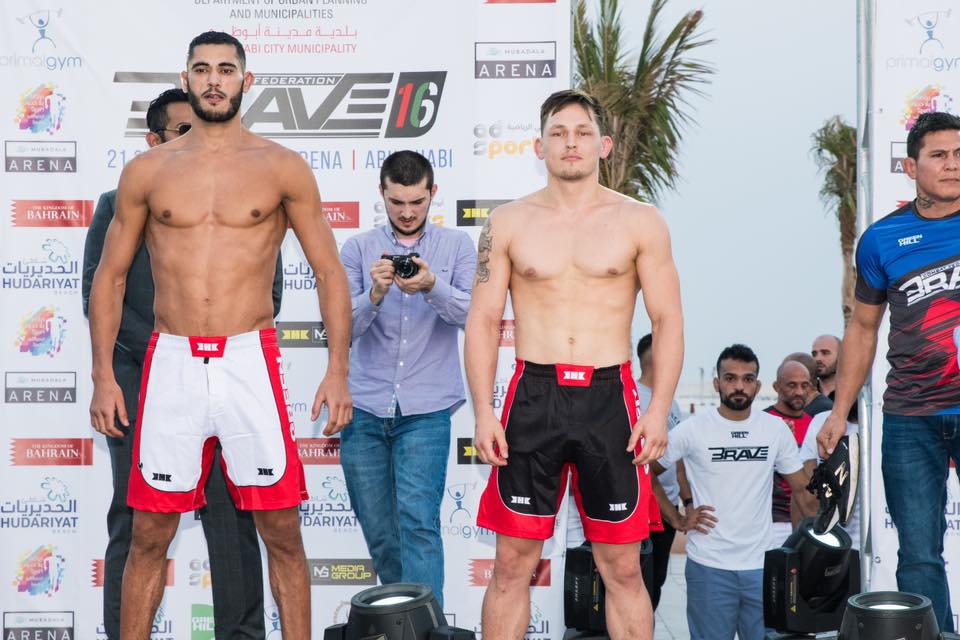 "Dima" was sharp early, that landed swift hooks on the taller fighter with the much longer reach.  The Sweden based fighter landed several headkicks against the fan favorite, and massive power bomb punches.
Unfortunately, the nose of Dmitrijs looked to be broken as it was bleeding after three minutes into the bout.  It was an insane pace with the first 5 minutes ending by Dima dodging a spinning elbow.
The head movement and ability to get in on the longer fighter was on full display early in the second.  The pace picked up and it was big shot after big shot from the Swede that looked to be rocking Lazzez, but the tide begain to turn half way through the second round.  Dima was not giving any space to Mounir, but he stayed composed and landed a solid one two punch that sent Dima to his back.  Lazzez landed big punches on the downed opponent as Dmitrijs fought to his feet twice, defending himself with spinning backfists and punches as he stumbled to stay in the fight until it was finally stopped against the cage as Dima went out swinging on his shield.  Wow.  A TKO, but a true show of heart for both fighters.