Swede Eddy Bengtsson will face Vasili Kachan at Sunday's Zone FC card officials announced today.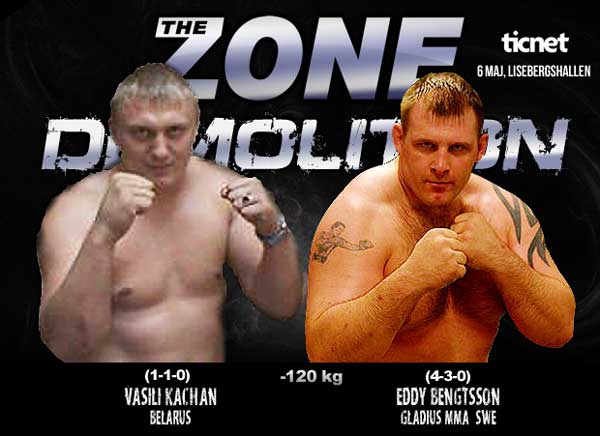 Vasili Kachan, from Rezervatsiya, Belarus fights Eddy Bengtsson from Gothenburg in -120 kg at The Zone FC – Demolition the 6th of May in Lisebergshallen. All fights for The Zone FC – Demolition is set.
Vasili Kachan has a pro record of 1-1 and a solid wrestling background. Bengtsson fought in February at Cage Warriors but lost in the end of the first round.
Here is a video of Kachan from Carpathian Primus Belt the 13th of November 2011.

Tickets can be bought at Ticnet:
http://www.ticnet.se/event/The-Zone-FC-10-Demolition-biljetter/LIH1001
Vasili Kachan at Sherdog:
http://www.sherdog.com/fighter/Vasiliy-Kachan-86956
Eddy Bengtsson at Sherdog:
http://www.sherdog.com/fighter/Eddy-Bengtsson-40718
The Zone FC – Demolition Fight Card:
http://www.thezonefc.com/fightcard.asp?CompetitionID=940