David Häggström captured the bantamweight Vision FC title against James Doolan at Vision 3 'Uprising' Saturday night.  MMA Viking talks to the Swedish fighter that entered enemy territory to take on the local Doolan at Glasgow's Kelvin Hall Sports Arena.  The Renyi Fightcamp fighter, ranked #3 in the Nordics by MMAViking.com, improve's his record to an impressive 6 wins with 1 loss and 1 draw, and now has a two-fight winning streak after his victory over the respected veteran Doolan.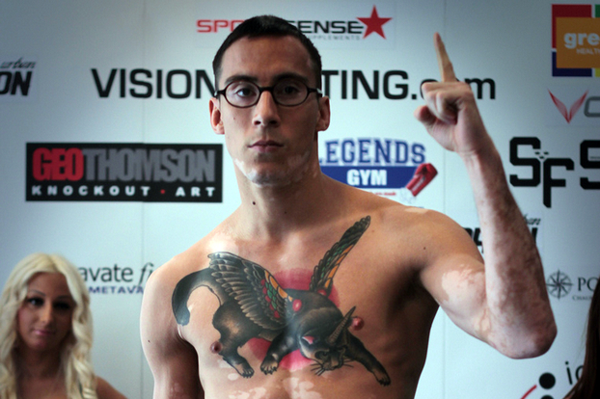 Exclusive Interview
MMA Viking : Without a video stream or TV coverage, many here were unable to watch your bout. Can you provide some highlights and discuss how you performed against the veteran?
Häggström: As always my mental image of the fight might be a bit twisted since it always becomes a bit blurred because of all the emotions and adrenaline that's involved, so I can't say that I will give a 100% accurate account of the fight. But this is how the fight played out as far as I can remember. He was very dangerous on the feet, and I found it quite hard to find my range and distance. The fight was a back and forth war where James definitely used his experience and technical expertise to try and find holes in my game. I felt that I had the advantage in the wrestling department and I also caught him with some nice shots but he fought back really hard.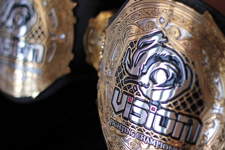 MMA Viking :How was it fighting a local a fighter? Where there any cheers for the Swede?
Häggström : AI actually enjoyed fighting him on his home turf, I knew that he would be the favorite and have the crows support. I had four friends from my hometown over and I could hear their energy and support during the fight, as well as a few of the Scottish supporters that apparently cheered for me. It was lots of fun and I had a lot of fun fighting in Glasgow. But he had most of the crowd cheering for him for sure.
MMA Viking :What does it mean to capture the Vision title?
Häggström : Capturing the title means a lot, first of all it feels great to fight such an experienced fighter who has accomplished a lot and fought the who's who of top European fighters during the last years. It was a great victory for myself because of it being the first time I fought for five rounds, as well as the first one from my gym to fight five rounds.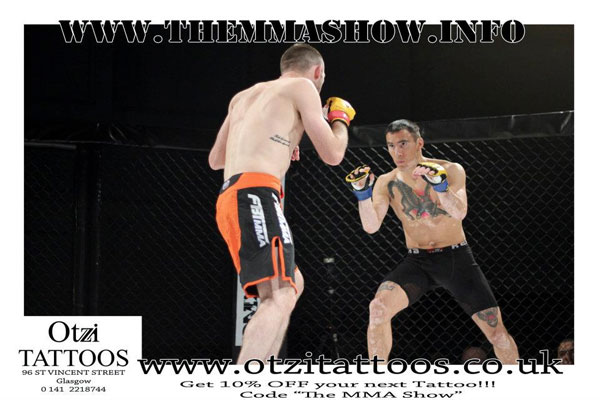 View a full set of fight photos from TheMMAShow.info posted on Facebook here.
Now we know that we can prepare for those types of fights, which brings a lot of confidence to the whole gym. I also believe this is a great step for me in the future, and I hope to defend the title soon. Hopefully this will enable me to find a home where I can fight more often which is great.
MMA Viking :When do you expect to fight next. Will it be defending the title, or will you seek a bout outside the organization?
Häggström : AI don't know when I will be fighting next, but hopefully soon. I'm pumped and ready to find new challenges and continue to improve my game, wherever that is.
MMA Viking :Do you want to thank any sponsors, or coaches, or other training partners?
Häggström : I'd like to thank my sponsor Filip at Red Dragon Tattoo in Umeå, as well as my team Renyi Fightcamp and friends that have supported me during this long camp running up to this fight. Tor Troéng who will be fighting an important fight next week, as well as Thomas Bäck, Johan Heidenberg and lots of others are always backing me up even though times sometimes are hard. Everyone that has helped me coming up to this fight means a lot to me and I couldn't have done this without them.