Swede Sirwan Kakai (9 wins & 2 losses) has been added to the upcoming The Zone FC card, which takes place on April 26th in Gothenburg Sweden. With August Wallen also recently announced, the card is building up to be a good one. See the press release from The Zone FC officials about Kakai's addition below.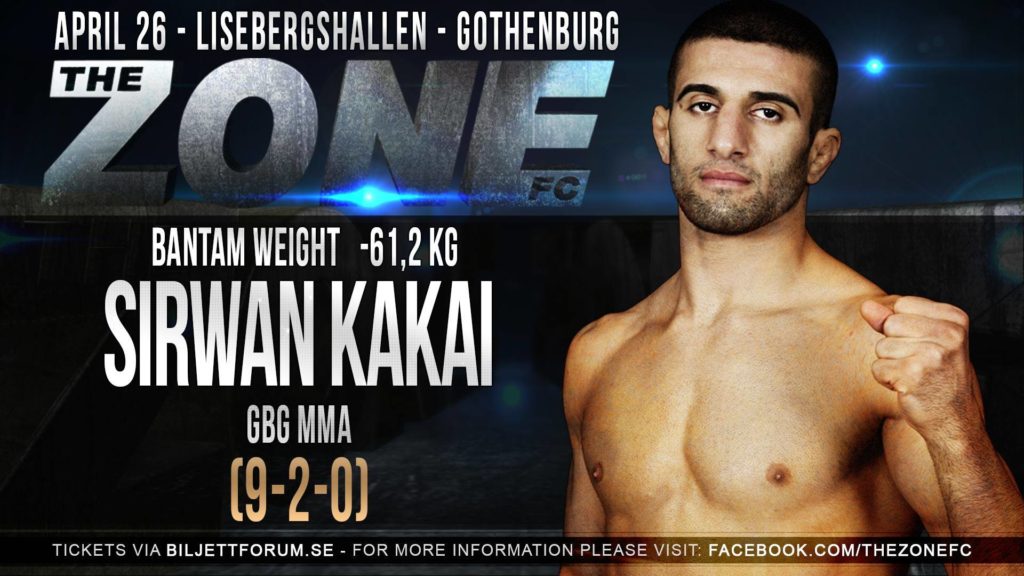 Press Release
Sirwan Kakai is getting ready to get into the cage again. The Swedish Bantamweight Sirwan Kakai is on the verge of an international breakthrough. He holds a record of 9-2 and is now aiming for his next fight in front of the home crowd at The Zone FC 13 – Tough Luck on April 26. Right now he is in the U.S. where he is training hard for the next match.
Tell us about your training and life in the USA! It feels like you are at a turningpoint right now in your career? What do you think?
– I came here to the United States solely to train for a match , so it's full focus on training and recovery to the next class ahead. The days are usually the same , but when I'm off , I'll go to the beach or do something else fun so you can relax too.
What are you focusing on now ?
– I do not think about where I'm going. I live in the moment and I always strive to become better. Right now my focus is on the 26th of April. I will win and make an awesome fight!
If and when the UFC comes to Sweden, how likely is it that you will be on that card?
– I think , what happens , happens . I just want to be active and get some more fights this year and develop as an athlete and fighter.
What are you think right before the ref says "fight"?
– Nothing special, just trying to keep focused on what I should do.
How much you need to lose weight before a match?
– Around 4 kg .
Have you ever been afraid before a match ?
– Nervous but never scared.
What are your dreams and goals with your fightig ?
– To become numer 1 is my goal and my dream!
Who do you think is the best in the world?
– Alexander Gustafsson and José Aldo.
What does a typical training week look like?
– Two sessions a day Monday through Friday and a session on Saturday, but if the body needs extra rest I will rest.
Does your family and friends support what you do?
– Of course! They're all I have ! I could never have done it without my family and friends!
Fight Card :
-83.9 Kg : August Wallen Vs. TBA
-61.2 Kg : Sirwan Kakai Vs. TBA
-65.8 Kg : Rafael Macedo da Silva vs. TBA
-77.1 Kg : Erik Carlsson Vs. TBA
-77.1 Kg : Niclas Danielsson Vs. TBA
-77.1 Kg Per Franklin Vs. TBA
Tickets Available at http://burl.dk/sfuvxj