European MMA matchmaker and promotor Otto Knudsen talks to MMAViking.com about this Thursday's event.  European MMA 6 is one of the highest quality Nordic cards in years, and it is headlined by the monster Dane-versus-Dane matchup of Nicolas Dalby and Morten Djursaa. The card is set to take place at the Brøndbyhallen in Denmark and the hype has hit mainstream media with the main event, international talent, and debut of Danish Olympic wrestler Mark O. Madsen.  Learn more about the card in this exclusive interview.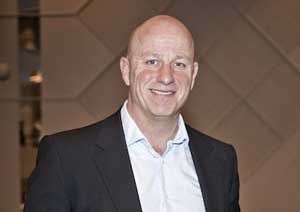 Interview
What excites you most about this card?
I am always excited about all the fights on our fight cards. But I think everybody knows that Dalby Vs. Djursaa fight is the fight that has the most attention here. The fight is a fight that everybody has spoken about in Danish MMA for years and nobody thought would happen. But there is a lot other fights on the card that I look forward to watch.
Christian Colombo will get his chance at the Heavy weight title . Against his toughest opponent to date. Mikkel Guldbæk vs. Nico Musoke will be exciting fight. Both very skilled stand up fighters. Of course Mark O. Madsen debut and one of the most excited and skilled amateur fighters Mads Burnell is having his pro debut. He is a fighter we shall look out for in the future.
Søren Bak is also make the last step from semi pro to full pro rules. Auyb Tashkilot is taking on the German Ruben Crawford in at top match in lightweight. As said the whole fight card will be excited.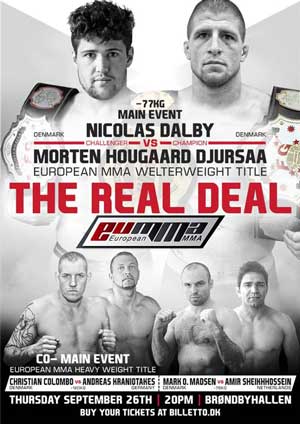 Tell us about the TV deal for the card, and how people outside of Denmark can see the bout.
We have closed a TV deal with Viasat for 3 years. 6 European MMA events a year. They will all be broadcasted live in Denmark, Sweden, Norway and Finland. That also means we will have Swedish, Norwegian and Finnish fighters on all shows in the future. We also made a media deal with Ekstra Bladet
Do you think the main event of Dalby and Morten Djursaa is the biggest and highest level Dane versus Dane fight ever?
Without a doubt. I know that many think Parlo vs. Carlsen was the best, and without taking anything form those two fighters. They do not have the technical level that Dalby and Djursaa have.
I am sure we are gonna see a fight with on very high level. Both fighters are great stand up fighters. Both fighters know that many eyes will be looking at this fight. So I expect that both fighters are coming to end the fight, and I think don't think it will go the distance either.
Stay tuned for exclusive pictures and play-by-play from MMAViking.com at Thursday's fight card. Buy tickets at http://billetto.dk/events/therealdeal