Fight Night Finland (FNF) 14 goes down today in Turku at the Kupittaan Urheiluhalli. The event is packed with IMMAF rules and pro fights.  The card is headlined by Juho Valamaa out of FinnFighters Gym / Primus Fight Team who will face an undefeated Ukrainian Anton Radko.  Check out the card and preview here!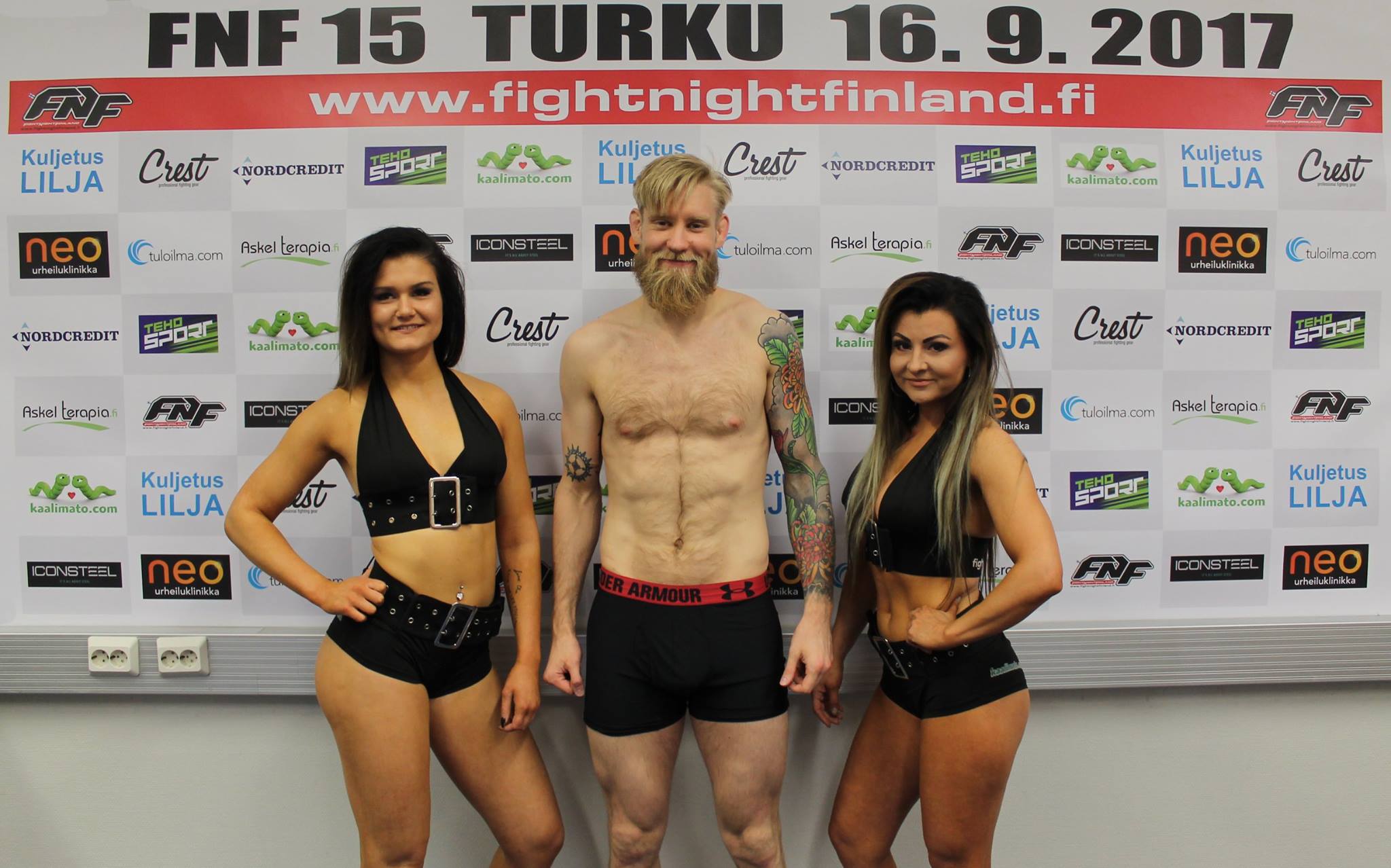 AMATEUR – IMMAF RULES
Tomi Sormunen (Finnfighters' Gym) vs Lari Lindeman (Revolution Fight) – 77.1 kg
Juuso Toivonen (Turun urheilijat) vs Aleksi Virta (Sankukai) – +93 kg
Matti Hirvonen (Finnfighters' Gym) Jami Kuparinen (FGFC) – 77.1kg
This is the unofficial people's main event of the evening. Kuparinen is known to Finnish mma fans as an experienced mma reporter, Hirvonen as a huge combat sports fan and old school amateur mma practicioner.
It is fair to say, that this fight has by far created the most discussion (amongst mma fans) and media build-up. Both of the fighters have been active in their friendly flame war in twitter, instagram and facebook. Kuparinen even went as far as creating his own hashtag, #YearOfJami to fight Hirvonen's #TieJapaniaan (Road to Japan, which is the ultimate dream for Hirvonen).
In a pre-fight video Kuparinen described Hirvonen as "perfect opponent" for him, due to Kuparinen's better reach and because "When Hirvonen gets hit, he goes defensive.. and that is something we have worked a lot on…" [with his personal coach, pro fighter Jani Salmi].
Fact: Kuparinen's previous mma fight was 11 years ago.
Jussi Lehto Eura Fight Brothers vs Antti Teräs Sankukai – 77.1 kg
PRO MAIN CARD
Juho Valamaa 13-4-0 (Primus Fight Team / Finnfighters' Gym) vs Anton Radko 6-0-0 Ukraine – 77.1 kg
In the main event of the evening Turku's own bearded hero, Juho Valamaa, fights against an undefeated Ukrainian, Anton Radko.
Valamaa's last two opponents have been very tough. In October 2016 he fought against the current Cage Warriors welter weight champion Karl Amoussou, who knocked Valamaa out and silenced the whole crowd. However, in his previous fight, which was only a month ago in Stockholm (Superior Challenge 15), Valamaa managed to take an impressive RNC win against the hard-hitting Swede, Zebaztian Kadestam.
Fact: During his professional career Valamaa has never lost in his home town, Turku.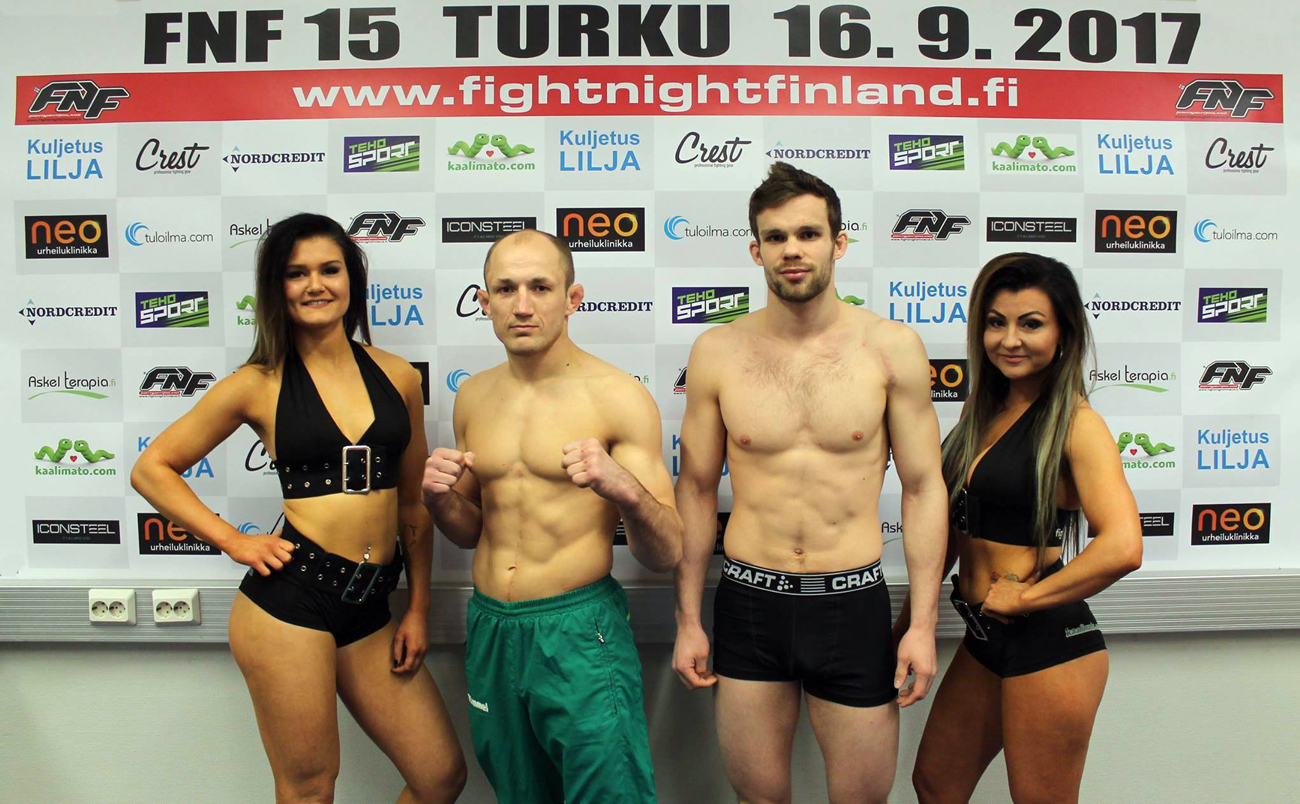 Jani Salmi 9-2-0 (Primus Fight Team) vs Sergei Grecicho 22-9-1 The Knight of Plunge – 70.3 kg
Entering this bout Salmi holds a 8-fight win streak. Out of those eight consecutive wins four have taken place inside the cage of Fight Night Finland. Grechicho is no stranger either to the Finnish mma fans. The Lithuanian has fought against several big names in Finland; Joni Salovaara, and the UFC veterans Anton Kuivanen & Tom Niinimäki to name a few. Grecicho's first fight in Finland was against the current Fight Night Finland match maker, Olli Hartikainen (winner: Hartikainen).
Salmi is also known in Finland for his huge support crew that loally follows him to see all of his fights live. Usually the crew consists of drums, banners and very vocal fans.
Fact: Last time that Grechicho has lost in any other way than by decision was 2006 (armbar). You got that right, over ten years and 25 fights ago. Quite a statement!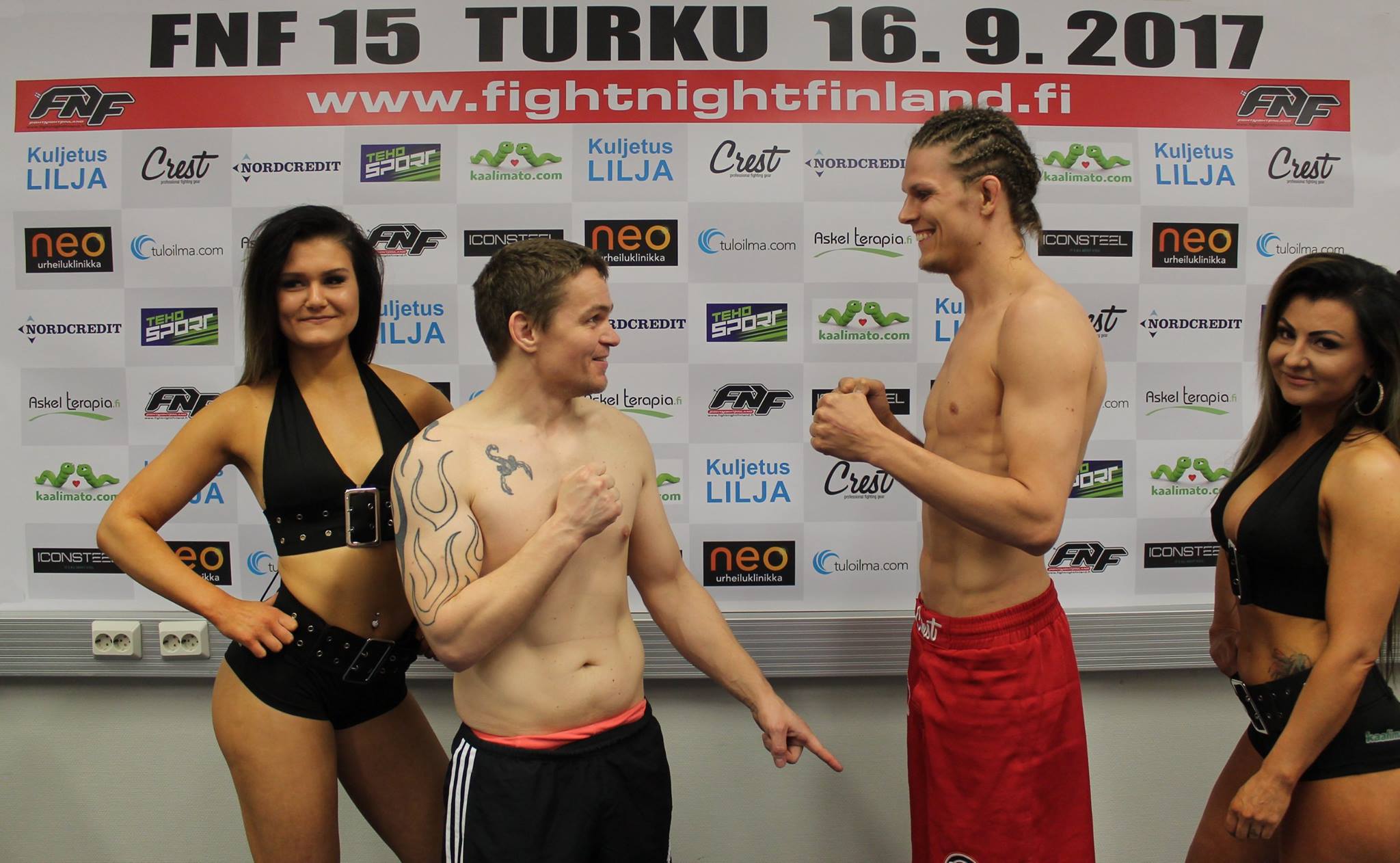 Patrik Pietilä 7-4-0 (Lahden Gentai / Primus Fight Team) vs Ville Yrjölä 7-2-0 (Porin Kamppailu-urheilukeskus) – 70.3 kg
This should be an interesting bout. Pietilä is a very active fighter having fought four times in 2016, and already once this year. Yrjölä on the other hand, had his previous fight two years ago and the one before that nearly seven years ago. Both have a good record, but the question is: how well has Yrjölä maintained his cage performance during those long breaks? We shall see.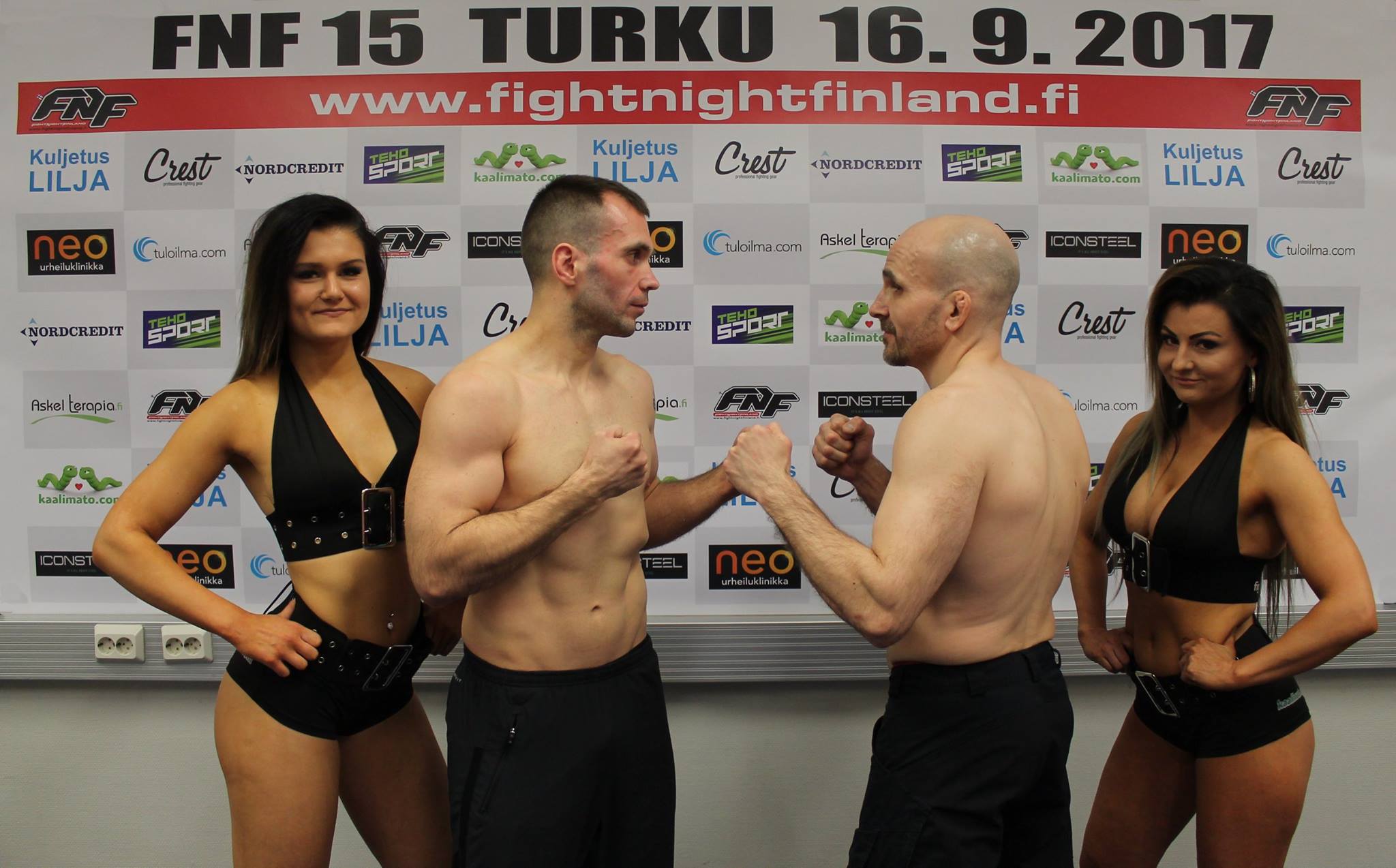 Marcus Peltonen 3-7-0 (Pankration Gym Hamina) vs Jyri Mikkilä 1-2-0 (Sports academy nro1) – 75 kg
Marcus Peltonen is one of the Finnish mma pioneers. He fought in the first ever mma event (Finn Fight 1) in Finland, not only once but twice during the same event. Those two fights took place 19 years ago, in May 1998. Peltonen's previous mma fight was nearly 12 years ago, but he also holds a black belt in BJJ so his ground game should be very strong. Mikkilä's previous fight was a loss against Patrik Kapanen in November 2016 in the Fight Night Finland 13, Karkkila event.
Minna Grusander 2-1-0 (Finnfighters' Gym) vs Tiia Kohtamäki (Primus Fight Team) 0-0-0 – 50 kg
This is a professional debut for Kohtamäki. She is definitely not getting an easy start when facing IMMAF world champion (2015) Minna "Brustku" Grusander. These two fighters have met before when they were still fighting under the amateur rules.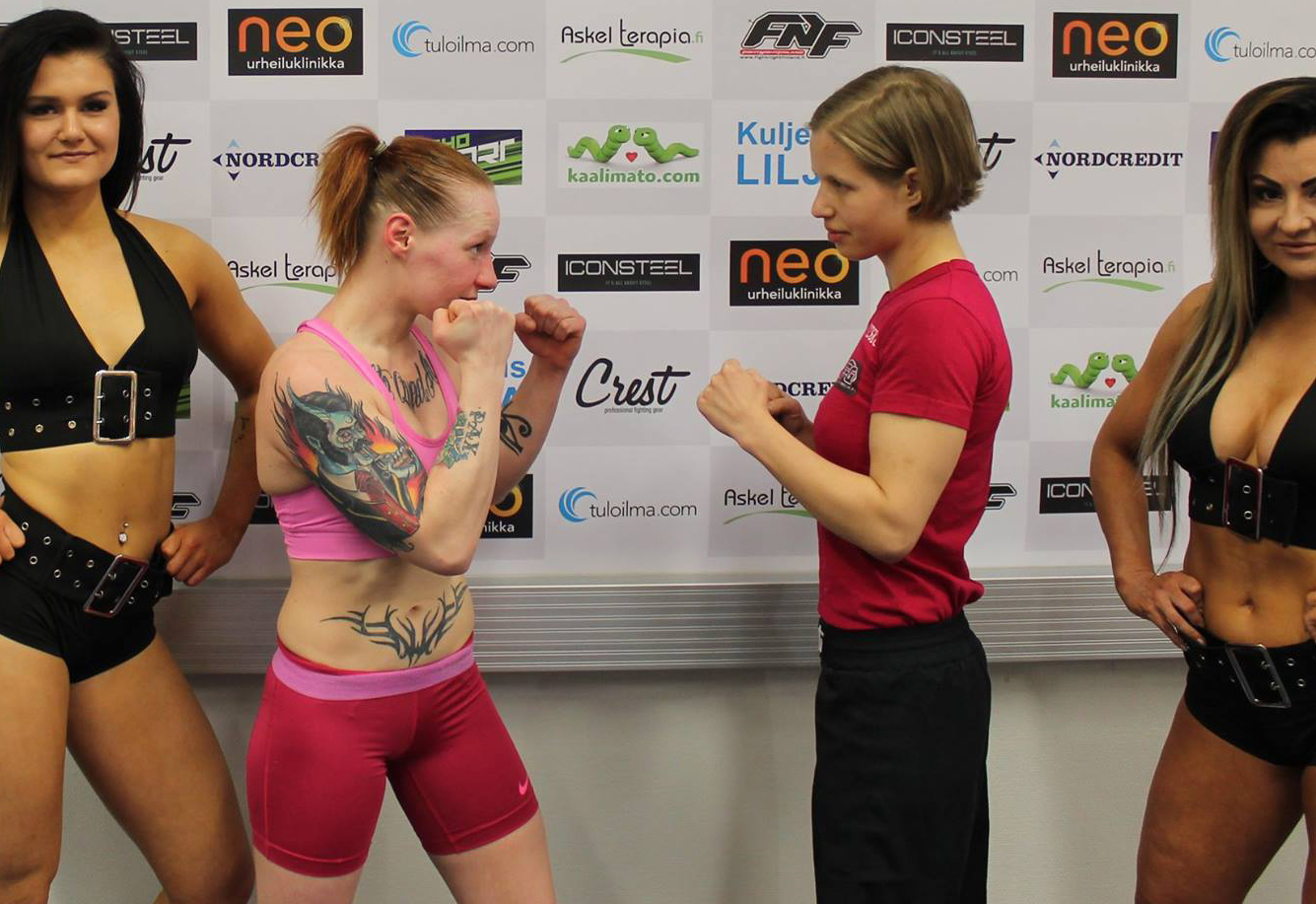 In their previous bout Grusander took the win in the second round via Arm Triangle. Now two and half years later, Grusander has fought thrice during her professional career. Her last bout was the main event of Pancrase 284 in Japan, Tokyo. Grusander lost that fight to Syuri Kondo due to a unanimous decision. Grudsander is now looking to bounce back on the winning ways, whereas Kohtamäki is aiming for a big scalp in her pro debut.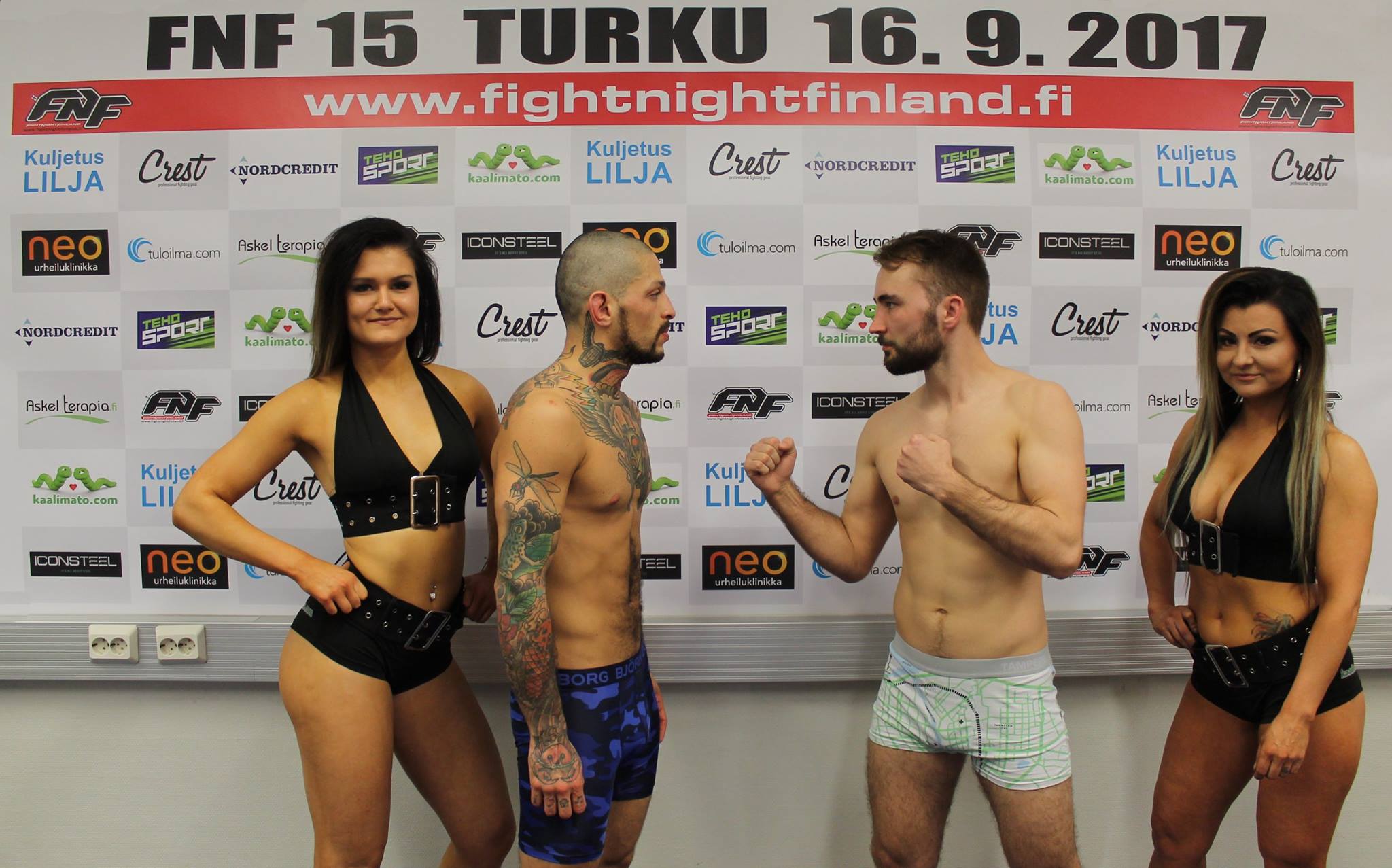 Markus Rytöhonka 2-2-1 (Primus Fight Team) vs Ville Kyllönen (WFC Warriors) 0-0-0 – 65.8kg
Rytöhonka returns to the professional cage after a long break to face Kyllönen, who is making his pro debut in this event. Rytöhonka's both pro wins have come by the way of TKO, and both of his losses are submissions.
Kyllönen is known for his wrestling skills, but Rytöhonka has faced strong wrestlers before. In fact, Rytöhonka's first ever professional bout was against the currently most succesful Finnish UFC fighter Makwan Amirkhani in 2011. Rytöhonka lost that fight, but won his next two fights in a row.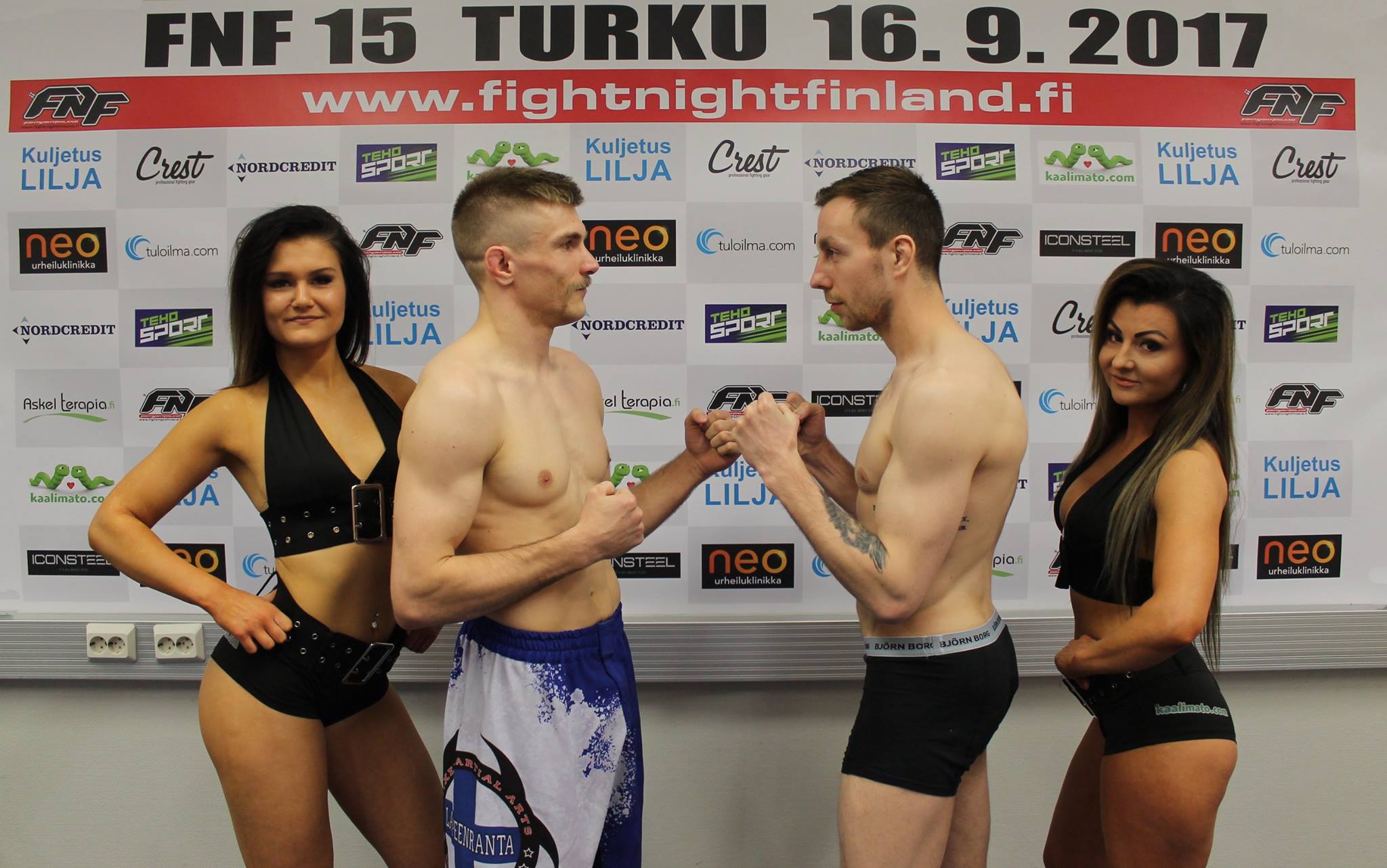 Toni Lampinen (MMA Rauma) 1-1-0 vs Janne Sinersaari 1-0-0 (Team East Front) – 70.3kg
Lampinen has a win and a loss in his record. The loss was via TKO, but in his previous bout Lampinen knocked out his opponent, a promising young fighter, Zanko Eliassi in FNF13, Karkkila event.
Sinersaari has had one fewer fights in his professional career, and therefore only has a win and no losses in his record. According to amateur record Sinersaari's talents lie in the art of submissions.