Exactly two years ago today, 35,00+ fans packed into the the Tele2 Arena hoping to celebrate a Alexander Gustafsson win in the wee hours, but it was an unexpected "Mr. Finland" that stole the show with his dazzling UFC debut.
MMAViking.com was fortunate enough to spend time with Makwan Amirkhani the weeks and days before he was known outside of the local MMA scene in Finland.  Below we chronicle the lead-up to the 8 seconds of cage time that, along with his brash personality, launched Mr. Finland to mainstream poplularity two years ago today.
As soon as the Finn landed in Stockholm to begin final preparations for his bout at Allstars Training Center, we sat down with the fighter for a "meet Makwan" video interview. "My mom didn't realize how big this was, when I came home screaming" says Amirkhani about getting the exciting news that he got a much coveted spot in the UFC.
The featherweight was also showing his confidence early in sizing up his opponent. "I can win over this guy…. no problem"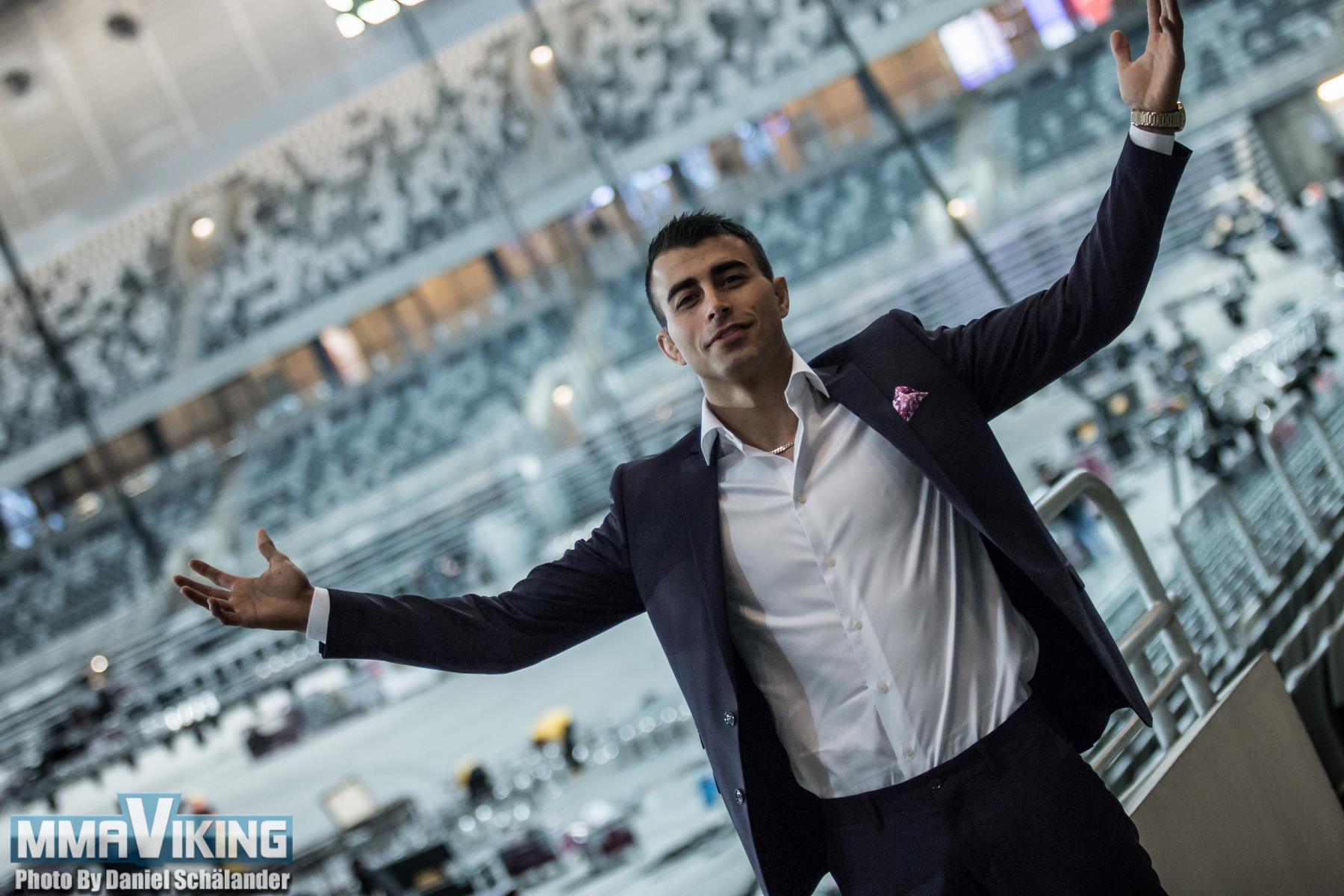 Not too many outlets were interviewing the Finn at media day, so we had additional time with him. Makwan told us that he bought this purple suit with his spending money (intended for food and other essentials) from the UFC so he could look good at the post-fight press conference. The purple "Joker" suit is what he called it.
Photographer Daniel Schälander snuck him out to the construction within the Tele2 Arena and got a series of great photos of Makwan.
We sat with the relaxed and outgoing Makwan as he cut weight for his debut. "Boring Christmas" reported Mr. Finland that had been all business in the preparations both at Stockholm's Allstars Training Center and with Greg Forsell back in Finland.
"I'm not shaking because I have self confidence. Because I have worked for this very much."
Amirkhani was respectful at weigh-ins, and they lasted longer than the actual fight.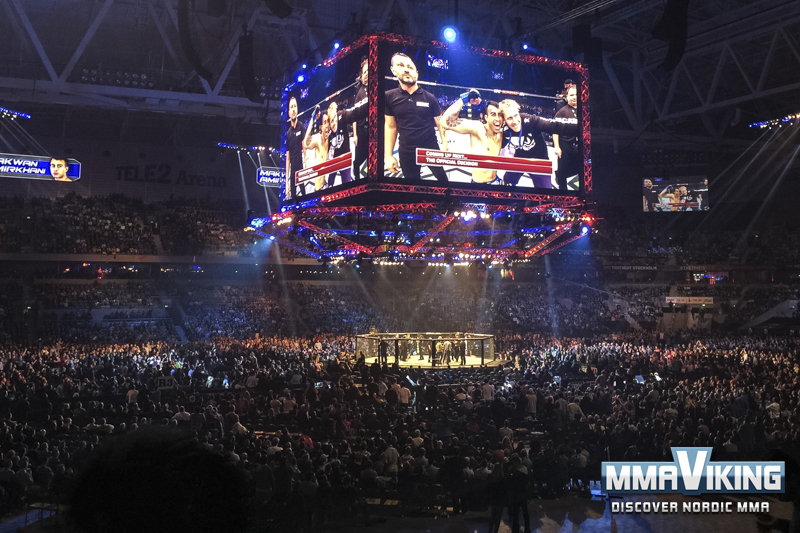 Well, we all know that it was a knee followed by punches that shocked the Stockholm crowd.  It was the 5th fastest in the Octagon.
Mr. Finland entertained in the cage with backflips and dancing around draped in the Finland flag.  At the press conference he was confident and engaging, causing laughter and celebration.
With $50,000 for his performance of the night bonus, he will be looking to buy a nice bed for his mom that currently sleeps on the mat.
Taking Makwan mania to another level was his response to a reporter that asked about a potential rematch to the 8 second matchup.  
"Against who? 8 seconds, do you want less than that."  
The response was captured perfectly by aKam Productions that helped spread this viral Thug Life video seen over 500,000 times in different channels.
Amirkhani will step into the cage against Arnold Allen (11-1) at UFC London on March 18th at the O2 Arena.  With a potential four UFC wins in a row, get ready to kick off Makwan Mania again!