Finnish middleweight Glenn Sparv (14-4) faced Brandon Ropati (8-2) in the co-main event of Hex Fight Series 10 in Perth, Australia today. Teddy Bear was absolutely dominant as he used his wrestling to get on top and just smash the New Zealand fighter.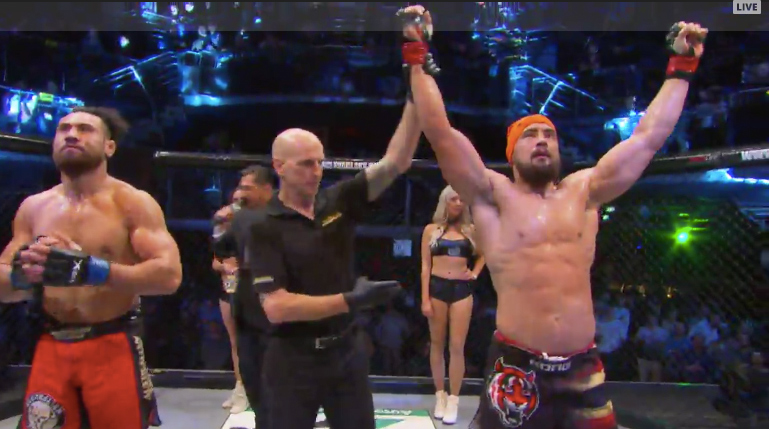 "Yeah chael sonnen and jon fitch all day!" says Sparv after the bout to MMAViking.com. "It was a tough one, strongest middleweight I ever tumbled around with, I have worked that murican wrestling with Hickmans Bros wrestling this year and it paid off."
Read the play-by-play of the action below, as the Tiger Muay Thai fighter wins unanimous decision 30-26, 30-26, 30-25.
Live Play-by-Play
Round 1
Both fighters look relaxed. Standing in orthodox stance, and Ropati comes out with some bombs, but Sparv covers up nicely and moves into the clinch. The Finn no longer looks like a welterweight, and a huge middleweight just body locked the Kiwi and throws him down. He is back to his feet, but Sparv throws a few knees to the face with bad intentions. Good work from the man with the hockey haircut.
Sparv looking real good with his wrestling here, getting the BJJ purple belt back on the mat. Good top game from the Finn that gets some ground and pound in as he fights to stay on top. One minute left here and back to the feet, but Sparv keeps an underhook to stay in control. Nice trips and wrestling to keep the clinch. A slip from Glenn and he goes to his back with Ropati throwing a good right hand. Good round from the Tiger Muay Thai fighter.
MMA Viking Score : 10-9 Round Sparv
Round 2
After a kick from Ropati, it is Sparv that again works his takedown game. He pulls the New Zealand fighter down, and spins around looking like a real top-level wrestler. Sparv now sits in full guard, which is where he landed several times in round 1.
It is all Sparv here, landing punches to the head and body. Ropati trying to get up, but the Finn won't let it happen. Takes him back to the ground, again. Just total ground control.
MMA Viking Score : 10-8 Round Sparv
Round 3
Sparv his in no rush here on the feet. BUT, as soon as the opportunity is there Sparv goes for the takedown, and the Tiger Muay Thai gets another take-down. Two minutes into the round, and Sparv looking to take back against the cage. Good ground and pound, with solid punches. Now full mount. This is a total beat down. Sparv throwing elbows and punches to the face. The referee takes a look as Teddy Bear is just mauling Ropati. 30 seconds left. It is all over. Just a dominant performance.
MMA Viking Score : 10-8 Round Sparv
OFFICIAL : 30-26, 30-26, 30-25.