This Saturday's UFC 160 was supposed to be another big step forward for Gunnar Nelson, but due to a knee injury Mike Pyle will be facing Rick Story, not the Icelandic MMA prodigy. MMA Viking checks in with Nelson's manager and father Haraldur "Halli" Nelson, who reports that "Gunnar's recovery is going good."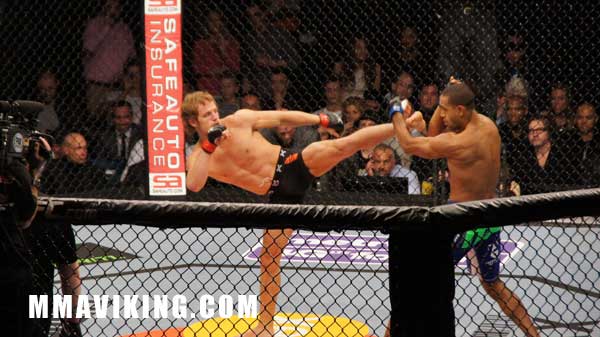 Nelson was taken off of the Las Vegas card in early April when the Mjölnir fighter hurt his knee. Since then the undefeated fighter (11 wins, 0 losses, and 1 draw) has undergone knee surgery.
"Hopefully he will be able to start some training in June and be fully recovered in August." says Nelson. "Gunni" was looking to return quickly following a unanimous-decision win over Jorge Santiago at London's UFC in February. It was the 24-year-old's second win in the Octagon, and he became Iceland's biggest sports attraction and one of the UFC's biggest up-and-comers.
The bout against top 15 fighter Mike Pyle was seen to be a real challenge for the 24 year old. Pyle was 6-1 in past seven fights with the lone loss coming to top contender Rory MacDonald. A win against the American on one of the biggest cards of the year would have put Nelson in the top 10 mix.
Watch Post-Fight Video from Last Bout
Stay tuned for more updates.