Over 25,000 fans came to cheer for Alexander Gustafson in the main event of Fight Night Stockholm card at the Tele2 Arena in Stockholm, but it was the Mauler that got mauled by a heavy hitting Anthony Johnson that left the fans silent.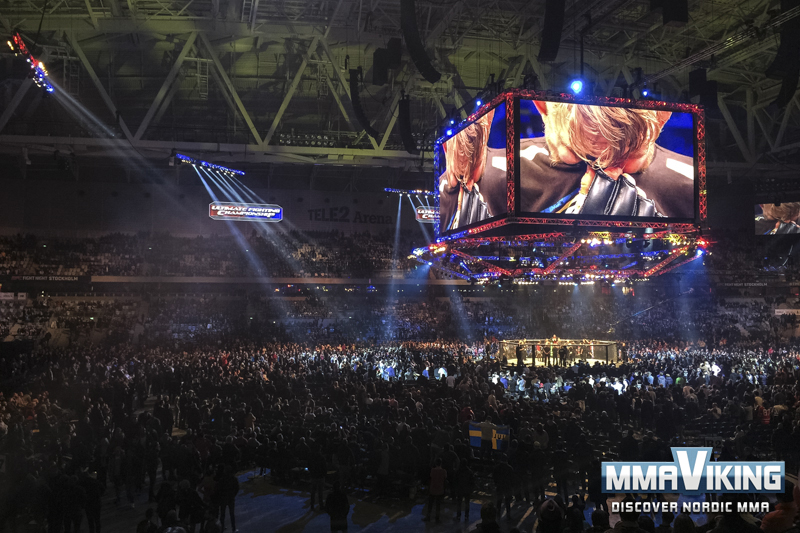 Gustafsson looked good early, mixing up kicks and punches.  Johnson came to battle, as Rumble was stalking the Swede as expected. With an finger going into Johnson's eye stopping the action momentarily, it got heated up shortly after.
What caught Gustafsson by surprise however was a counter right hand after a front push kick from the Blackzilian fighter that dropped the Allstars Training Center fighter to the mat.
There was nowhere to go for Gustafsson that was face down on all fours getting punched in the face. Mark Goddard jumped in at 2:15 to stop the damage that left a dazed former title contender on the canvas.
"My game plan was to work every round with my distance and my speed.  He did what he had to do, and he did good." says Gustafsson after the fight.  "I got hit."
"A lot of pain… it was a tough thing to deal with" says the Swede about his emotions after the fight.
Gustafsson now drops to 16 wins and 3 losses, and he has lost his last two of three.  Johnson moves to 19 wins and 4 losses, and 9 fights in a row.