Håkon Foss (8-3) submitted Martyn Harris (4-3) today at Cage Warriors 81 in the first round. The bout was supposed to take place two weeks ago, but Harris was ill and the fight was rebooked for the Dublin Ireland card.  The Frontline Academy fighter had to wait for his win, but once the fight started it didn't last long.  Read the full play-by-play below.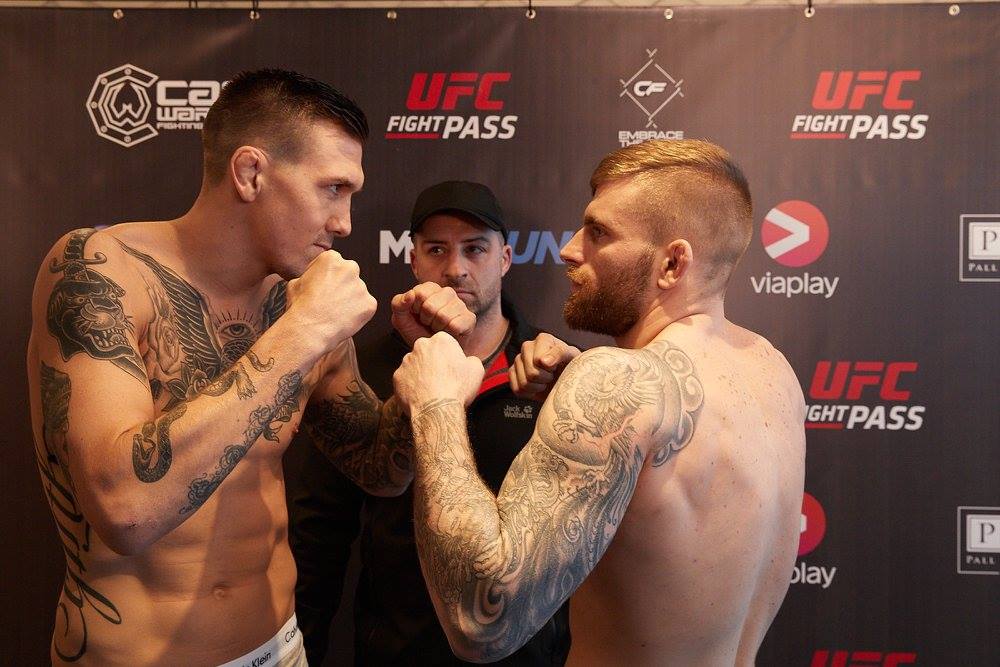 Live Results
Jack Hermansson is on Foss's corner for this one.  The Norwegian comes out to the cage second, and has a fresh haircut as he steps into the cage.
Round 1
Both fighters come out orthodox style, but you can see the reach advantage is clearly with Foss.  A low kick from the Frontline fighter and Harris catches and tries for a take-down, but he doesn't get it.  Back to the feet.  Harris wants this fight on the ground, but is having a hard time taking down Foss and presses him to the cage.  Wow!  Foss with a sweet hip toss and throws Harris to his back.  Quickly Ferocious takes back.  Half way through the first round here and Foss in control of this one.
Foss looking for a rear-naked choke, and has a triangle around the body.  The Norwegian adjusts and now gets the submission!  It is all over!
3:38 of round 1 submission by RNC by Hakon Foss.
Foss has now won four straight fights, and his only loss in his last 7 bouts was to Karl Amoussou in a quick heel hook back in December of 2015, in a fight he took on late notice.