MMA returns to Odense Denmark tonight, as MMA Galla open the doors to their second event. The evening will be a showcase of nordic MMA talent in 9 amateur MMA bouts, followed by 3 international pro MMA matchups.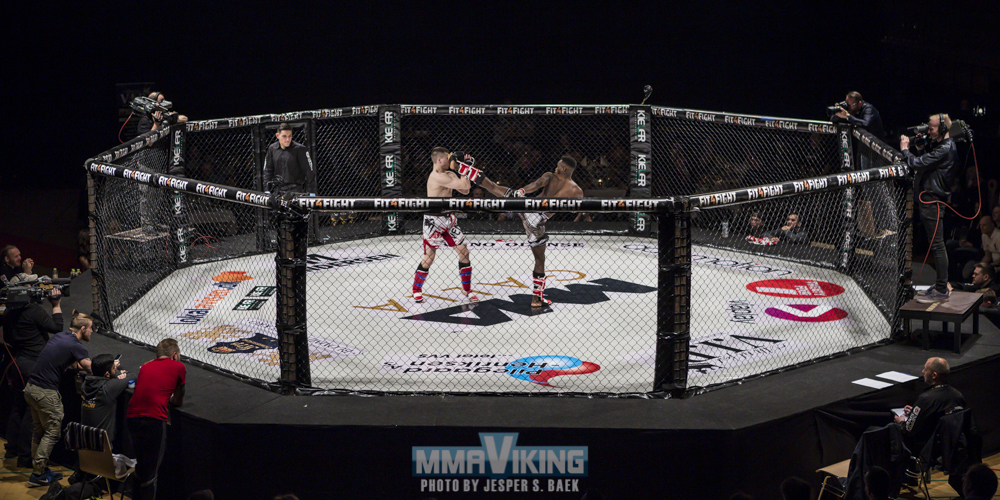 MMAViking is in the arena with Jesper S. Baek reporting live results and play-by-play cageside and Mattias Persson with loaded cameras on top of the cage.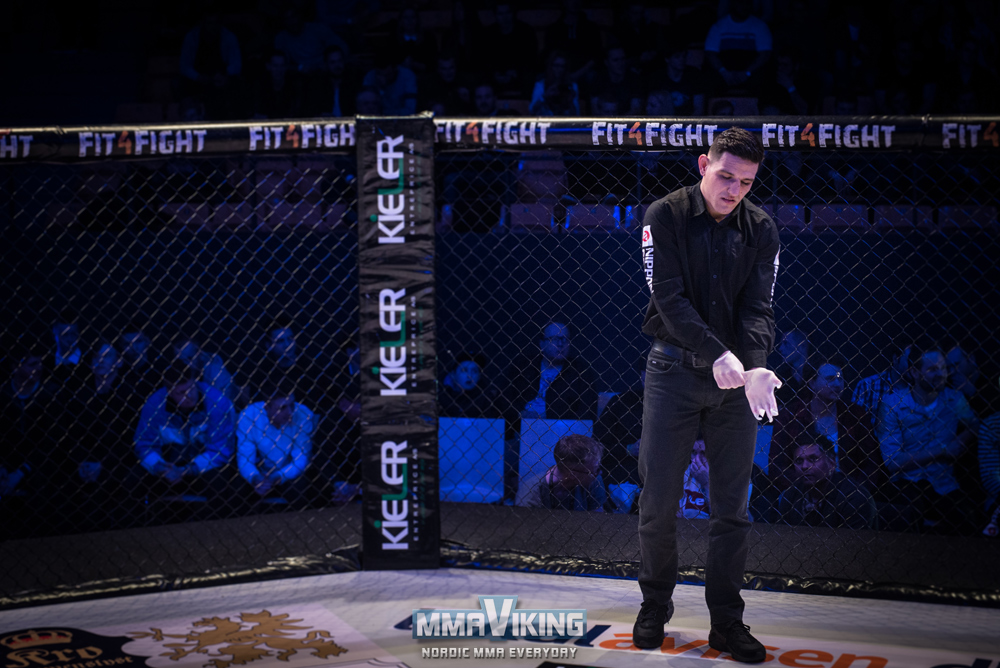 Stay tuned for live-updates and pictures below.
Live Results
AMATEUR MMA
Ollie Oliver defeats Kim Larsen via unanimous decision
Axel Vincent defeats Solaiman Shareef via armbar (round 1)
Prince Avenu defeats Denis Gitanovic via TKO (round 2)
Harald Polden defeats Jonas Bech Christensen via armbar (round 1)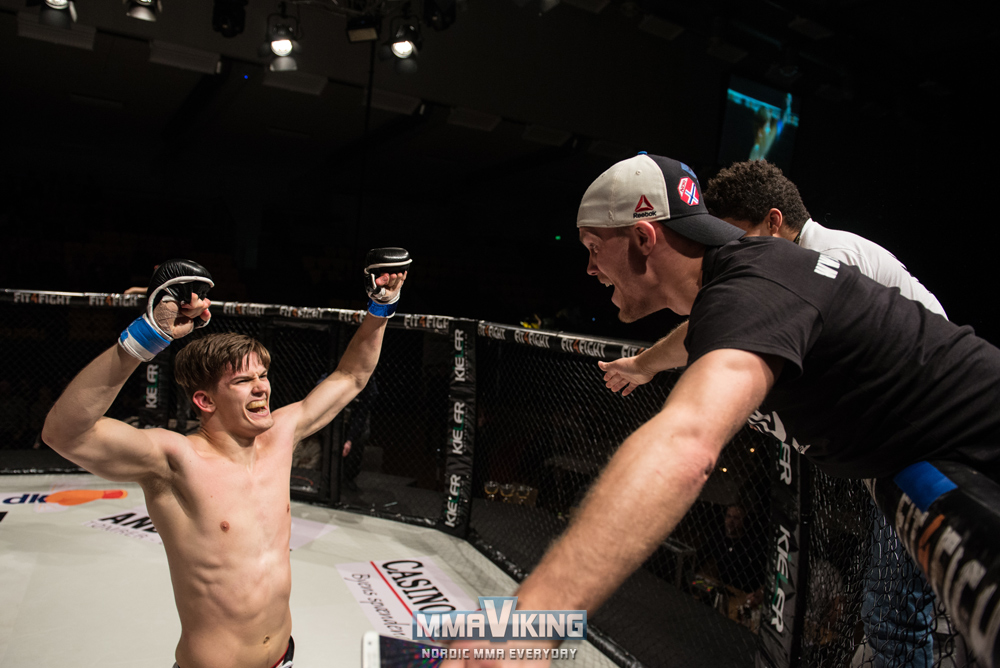 Alexandar Jokimovic defeats Kenneth Thorsgaard via TKO (round 3)
Ricki Forssell defeats Felix Köster via unanimous decision
Phillip Andreasen defeats Casper Pedersen via guillotine choke (round 1)
Milan Silva defeats Rasmus Elehrs via unanimous decision
Jonas Troest defeats Martin Hansen via Von Flue choke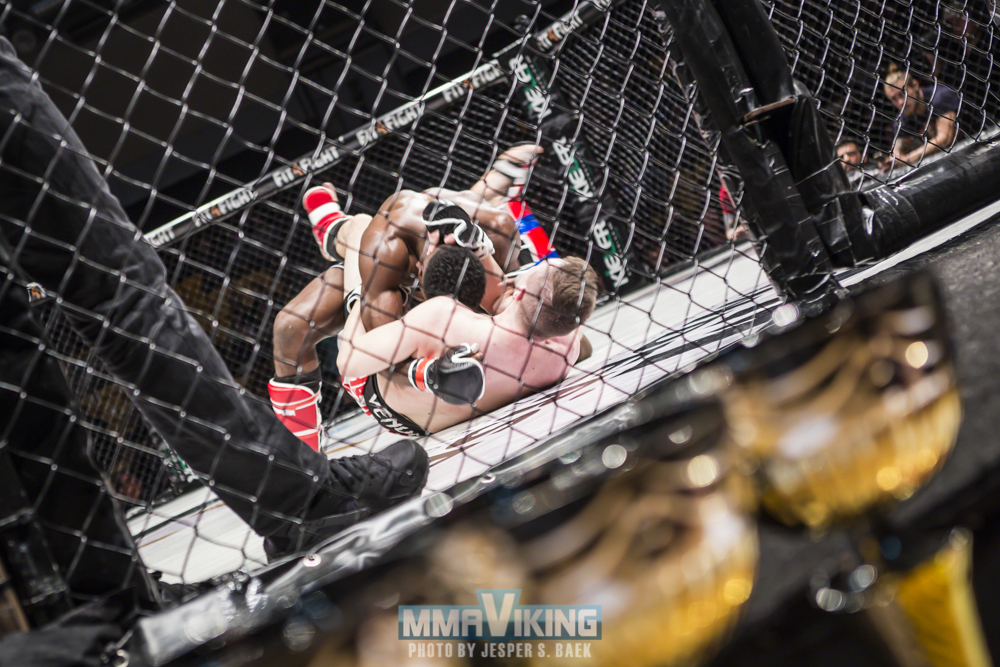 PROFESSIONAL MMA

Abdi Farah vs. Danny Mathiasen
Round 1 – Danny is very aggressive from the start, taking the center and pressuring Abdi towards the cage. Danny gets a quick take down. After a long scramble Danny ends in Abdi full guard. Danny tries to create some space for punches, but Abdi is crafty from the bottom and gets a couple of nice short elbows in. Good pressure form Danny, not giving his opponent any room or time to recover.
Both fighters get up and starts trading punches in the center. Danny gets another takedown, but Abdi immediately gets up. Danny has slowed down a little, and Abdi swings for the fences. Danny moves forward, but is met by good counter striking from Abdi. Another takedown from Danny, into half guard, against the cage right in front of Abdi corner. Danny lands some nice short left hands, but Abdi recovers to full guard.
The bell sounds, first round is done. Great pace so far!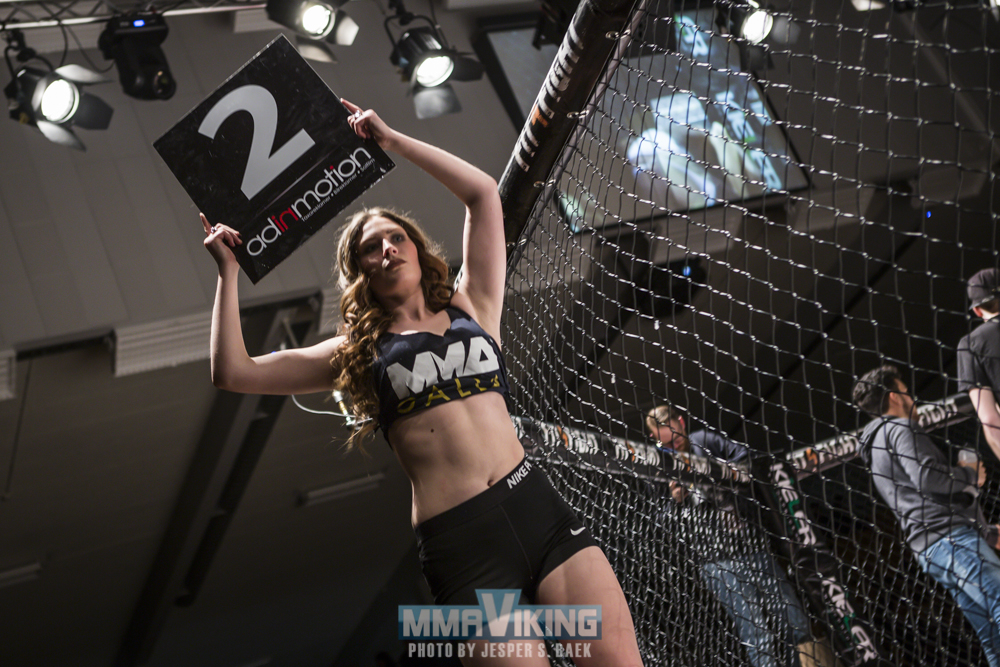 Round 2 – The two combatants trade wild shots in the middle. Abdi is getting the cleanest hits in, but Danny secures yet another takedown – into full guard.
Danny lands an elbow and tries to pass the guard. Abdi once again gets a short elbow in from the bottom and works relentlessly for sweeps. Abdi threatens with an armbar/triangle from bottom, but Danny defends and end up in side control. The fight is very even so far. Abdi is a little more defensive from the bottom now, perhaps the pace is wearing on him. The last two minutes are spent in a limbo. The bell rings.
Round 3 – Abdi takes the centre for once, and Danny is circling on the outside, Danny tries for a hook kick, but it only grazes his opponents chin. Danny shoots for a single, but is denied. Good hard low kicks from Abdi. Danny hits big and follows Abdi to the ground. Abdi is full on defensive and Danny tries to close the deal with ground and pound from half guard. Good defence from Abdi, who recovers to full guard. Relentless top pressure from Danny, who keeps his opponent busy on the defensive the rest of the round.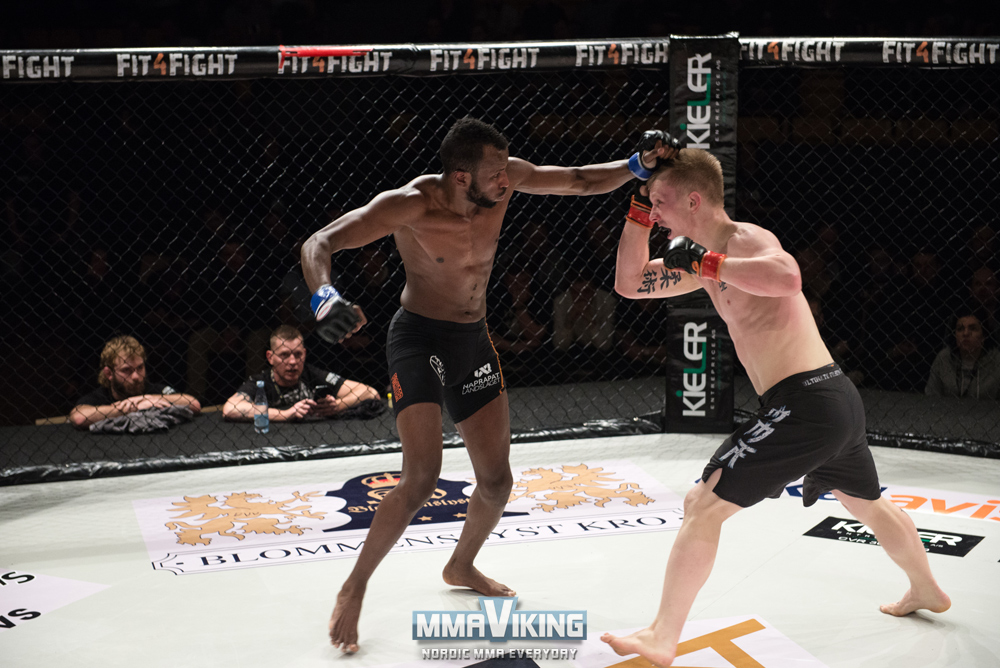 Winner by unanimous decision: Danny Mathiasen
Nepomuk Minarik vs. Jonas Mågård
Round 1 – Jonas looks sharp and confident, very light on his feet. Nepomuk hits with a counter left as Jonas presses forward. Jonas is throwing every punch with bad intentions. Nepomuk pushes forward. Nice lowkck from Jonas followed by a jab. Left hook finds a chin, Boom! Nepomuk goes down – and it is OVER! KO by Jonas Mågård!
Winner by Knock Out: Jonas Mågård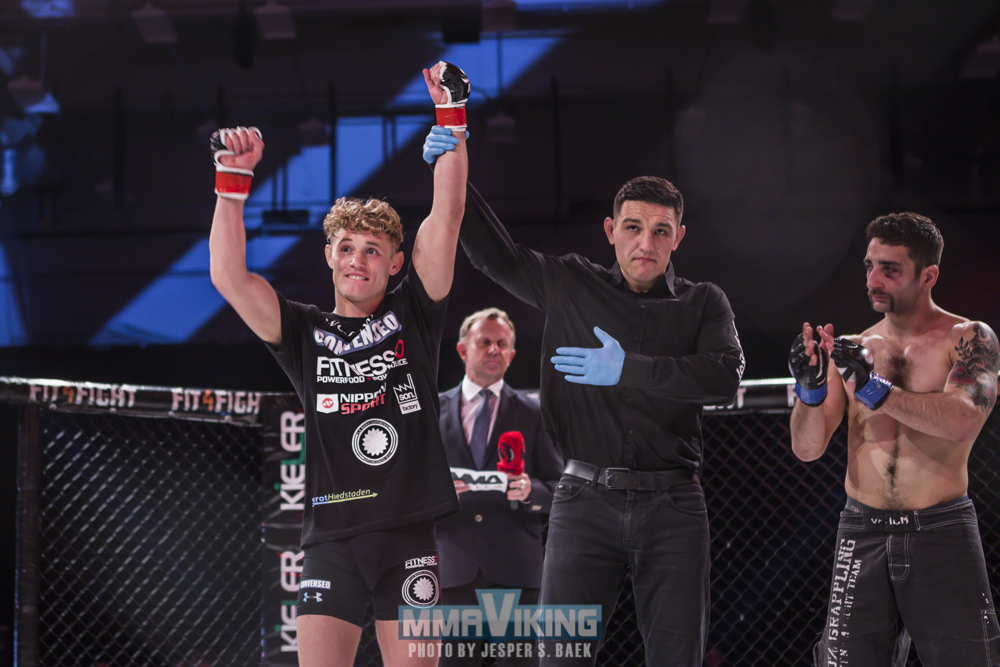 Main event: Jordan McKie vs. Nick Barnø
Round 1 – Nick and Jordan meet in the middle, Nick connects quickly and Jordan backs up. Nick throws a high kick and it lands right on the jaw of Joran, as he ducks down into it. Nick follows up and throws everything but the kitchen sink at his opponent. Jordan hits the ground! TKO by Nick Barnø!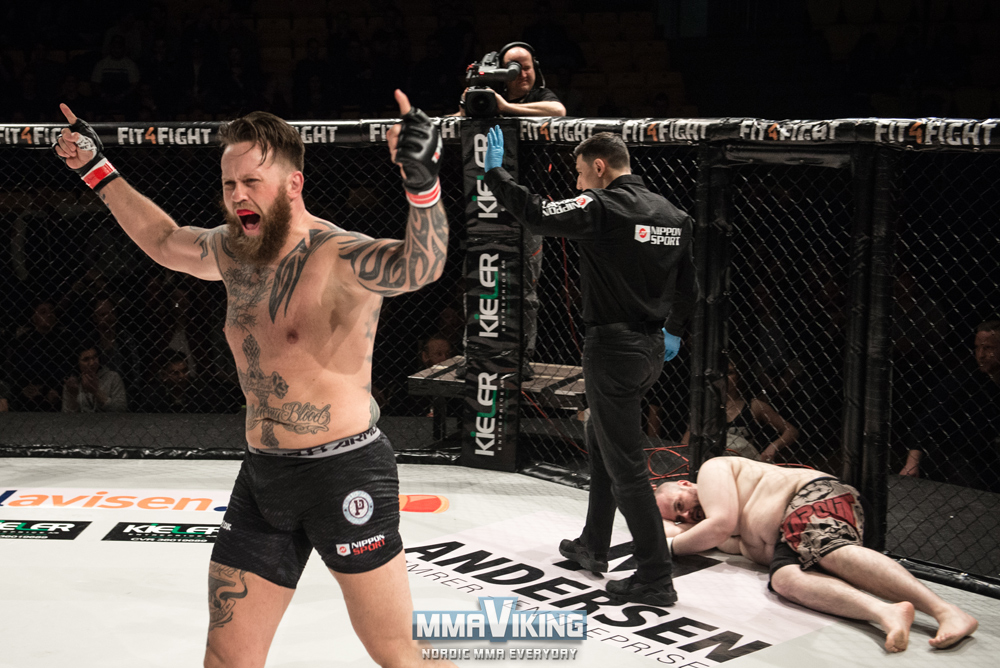 Winner by TKO: Nick Barnø