Finnish bantamweight star Timo-Juhani Hirvikangas (10-2) kept his impressive streak alive before his home crowd in the main event of Saturday's Cage 27. "Tipi" defended his Cage title convincingly and notched a fifth straight first-round finish against the French challenger Antoine Gallinaro (7-3).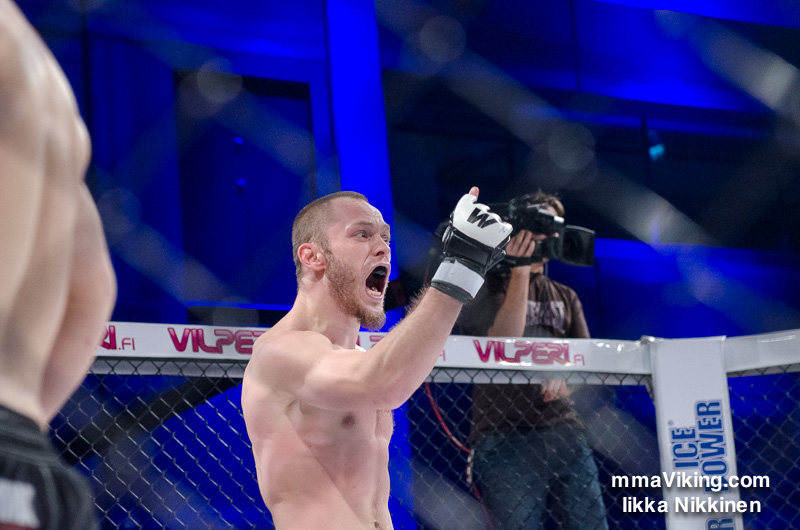 Gallinaro opened the bout aggressively and hurt Hirvikangas with a nasty liver shot in the opening minute. After regaining his breath the champ showed just how high routine level is. Hirvikangas took Gallinaro down half way through the first round, secured his position and locked a ruthless guillotine choke.
Despite the win, Hirvikangas was not totally satisfied with his first title defense.
"it didn't go the way I planned. He hit me pretty bad right in the beginning, and it took me a while to get my game back. But luckily I got the job done. It wasn't the best fight, and it wasn't the best preparation for it, but I won – it is big relief." – Hirvikangas
Being one of the hottest rising stars in the European scene, Hirvikangas keeps on waiting for his chance to step up to the highest level. He would like to get back in the cage in early 2015 – and he wouldn't mind fighting in Stockholm or London if the UFC comes calling.
"If I get to say, I'd like to keep busy and fight in January or February. I can get a good training camp before that. Of course I would rather fight in the UFC next."
The sold out house in Turku got to cheer for other notable local winners as well. Juho Valamaa fought for the second time in three weeks, and scored a split decision win after a grueling three-round battle with Brazilian Daniel De Madallena. Valamaa broke his foot with a kick in the first round, but he was able control the fight.
Undefeated prospect Teemu Packalen scored his sixth professional win and he is yet to fight full time. Late replacement Hyram Rodriguez forced the bout in the second round, but he had to tap when the Finnish jiu jitsu prodigy stopped a takedown attempt and turned it into a kimura.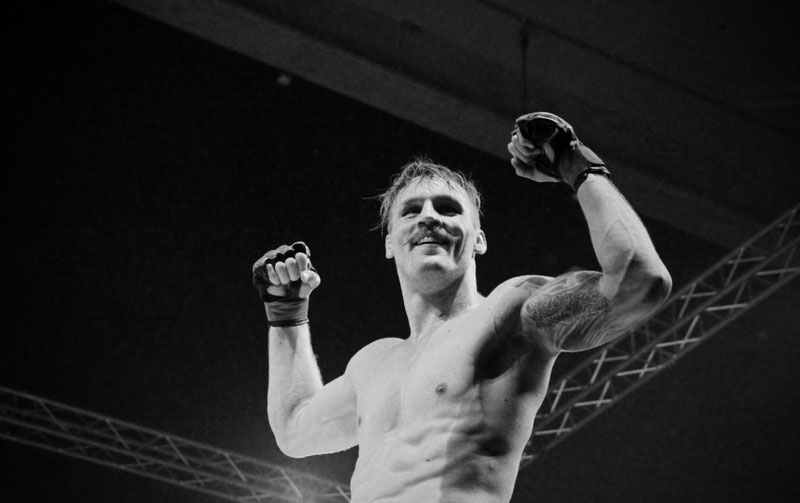 Tampere-based prospect Mikael Nyyssönen also kept his record clean. Nyyssönen is 7-0 after he TKO'd countryman Tommi Marttinen in the second round.
Before the main event the long-time Finnfighters' Gym star Juha "Juice" Saarinen returned afte spending the last two years in the sidelines due the injuries. Saarinen lost the heavy weight bout to French Cyril Asker, and announced his retirement after the event.
Having suffered many bad injuries throughout his career, Saarinen retires with nine wins and three defeats.
"I've always said that the first time I don't feel like I need to be in the cage, I will quit. Tonight I got that feeling," Saarinen told content partner FightSport.fi.
Another FFG fighter Aleksi Kainulainen also said goodbye to pro ranks after finishing Dara Nhang with a quick guillotine choke early n the evening. Kainulainen had six professional fights and he won four of those.