Jack Hermansson (21-6) lost to Marvin Vettori (16-3-1) in their headlining bout at UFC Vegas 16. The "Joker" and the Vettori slugged it out for 25 minutes on the way to the unanimous decision win for the "Italian Dream."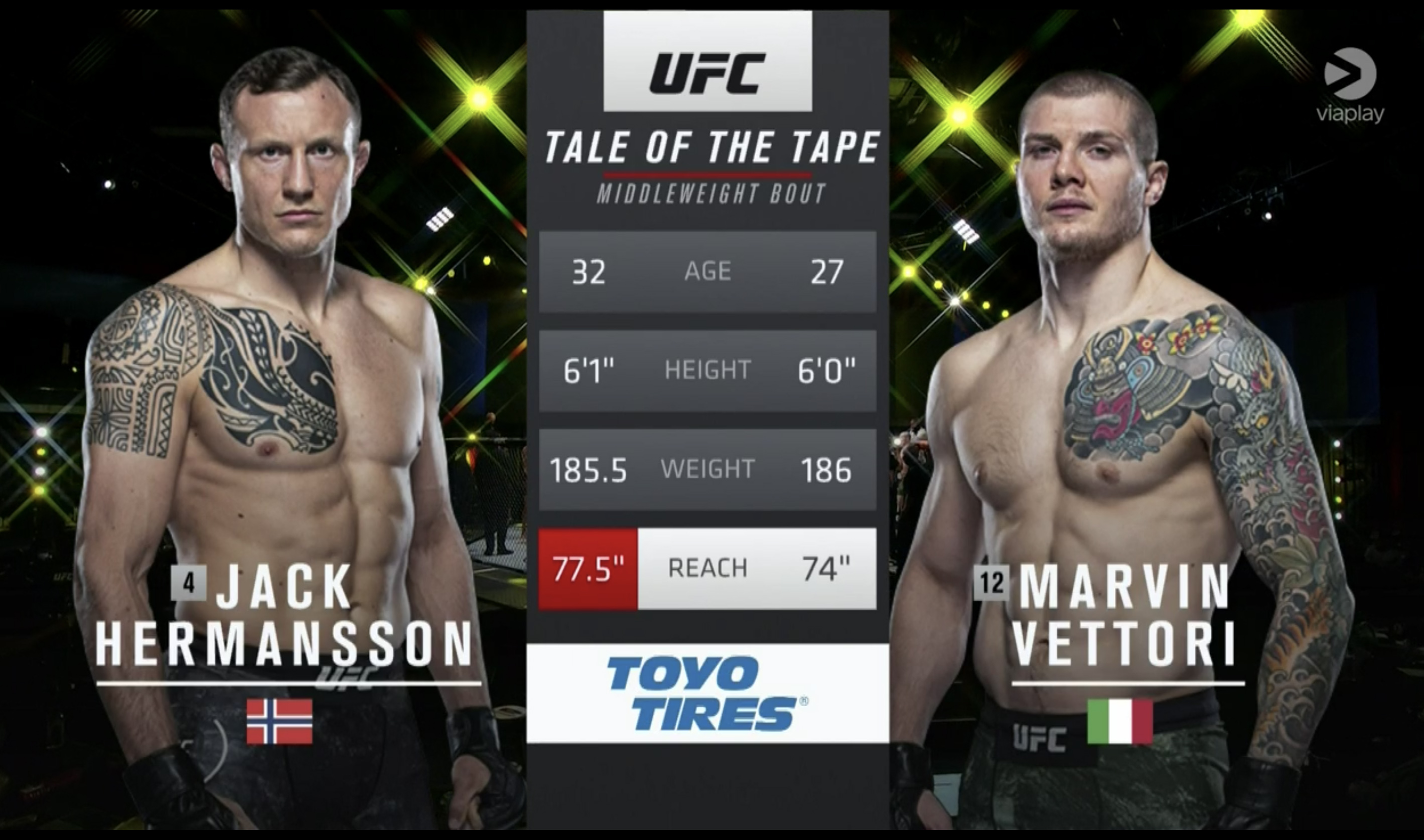 The #4 ranked contender Hermansson landed a good leg kick to start. The #12 Vettori looking for a counterpunch in his southpaw stance. Jack getting caught with a left hand, and the Swede throws a kick that lands. Jack lands an uppercut, but the Italian lands a right, then a BIG left hand and Jack is hurt bad and is dropped to the mat! Referee Herb Dean looking closely as Marvin throws some punches, but Marvin goes straight for the neck to lock up a guillotine choke to finish, but Jack recovers in half guard. Jack is able to get to his feet at the end of the first round.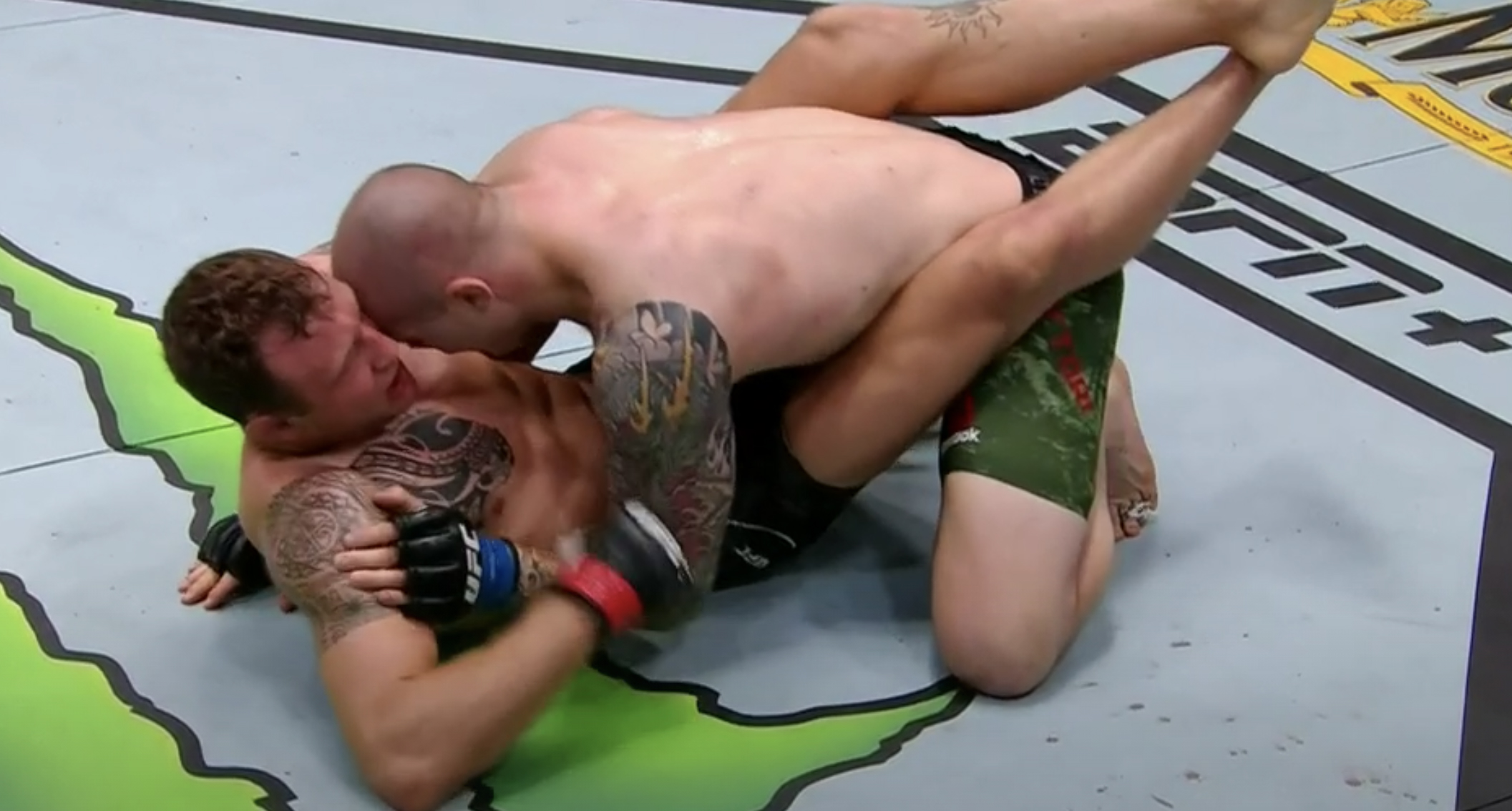 Jack comes out swinging in the second round. The Swede in on a single leg but having problems finishing it and eventually Vettori reverses it to get on on top. The "Joker" looking for a sweep. Vettori steps back and out, but Jack stays down for a while before getting back up. Hermansson lands a big right knee to the body after failing on a take-down. A good kick from Jack, that seems to be the more tired fighter as the second frame comes to an end.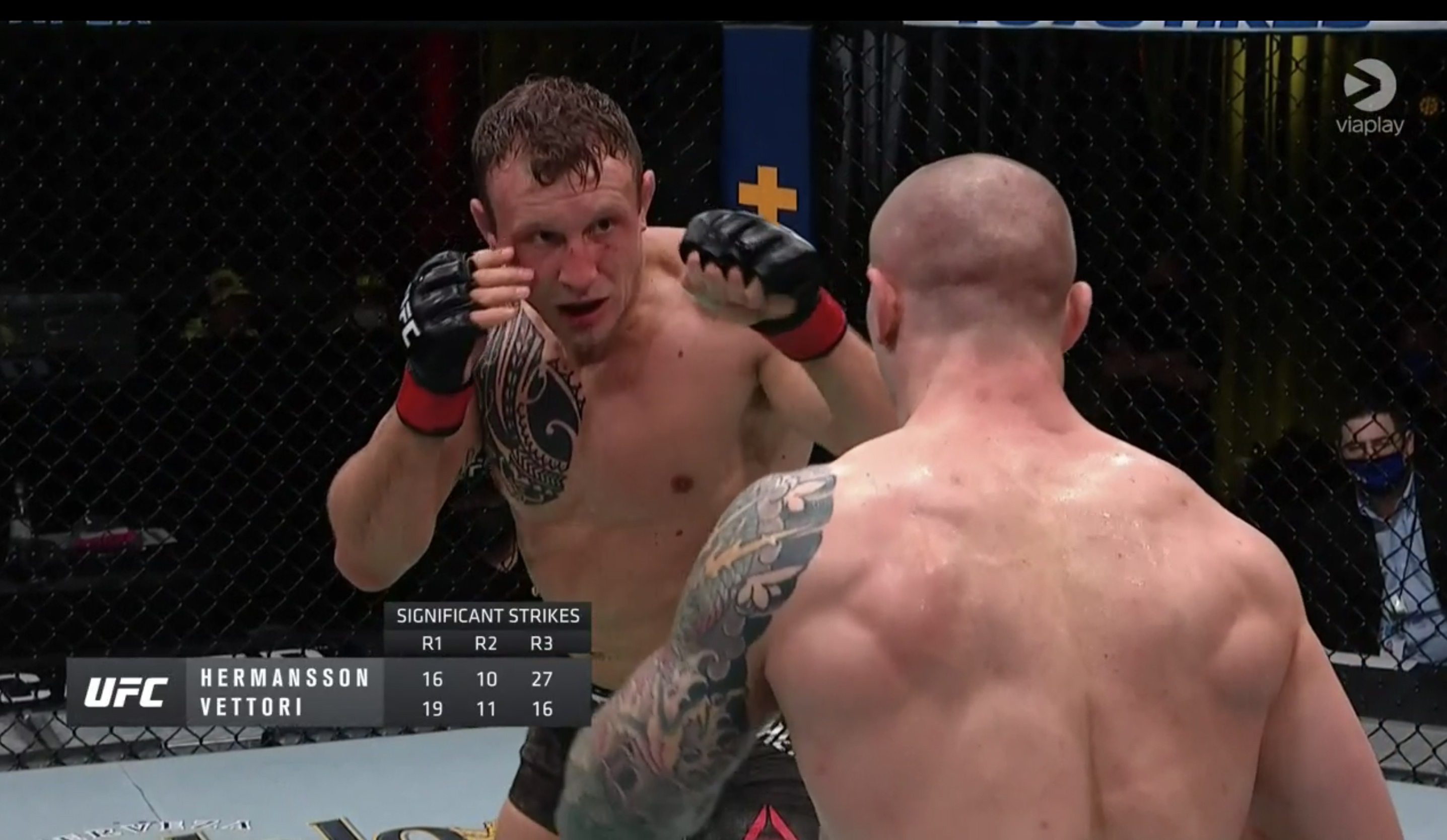 The Frontline Academy fighter in on a single leg, but another failed attempt. And another attempt, this time with a trip attempt, but can't get the Italian to the ground. Hermansson now pressuring with punches, and the tide feels like it could be shifting. Good dirty boxing from from Jack, and enough to get his first round.
The pace quickens from both fighters to start the 4th round. Vettori landing good straight punches, then Jack pushes forward. Both fighters throwing, but no fighter taking control. Solid uppercut, then right from Hermansson that snaps back Marvin's head. Vettori now presses the action. A very close round.
Jack lands a kick to start the round, then takes a left hand. The Joker throws two right uppercuts that land. Both fighters just throwing down, and this main event is living up to the billing. Vettori rips a left hand to the reddening face of Hermansson. Marvin lands a combination, then Jack comes back and Marvin wants more. Vettori grabs a body lock, and pushes the Swede against the cage with 30 seconds left. Marvin looking for a take-down, and Jack rolls for a leg lock. But, nothing is there as the fight comes to an end. Hermansson is limping as the bell rings, as it looks like an injury to his right foot.
Vettori wins by unanimous decision 49-45, 49-46, 49-46.
This was Fight of the Night, giving both fighters $50k for the main event performance. "Marvin Vettori (164) and Jack Hermansson (122) combine for 286 significant strikes, a new five-round middleweight record. The old record belonged to Whittaker (128) vs. Romero (111) 2 with 239 UFC 225." shares Dana White on social media.
Hermansson later reveals a broken eyesocket and toe happened during the fight.