MMA Viking talks to MMA pioneer Lani Lax.  The Swedish fighter has been fighting pro since 1999, and recently stepped in the ring this past May with an impressive first round KO to win the VISION FC title.  The lightweight fighter came out of retirement for the bout, and upon his latest victory declared that it was his last bout (again).  We check in with the fighter, trainer, and promotor that was first motivated as a 10 year old in after seeing Mike Tyson on TV to get into fight sports. Let's catch up with the man with a 10 win and 8 loss record in this exclusive interview.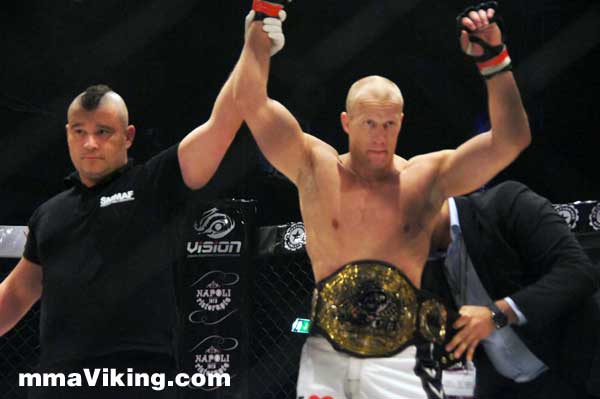 Interview
MMA Viking : You have been experienced so much in MMA. What was your first MMA fight? 
Lax : Yes, it was FinnFight 3 where I did my first pro MMA (or vale tudo) fight. I met this tough Finnish guy Markus Peltonen who had a karate background. I don't know what to say. I layed in guard, and he was standing up. He kicked and broke a bone in my leg, and the next kick (socker kick) to my face and broke my jaw :(.  I was so angry with myself and promised Marko Leisten that I'd come back and beat Peltonen next year and win FF 🙂
Note : Lax went back to FinnFight to try and fight Peltonen at FinnFight 4 the following year, but Peltonen was unavailable to fight, and Lax fought Joachim Hansen instead.

Joachim Hansen vs Jani Lax -Finn Fight 4 by mma-tv
MMA Viking : Why have you dedicated so much to MMA? 
Lax : I love the concept of two men fighting and one has to win (in the beginning with the vale tudo fights). Now it is more of a sport with points, but i still love it. It's like an chess game to figure out your oponents weakness and try to use that.
MMA Viking : Which is your toughest fight you remember?
Lax : I must say my fight against Akira Kikuchi. I took this fight in Japan in 76kg and weighed-in at 71kg or something. I didn't care about weight in the begining but in this fight I felt that his so much bigger then me in the ground game. He won the fight and broke my arm :(.
MMA Viking : Which is your best fight? And the reason.
Lax : I dont know I love al my fights win or lose, because I love to fight.

Hayato Sakurai (red gloves) vs. Jani Lax Get more pictures like this from SHERDOG.COM
MMA Viking : Who is your favorite 5 fighters in the world?
Lax : BJ Penn, Fedor, Jon Jones, Anderson Silva and Jose Aldo
MMA Viking : Can you give young fighters good training tips? 
Lax : You have to like to train hard. Especially the part of the training which is not so fun, like punish yourself in cardio training. Watch other fighters (that you like) and try to adapt their game and make it your own with your own twist.
MMA Viking : Can you introduce your VISION to the readers?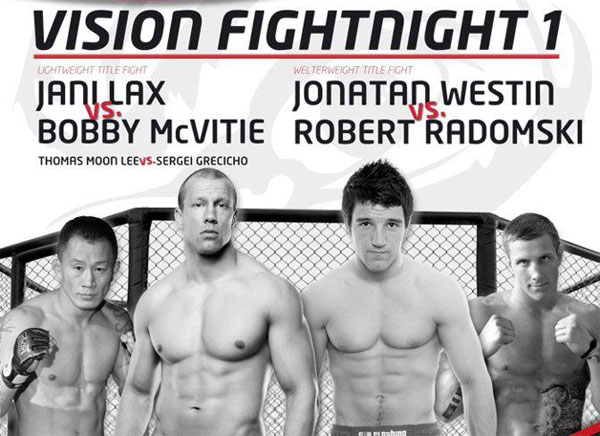 Lax : Me and Ronie Johansson and Kalle Larson started Vision Fc 2010. We held our first venue in Karlstad, Sweden. In 2011 we held VFC2 in Karlstad in these 2 shows we got good respons from the fighters and the fans.
We started to speak with our friend Hessam Zanganeh who is part owner in SFC in Scotland. We dicided to join forces and become Vision. Now me, Ronnie, Hessam, Rich Carlin and Chris Crowe are the owners of Vision.  We have big plans for Vision.  We hawe a big show in Glasgow, the 1st of September, then we hawe a big show in Stockholm in 1 of December.
MMA Viking : How many hours are you training in a week now?
Lax : I had my first child 2 weeks ago, so now I train about 12-14 hours a week.  Not so much fighting, only to keep my self in shape mostly running and training in the gym.
MMA Viking : What are your plans now?
Lax : I take care of my daughter (Leia) and my girlfriend Emelie.  I'll work with Vision and my other company.  I train of course and enjoy life.  If the UFC calls me and says that I have to kick the Korean Zombie's butt at -66kg, I'll do it 🙂
More on Lax: VISION – http://www.visionfighting.com & Blog – http://www.fightplay.tv/jani-lax