Linn Wennergren (2-2) stepped into the Hungarian Fight Championships 9 bout against undefeated Katlyn Chookagian (3-0) on late notice, and left with a controversial decision that has head coach Joakim Engberg with some questions. "There was also some confusion. We where told there was 2 rounds not 3." says the GBG MMA coach to MMAViking.com after the bout.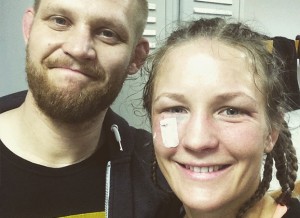 The 15 minute bout was mostly contested by Wennergren winning the exchanges on the feet, but the Swede did get caught with a big knee at the end of the first round which helped make the decision less questionable. "Well i think the fight could have gone both ways. Her opponent was really good. Maybe the knockdown affected Linn." reflects Engberg.
"We only accepted the fight on one weeks notice, thats a bit short for someone with that specific set of attributes. But with that said I'm proud of Linn and this was a great fight that would have been nice to see in a bigger event."
While the extra, unplanned round may have gone in the Swedes favor as she controlled the last 5 minutes of the bout, it was a tough matchup on short notice. Chookagian had a 7 fight undefeated streak as an amateur, and came into the bout undefeated with 2 wins including her latest a stoppage with the World Series of Fighting.
Wennergren came into the bout with a two fight winning streak, but hasn't been in the cage since November of 2013. The Swede had signed a contract with XFCi and was set to make her debut with the promotion in Brazil, but injuries have kept her out of the cage.