Swede Linn Wennergren (2-1) is looking to make a name for herself on an international MMA level as she gets ready for her Xtreme Fighting Championships International (XFCi) debut.  "I'm gonna fight November 22nd." says La Machine to MMAViking.com about the start to her newly signed contract. MMA Viking catches up with the GBG MMA fighter about her training between Gothenburg-Malmö-Stockholm, experience learned from battle with now UFC vet Tina Lähdemäki, and the origins of La Machine.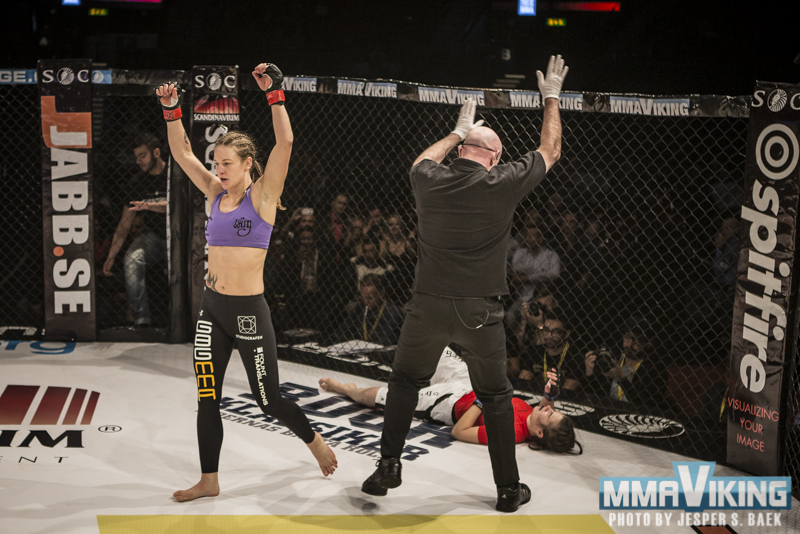 Interview with Wennergren
Seems you are everywhere, where have you been training for your upcoming fight?
I am training mostly in my club GBG MMA in Gothenburg. Quite often though, I go to Stockholm or Malmö to train with some of the girls there to get some good sparring.
I have been training with the TUF participant Joanne Calderwood and fighters like Lina Länsberg, Lina Eklund, Iman Darabi, Gabriella Ringblom, Jill Holmström, Madeleine Vall and other really skilled girls. It's great to get to train with girls in the same or close weight classes.
Your only loss is against Tina Lahdemaki… does it make it easier to digest, since she has proven herself at the UFC level?
I enjoyed myself in my pro debut against Tina Lähdemäki and it didn't really feel like a loss. It was a close and fun fight that I lost on split decision. The only thing that bothers me is that it doesn't look good in the record. I learned a lot in that fight and, yes it feels good that she's proved herself in the UFC. I am also very glad for her, as she's a really cool and nice girl.
Where does "La Machine" come from?
I have always been very offensive in my thai fights and I rarely get tired. At least, I can forget about it and it doesn't show that much. My friend Eugenia once called me Linn *La Machine" and the nick name still suits me . I also love the French language and Linn rhymes with 'la machine' in French.
Stay tuned, as Wennergren's opponent for the fight in Brazil should be announced shortly.