FNF 15 goes down tonight at Karkkilan Liikuntahalli and MMA Viking is cageside for pictures and live results here. Get your live play-by-play of the amateur card here.
Live Results
Mikko Hautaviita Porin Kamppailulajikeskus vs Santeri Oikarinen KBT Oulu
Round 1: Hautaviita dominates the stand up early in the round and then initiates a take down. He lands in Oikarinen's closed guard. Oikarinen catches Hautaviita's arm, but is not able to go for an armbar.
Fighters stand up late in the round and Hautaviita lands some bombs.
Round 2: Oikarinen shoots immediately and lands a take down. Hautaviita reverses and is soon on top. Late in the round Oikarinen gets a body triangle and back control. However he is not able to get a finish.
Round 3: Hautaviita lands an early kick to the lead leg of Oikarinen, but soon finds Oikarinen on his back. Again Oikarinen secures a body triangle and threatens the neck. Round ends with Oikarinen attempting an armbar unsuccessfully.
Winner: Oikarinen by unanimous decision
Vili Hämäläinen GB Gym vs Elias Castren Hardknocks Training Center
Round 1: Both fighters clearly keen on keeping it as a stand up war. Castren landing nice counters and Hämäläinen successful with a couple of low kicks. Both getting solid shots to opponent's head as well.
Round 2: Hämäläinen landing good punches early in the round and forcing young Castren away from the center of the cage. A lot of strikes exchanged in this round.  Hämäläinen most likely landed more significant strikes, but Castren, the southpaw, landed a couple of very crisp straight lefts as well.
Round 3: Hämäläinen's nose bleeding as the round starts. Both fighters keeping hands very low now. Hämäläinen goes for a spinning fist which lands but not flush. Not a single take down attempt thus far from either fighter!
Hämäläinen looking to behead Castren late in the round, but most of those strikes miss as Castren evades them.
Winner: Hämäläinen by a unanimous decision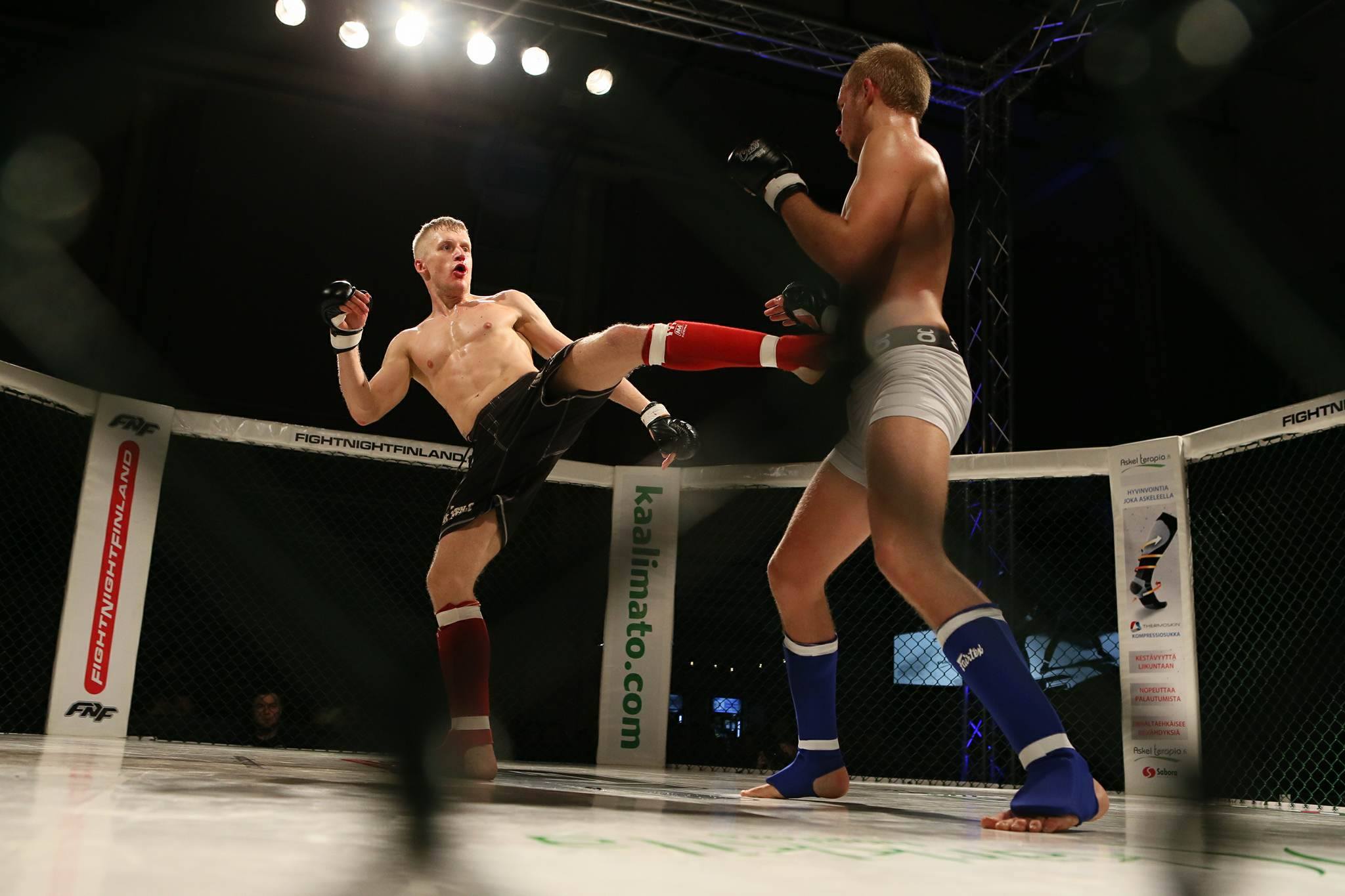 Omran Chabaan GB Gym vs Kirill Andreev Sankukai Turku
Round 1: Chabaan pushing on like a truck right from the start. Andreev has his back against the cage as Chabaan lands a solid kick to the body. Chabaan lands more and it looks as if Andreev's knees go wobbly. Andreev shoots and suddenly he is in control, as he gets a grip from behind Chabaan. Chabaan counters this in a scramble and ends on top of Andreev on the mat.
Round ends in favour of Chabaan although Andreev attempts one more take down.
Round 2: Chabaan flexing his mucsles to the crowd before the round begins.
Chabaan controlling the pace, but Andreev's crisp straight takes him down and now Andreev is controlling the fight. Chabaan faking and slipping now, both throwing heavy leather although not landing. Andreev's nose is bleeding. Chabaan shoots for a double leg, but Andreev defends well. Round ends.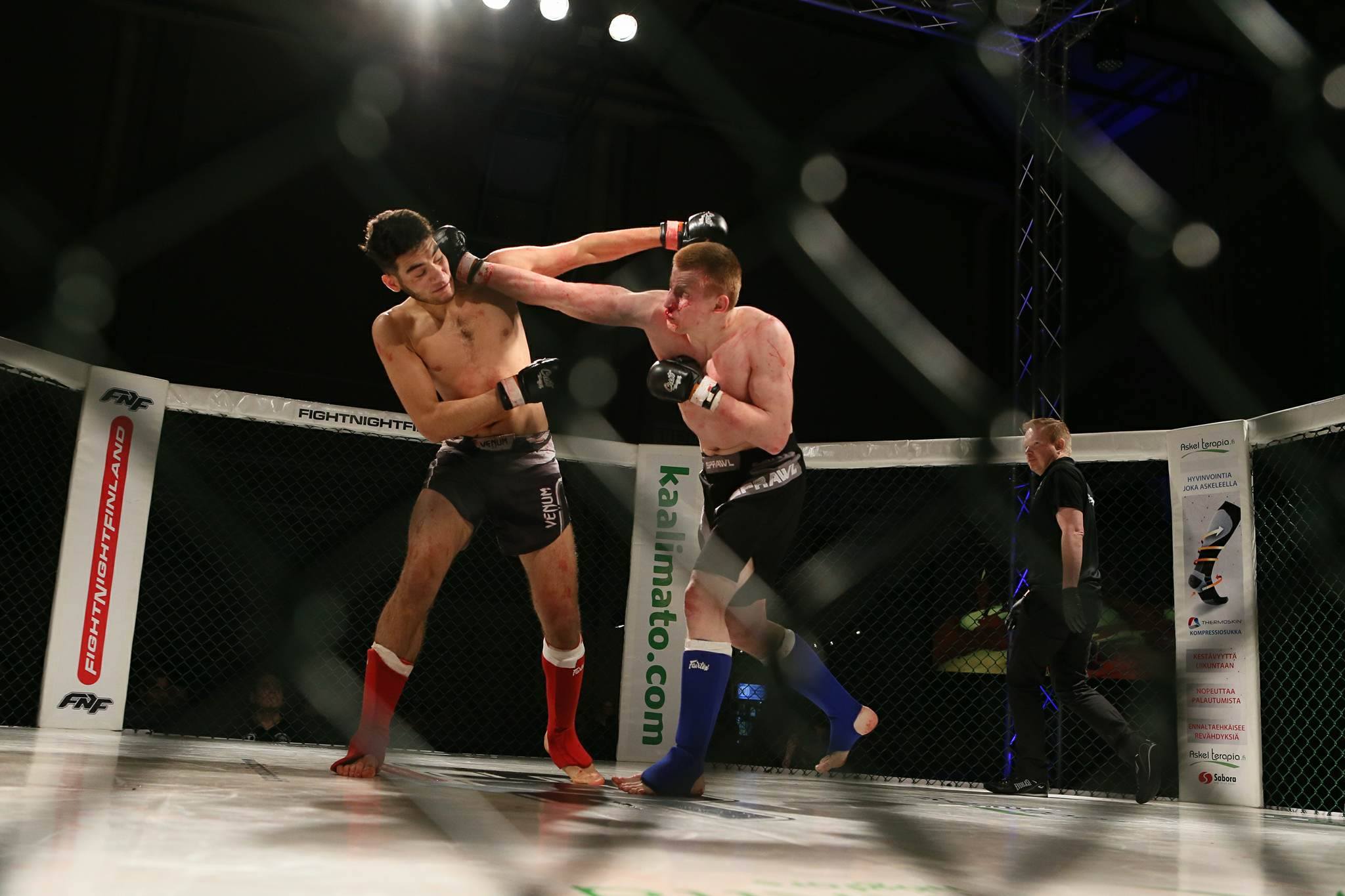 Round 3: Andreev lands a heavy straight, but soon Chabaan counters it with a massive hook. Andreev gets another straight in, but right after that Chabaan takes him down to the canvas.
Chabaan now in half guard and Andreev is attempting to get a guillotine. Andreev attempts to stand up, but is too slow and Chabaan takes his back. Very late in the round Andreev gets one more strike from top as Chabaan's back control is opened.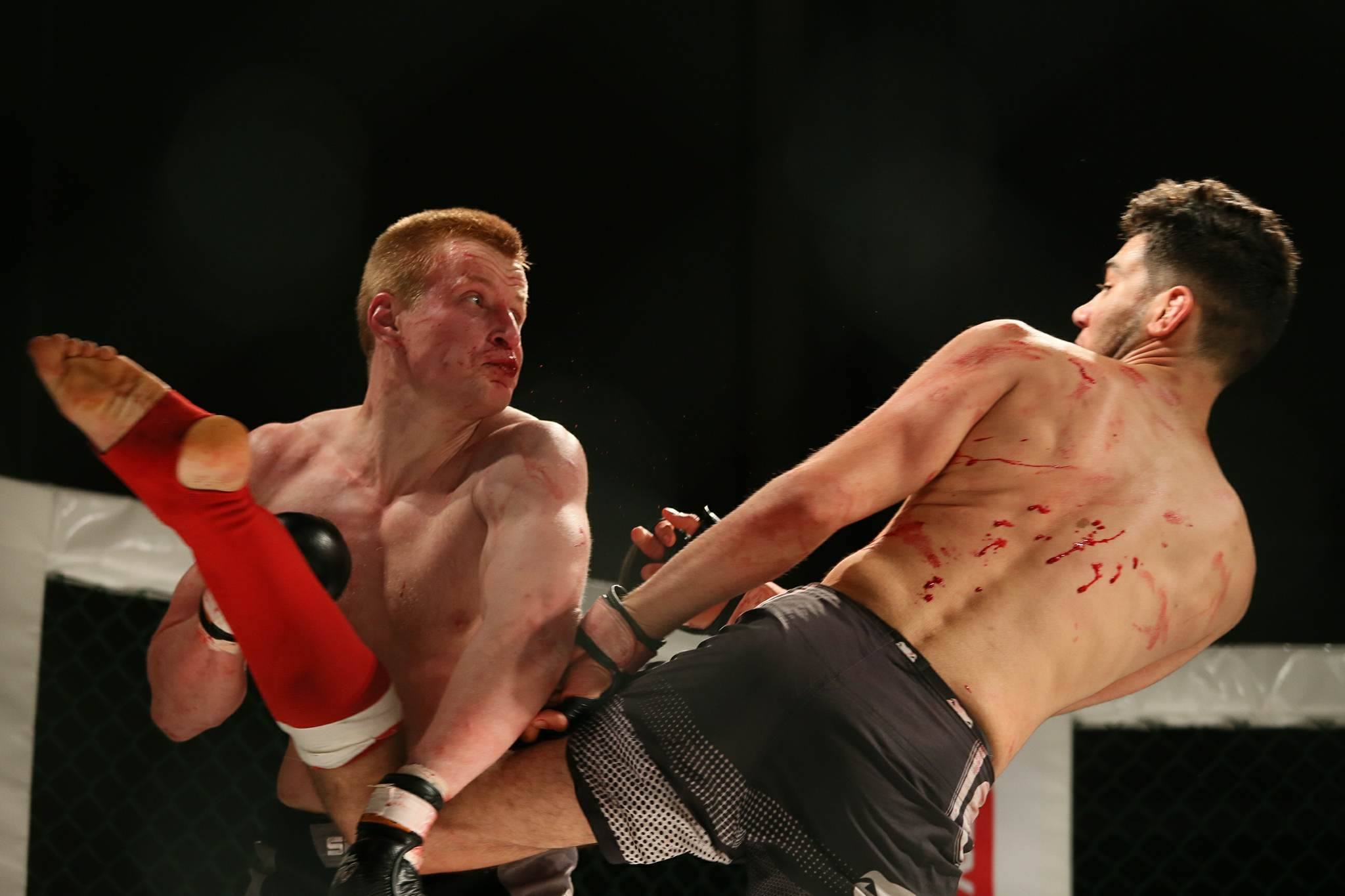 Winner: Chabaan by unanimous decision
Tero Keränen Sisu Gym vs Matias Virta Sankukai
Round 1: Keränen controlling the stand up with solid combinations to the head most of the round. Virta landed a couple of heavy kicks to the lead leg of Keränen, but was not able to land a whole lot more in the first round.
Round 2: Keränen starts off with a good low kick. Virta seems to be finding his range now, and landing much better in this round. Virta dictating the pace and range during most of the second round. The score is most likely even as we enter the third round.
Round 3: Virta gets a double leg take down early in the round and secures the top position. He moves onto side control and soon enters the mount. Soon Keränen attempts a sweep and fighters scramble. During the scramble Virta attempts an armbar submission, but fails. Keränen now in Virta's closed guard. As the round ends Keränen is on top in the guard. Tough one to score we think!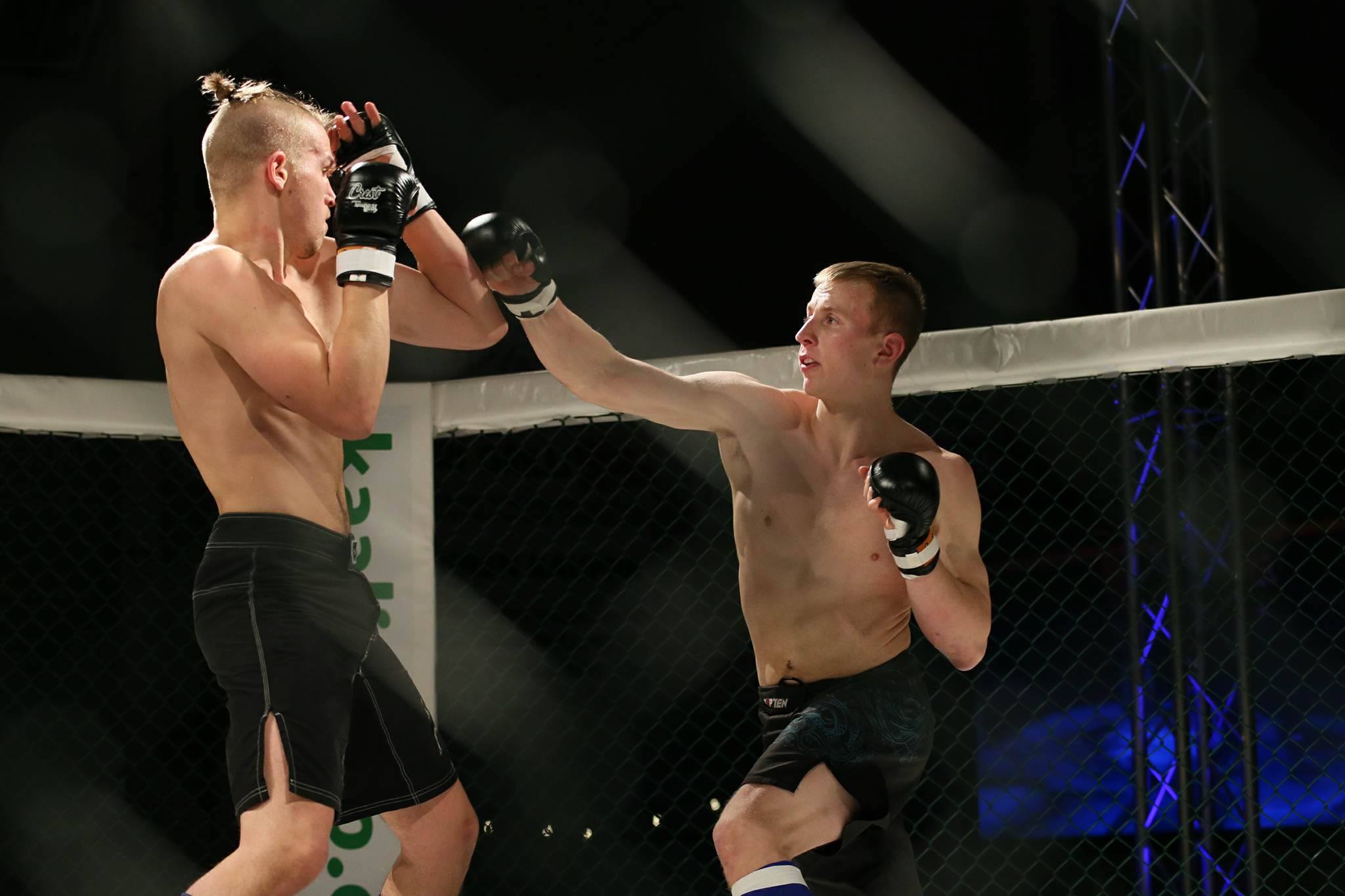 Winner: Virta by split decision
Tomi Sormunen FFG vs Otto Pekonen MMA Team 300
As Sormunen makes his walk to the cage the crowd cheers loudly for the first time tonight.
Round 1: Sormunen throwing some haymakers off the bat, but lands none. Pekonen lands a strike to the head of Sormunen, who then shouts "oooh!" as the showman he is. Sormunen lands a crisp low kick to the lead leg twice. Pekonen controlling the center and forcing Sormunen to the edge of the cage.
Round 2: Round starts very aggressively again from both fighters. Sormunen is constantly bombing with haymakers, but very few of them land. Pekonen looking more composed, but Sormunen seems very dangerous every time he initiates the attack. In the end of the round Pekonen lands a couple, but nothing major as Sormunen keeps his hands hanging very low.
Round 3: Pekonen pushing the pace and evading Sormunen's over hands. Pekonen's jab lands and Sormunen goes for a low kick. Pekonen replies with a low kick and then a straight right finds a home in Sormunen's chin.
Sormunen soon lands a massive overhand right, but Pekonen seems unfazed. Round ends with a flurry, but both fighters survive.
Yet another decision coming up, good match making!
Winner: Sormunen by a split decision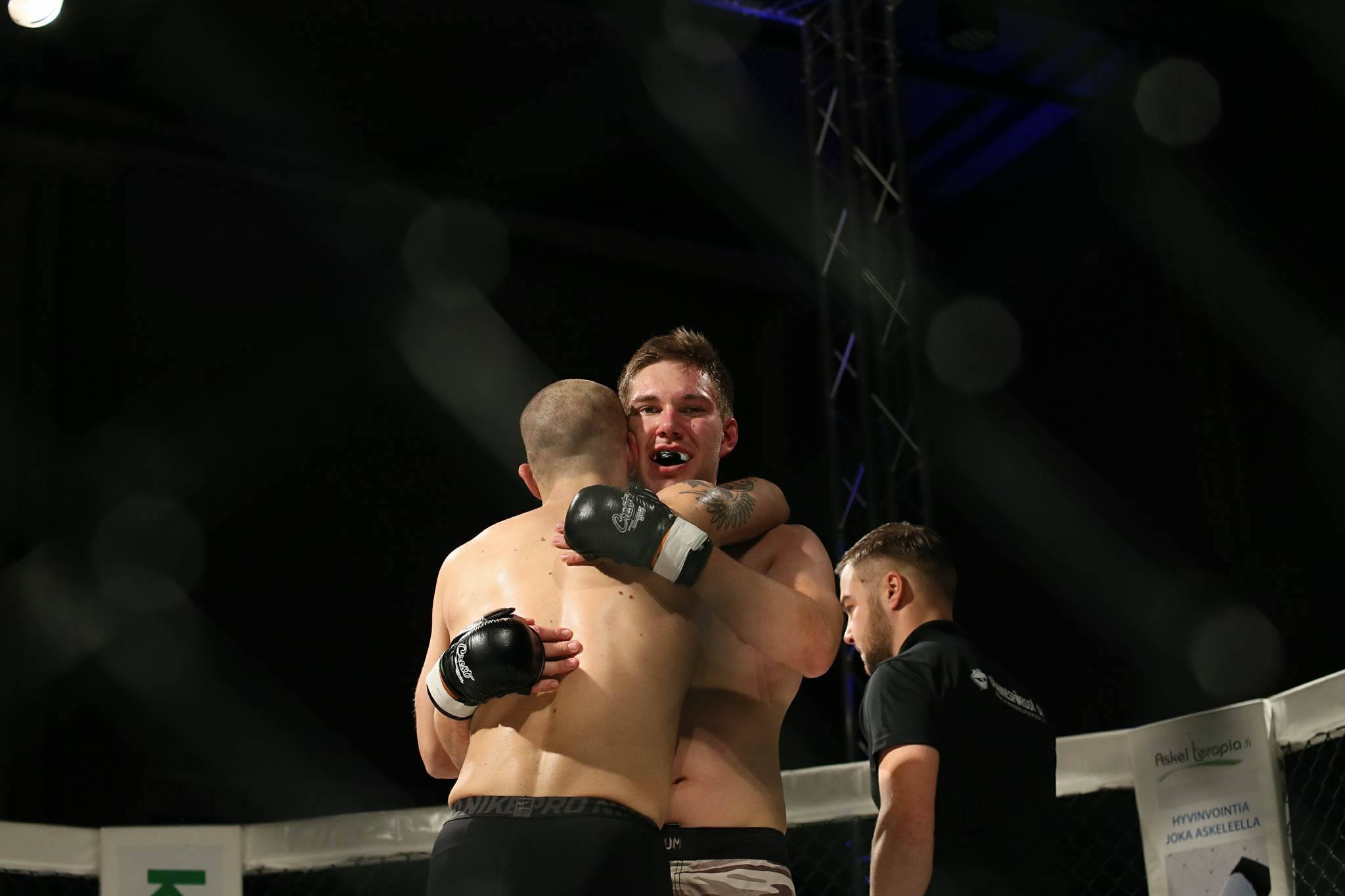 Marko Sarasjärvi GB Gym vs Elmo Peltonen Eura Fight Brothers
Round 1: Sarasjärvi gets a huge slam take down early in the round from a high crotch hold. Enters the side control and pins Peltonen down with good pressure.
Sarasjärvi attempts a shoulder joint lock from top position but Peltonen defends well. Sarasjärvi now in the mount and goes for a reverse triangle, but Peltonen stuffs it and the round ends.
Round 2: Again Sarasjärvi gets an early take down using an effective single leg strategy. Peltonen closes the guard as Sarasjärvi is on top position. Some ground and pound from Sarasjärvi now and Peltonen trying to tie him up. Sarasjärvi advances to mount position and rains down some shots on Peltonen's face. Round ends with more ground and pound from Sarasjärvi.
Round 3: Both fighters clearly showing signs of fatigue in the third. Sarasjärvi attempts a take down again, but this time Peltonen manages to prevent  it. Soon Sarasjärvi slams Peltonen down on the canvas and secures side control.
Peltonen closes his guard soon, but this does not stop Sarasjärvi from throwing punches from the top position. Round ends soon and this should be a fairly easy bout to score.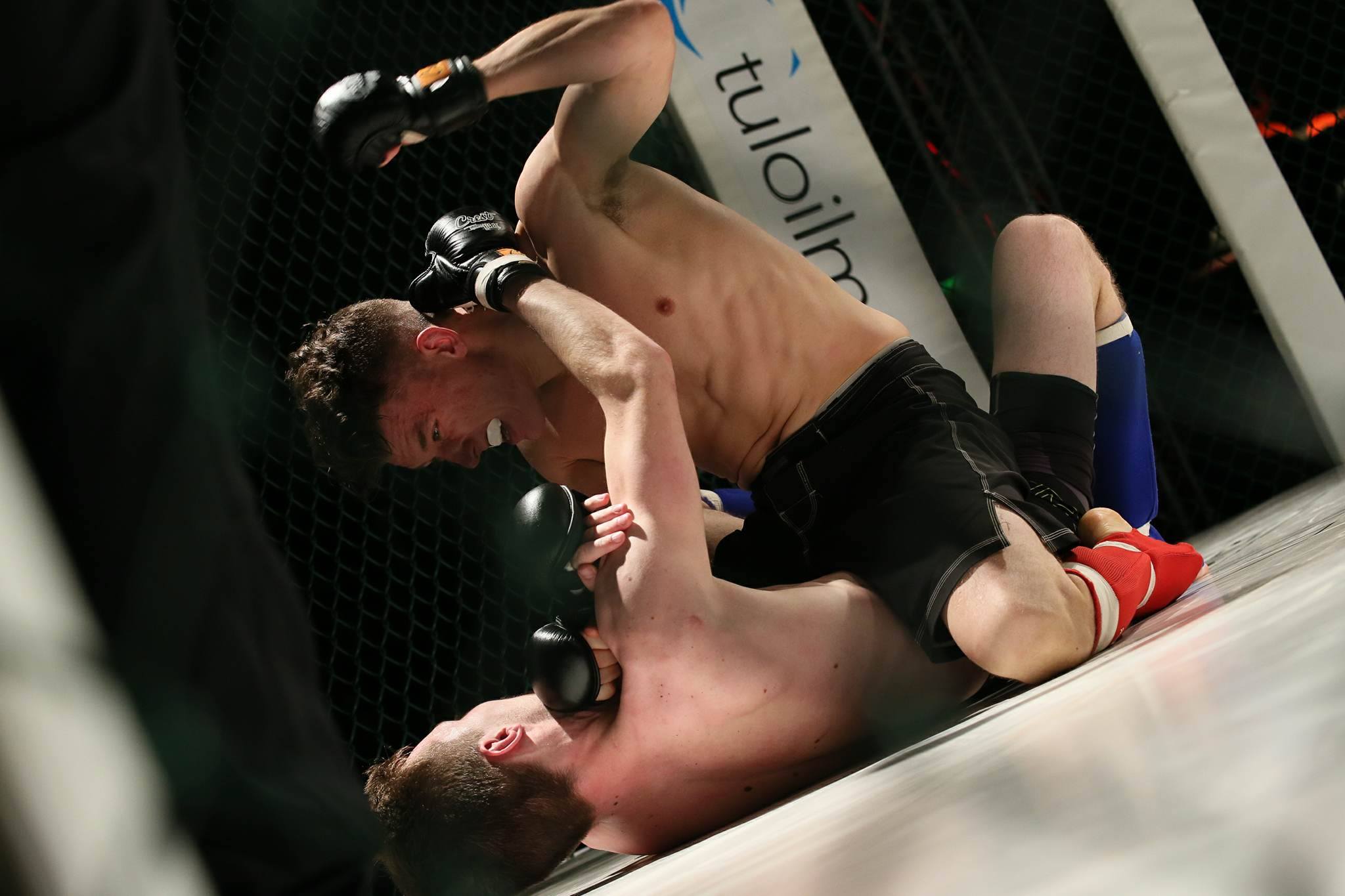 Winner: Sarasjärvi by unanimous decision
Tommi Alatalo Lahden Gentai vs Teemu Leinonen RNC
Round 1: Alatalo shoots for a double leg immediately, lifts his opponent up in the air and slams Leinonen down on the mat. Nothing much is done from the ground and then the referee stands the fighters up.
Alatalo shoots, slams Leinonen down from very high but Leinonen catches Alatalo's neck and a tight guillotine choke does the work for him! Leinonen is one happy camper and for a good reason, too.
Winner: Leinonen by a guillotine choke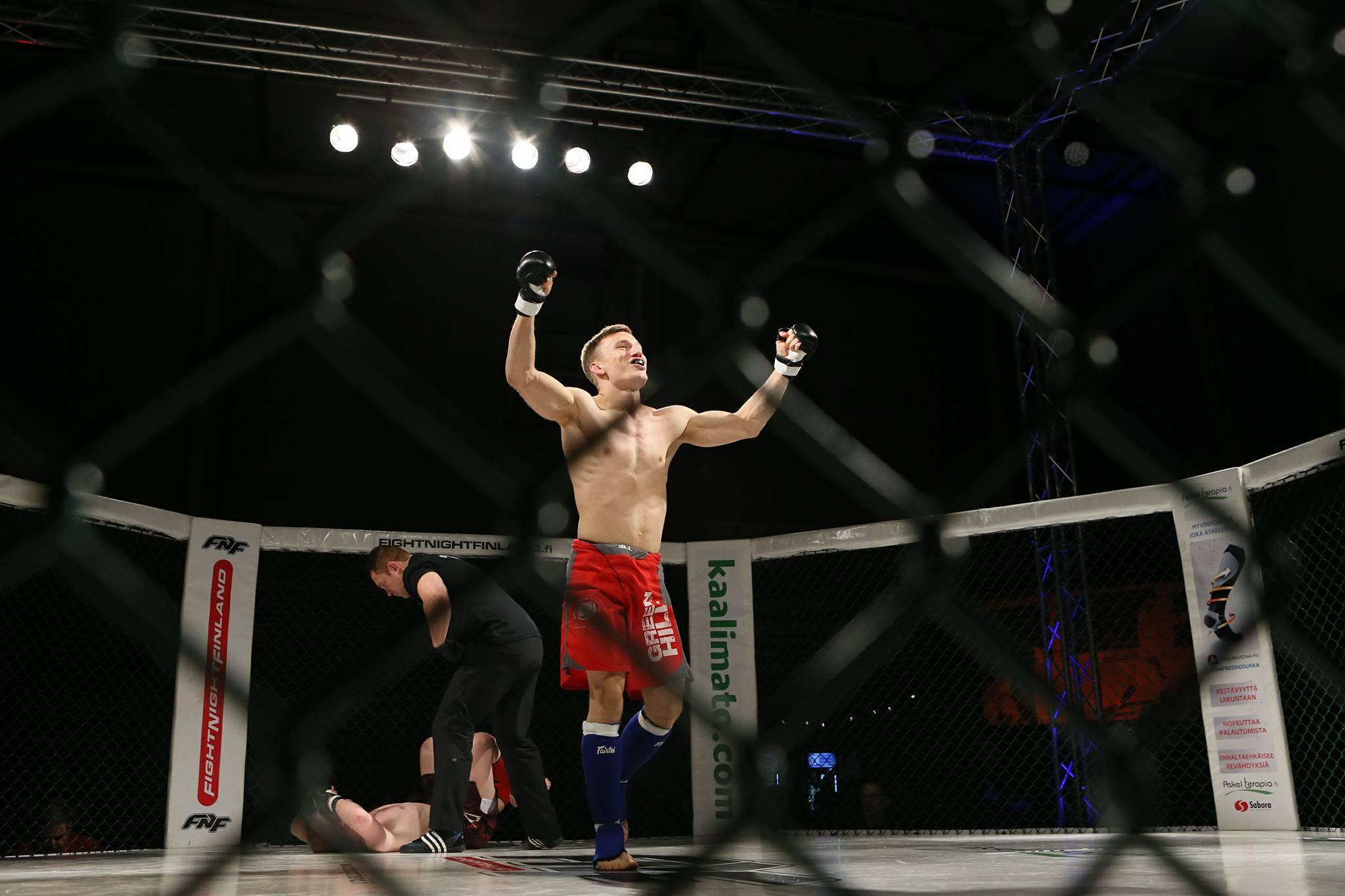 Karri Itkonen GB Gym vs Waltteri Häkkinen MMA Seinäjoki
Round 1: Round starts with low kicks from both. Häkkinen evades a punch and immediately shoots for a take down which he successfully lands. Häkkinen now in the guard, lifts Itkonen up with him and slams him down again.
Soon Häkkinen attempts to take Itkonen's back, but Itkonen slips out of the hold and gets a take down himself. A lot of back and forth action. Itkonen takes Häkkinen's back, one hook in and looks for a RNC. Round ends with Itkonen on Häkkinen's back.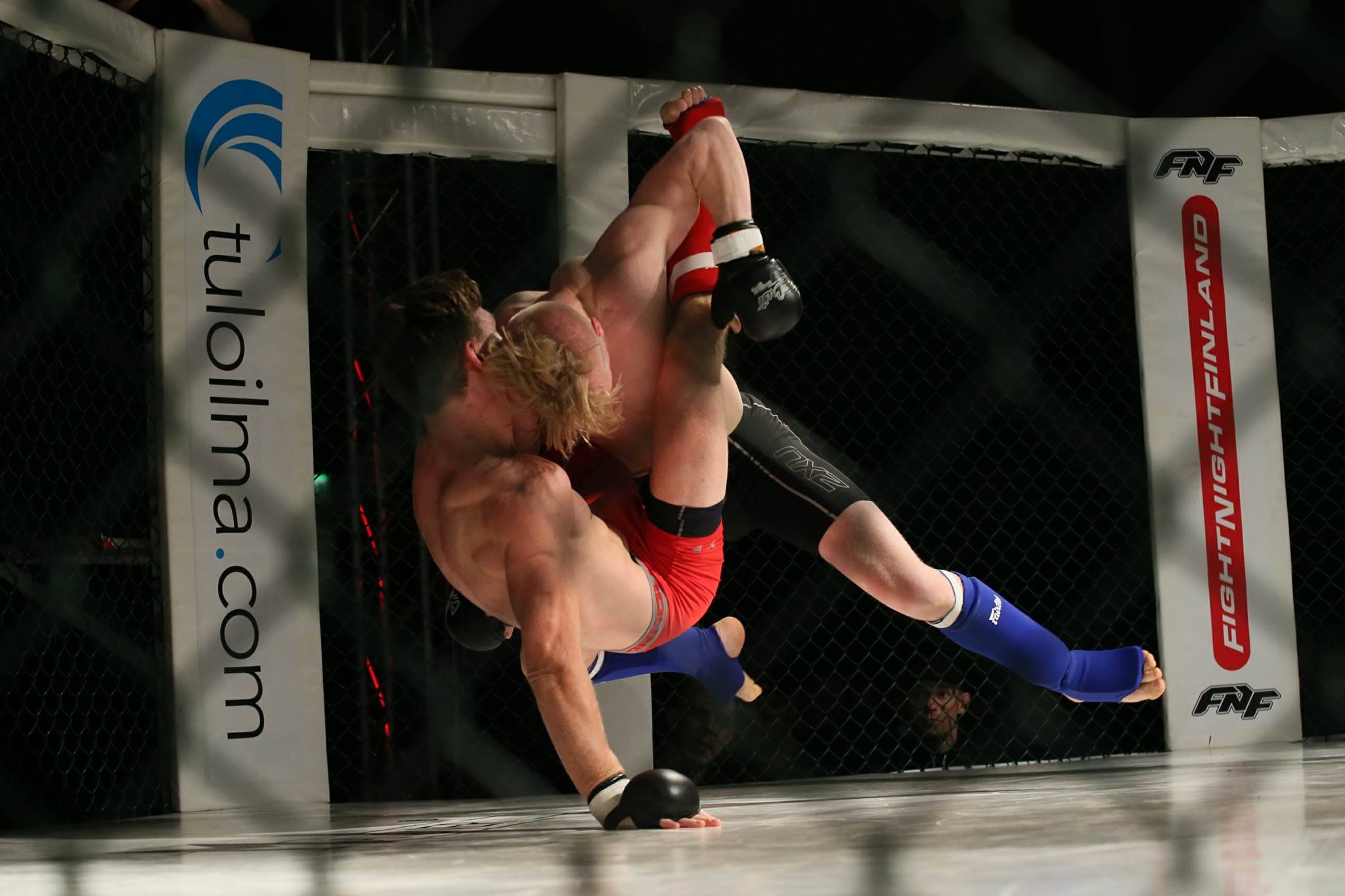 Round 2: Itkonen now pushing the pace with a four punch combo, only one lands though. Häkkinen quickly reverses and gets Itkonen on the mat after a scramble. Häkkinen fires some shots on the grounded opponent, most of the are blocked however.
Häkkinen now in Itkonen's closed guard. Round ends with Itkonen reversing the position and landing some strikes from the top.
Round 3: Häkkinen attempts to kick early in the round, Itkonen sees this and gets a take down by grabbing Häkkinen's leg, but immediately Häkkinen reverses this and ends on top.
Round ends with Häkkinen on top position after some heavy scrambles on the ground.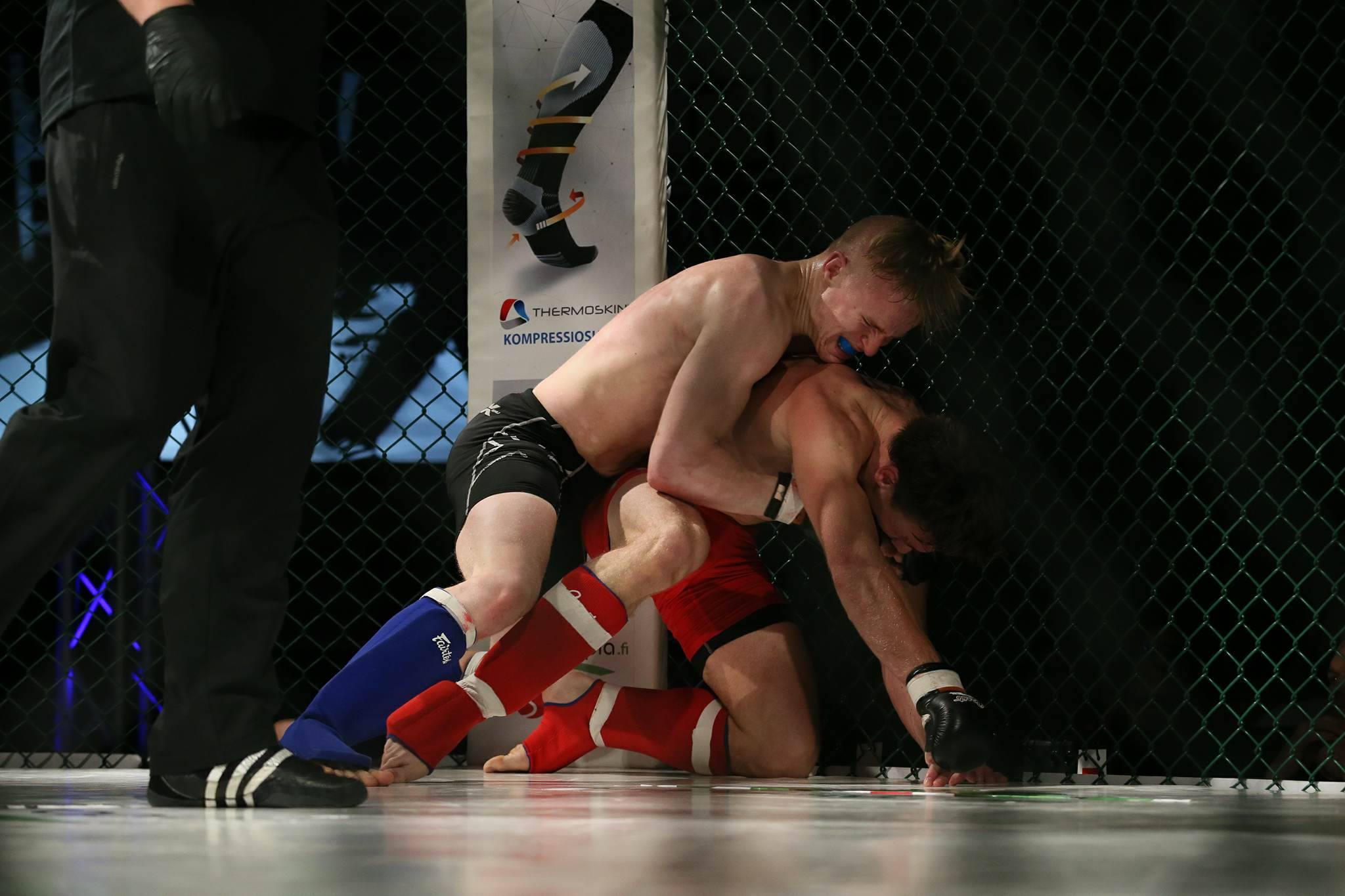 Winner: Häkkinen by unanimous decision
John Tedeschi GB Gym vs Joni Heino MMA Karkkila
Round 1: Heino initiates heavy pressure, but Tedeschi gets immediately a successful take down with a quick shot.
Tedeschi advances to the mount effortlessly and goes for a side choke. Heino survives, but Tedeschi enters the mount again and forces Heino to expose his back. Back mount, both hooks in. Tedeschi punishing with short strikes from top position. This goes on for approximately two minutes as Tedeschi is trying to look for a submission.
Very dominant round for Tedeschi.
Round 2: Heino with the early pressure again, but Tedeschi shoots and gets another take down very early. Heino exposes his back, Tedeschi takes back mount. No successful submission from this position and fighters are soon up.
Tedeschi lands a couple of heavy low kicks whislt Heino seems to be struggling with the range quite a bit.
Round 3: Tedeschi starts with a kick to the lead leg of Heino. Tedeschi's range management truly seems to a tough riddle to solve for Heino.
Suddenly Tedeschi goes for a high kick to the face and it lands flush! Heino is out of the game, referee soon stops the fight.
Winner: Tedeschi by TKO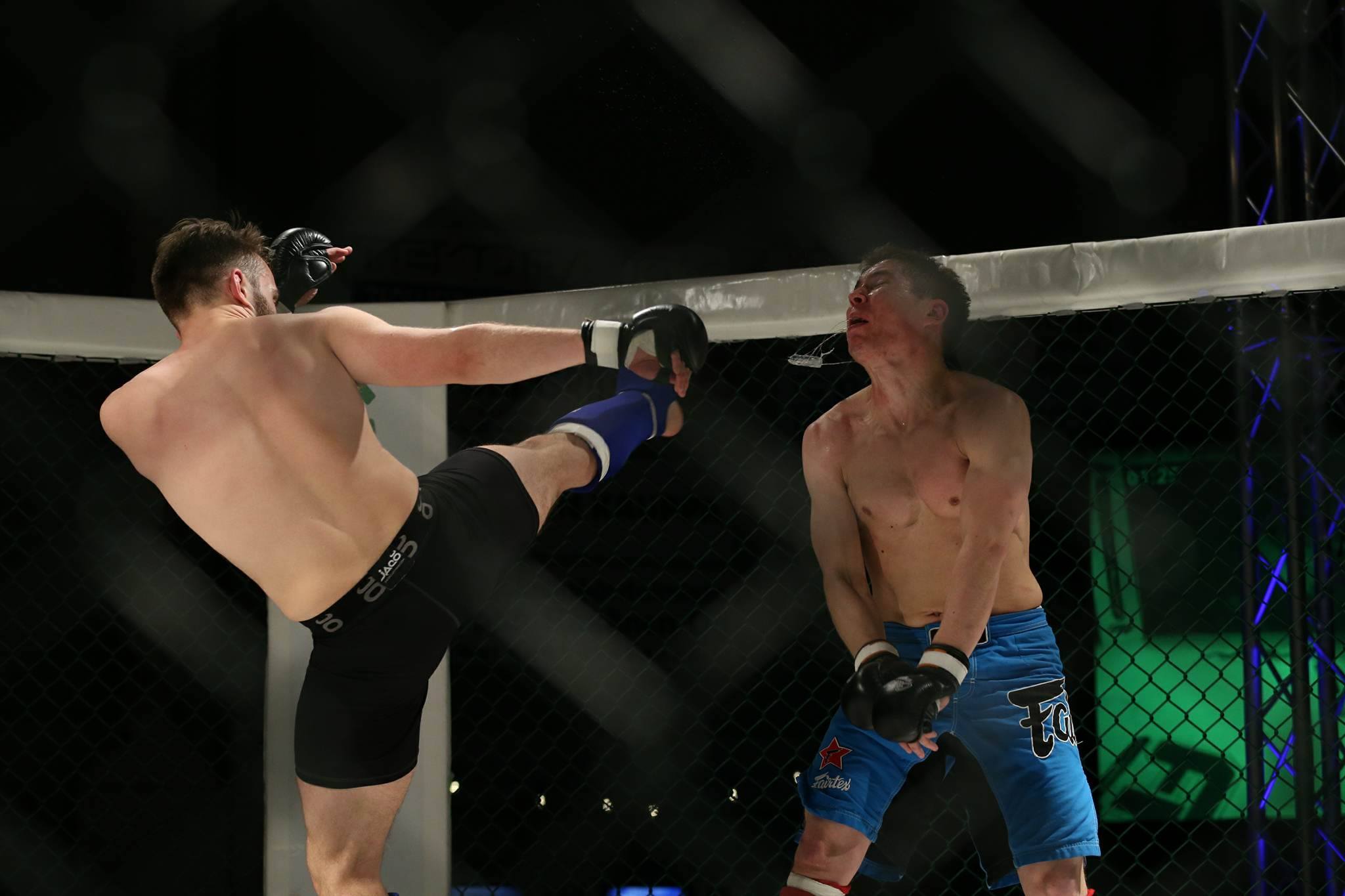 Toufan Ahmadi BJJ Vaasa vs Tomi Kasper Ahjo Training Center
Round 1: Ahmadi swings a leg kick off the bat, but misses. Ahmadi looking very sharp although he misses with an uppercut. Again Ahmadi kicks, this kick sweeps Kasper off his feet and Ahmadi jumps on top of him.
Closed guard. Ahmadi on top. Kasper trying to tie Ahmadi up, but he manages a couple of strikes from top. In the very end Kasper attempts an arm bar from below, but Ahmadi defends it well.
Round 2: Ahmadi fires off a kick to lead leg of Kasper. Ahmadi shoots and gets a take down very early on. Closed guard again. Nothing much significant happens in this position. Ahmadi stands up and goes for a knee bar, but Kasper defends it. Ahmadi switches to heel hook and finishes the fight quickly!
Winner: Ahmadi by ankle lock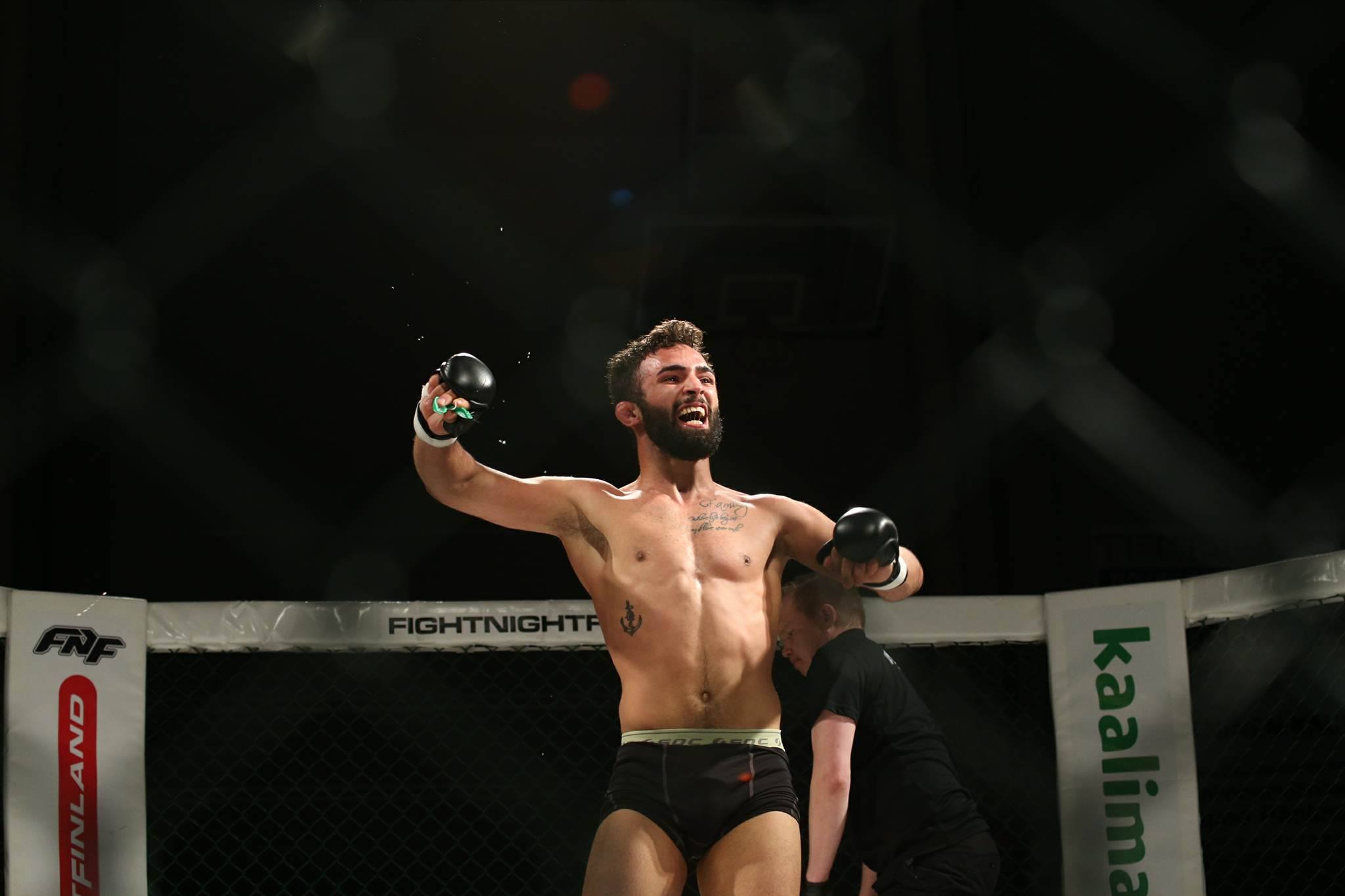 BJJ Superfight
Renny Poutanen vs Robin Leino
Poutanen pulls guard early. Soon Leino ends on top and loses his gi-jacket. Fight is reset. Poutanen tosses Leino in the air from his back, but nothing much else happens.
Poutanen now with collar control from thre ground. Leino trying to pass guard. Poutanen quickly locks a reverse triangle, but Leino survives! Poutanen now in the mount. Fighters are stood up because of the cage blocking the fight. Now both up and Poutanen gets a take down!
Fight ends, 7-0 to Poutanen.