FNF 15 goes down tonight at Karkkilan Liikuntahalli and MMA Viking is cageside for pictures and live pro MMA results here. Get your live play-by-play of the pro card here.
Live Play-By-Play
Minna Grusander, FFG vs Elena Belaya, Ukraine
Round 1: Grusander initiates clinch right from the start. Looks for a trip or a take down, but Belaya manages a successful hip toss. Belaya on top, but Grusander sort of has her back.
Grusander has hooks in, but Belaya is controlling her head. Now full back mount, and "someone" from the crowd screams "Finish HER! Grusander obeys and chokes Belaya unconscious.
Winner: Grusander by RNC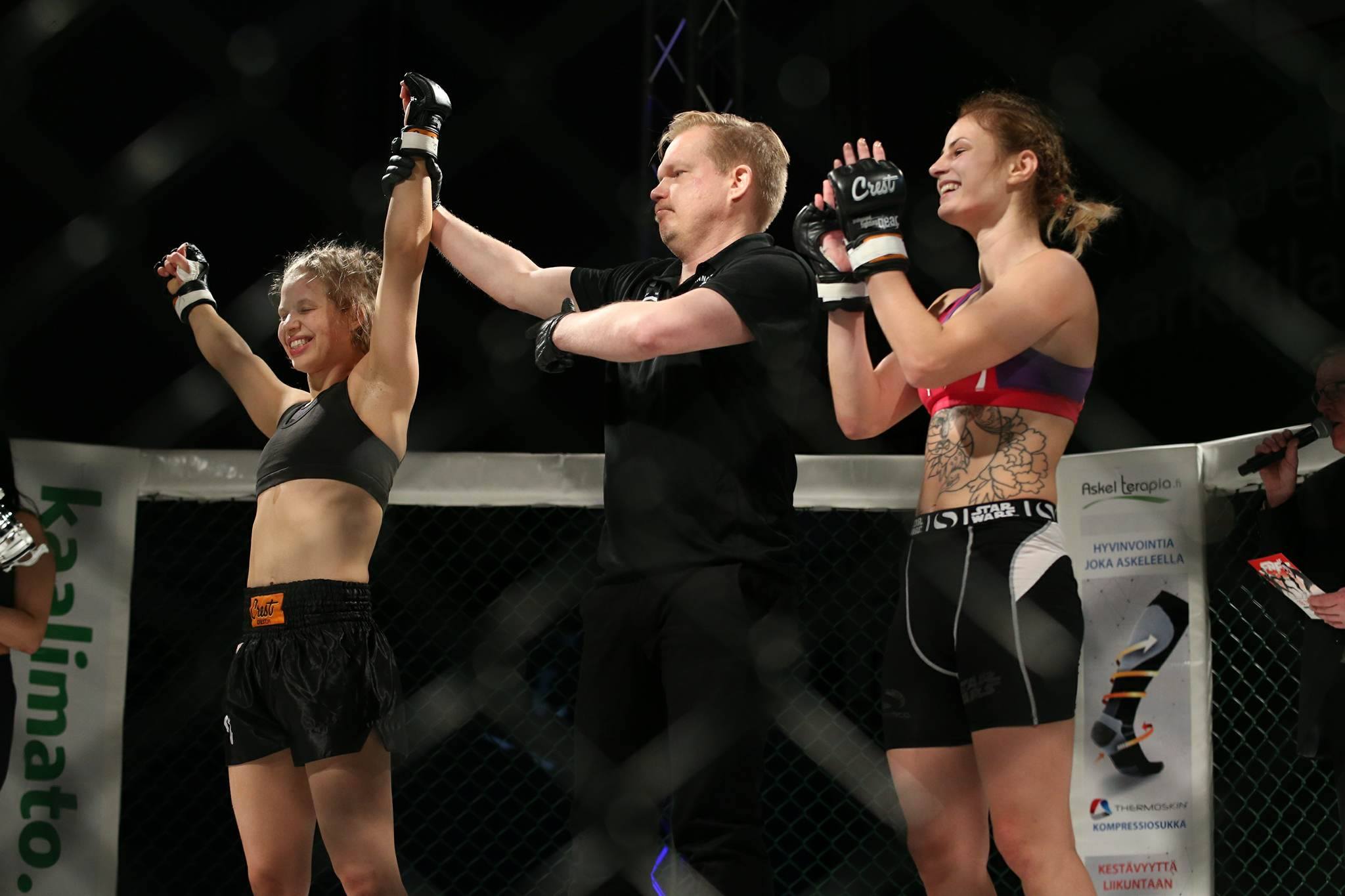 Aleksi Putkonen, GB Gym / Primus Fight Team vs Jesse Koivuniemi, KBT Kokkola
Round 1: Koivuniemi with successful low kicks in the beginning. Again Koivuniemi lands a teep kick, but Putlkonen returns with fire a body kick. Koivuniemi lands a solid straight, but Putkonen seems unfazed.
Putkonen scores with a couple of good low kicks to the front leg and then soon evades a round house kick from, Koivuniemi. Koivuniemi seems to be telegraphing a bit with his massive strikes. Koivuniemi gets a take down in the end, but Putkonen stands up immediately.
Putkonen seems to be the fresher fighter as the round ends.
Round 2: Koivuniemi starts again with low kick, and then a high kick which Putkonen blocks well.
Putkonen now forcing Koivuniemi against the cage with his pressure. Both fighters landing equally in the second round. Koivuniemi's fingers hit Putkonen's eye, who then quickly recovers.
Suddenly Koivuniemi lands a solid straight which rocks Putkonen a bit. Putkonen now attacking the legs with kicks and landing quite a few of them. Again Putkonen seems to have more gas in the tank, but Koivuniemi is landing heavy straights.
Putkonen pushing the pace with low kicks as Koivuniemi is backing away. Very late in the round Putkonen lands another very heavy low kicks and seems like Koivuniemi's lead leg is in a lot of pain.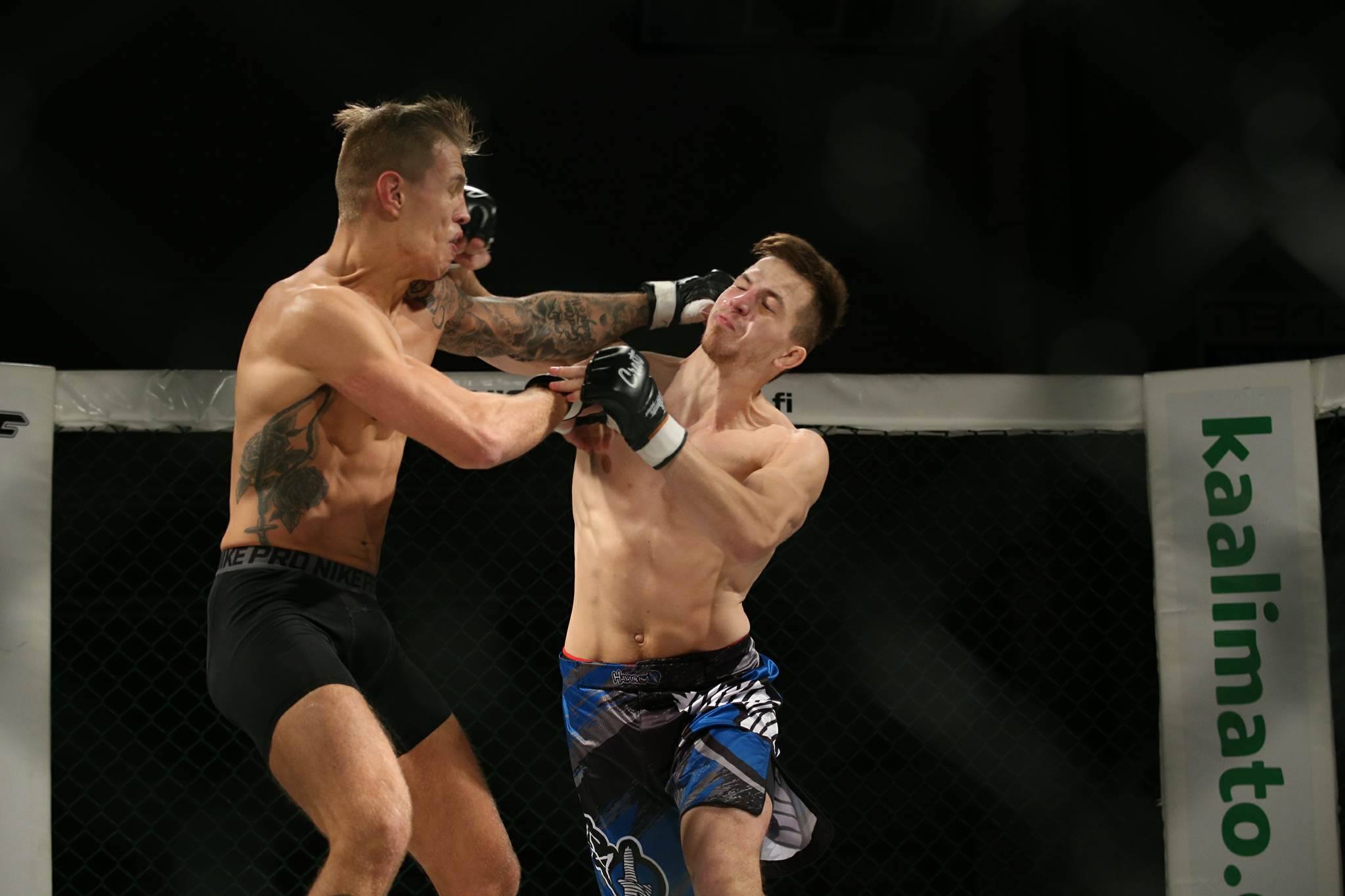 Round 3: Koivuniemi with big shots in the start. Putkoneb still pushing forward. Putkonen lands a jab and then goes for another low kick.
A couple more jabs, but Koivuniemi survives the onslaught. Koivuniemi throwing heavy, but Putkonen slipping well. Putkonen landing more volume, but Koivuniemi's strikes are very heavy.
Koivuniemi's nose is now bleeding. This is turning into a stand up war as there is two minutes left. Will it go the distance?
Koivuniemi landing some knees from the clinch, but they are mostly blocked by Putkonen. Knees are countered with uppercuts from Putkonen. Very late in the round Koivuniemi lands elbows and then the fight ends.
Winner: Koivuniemi by unanimous decision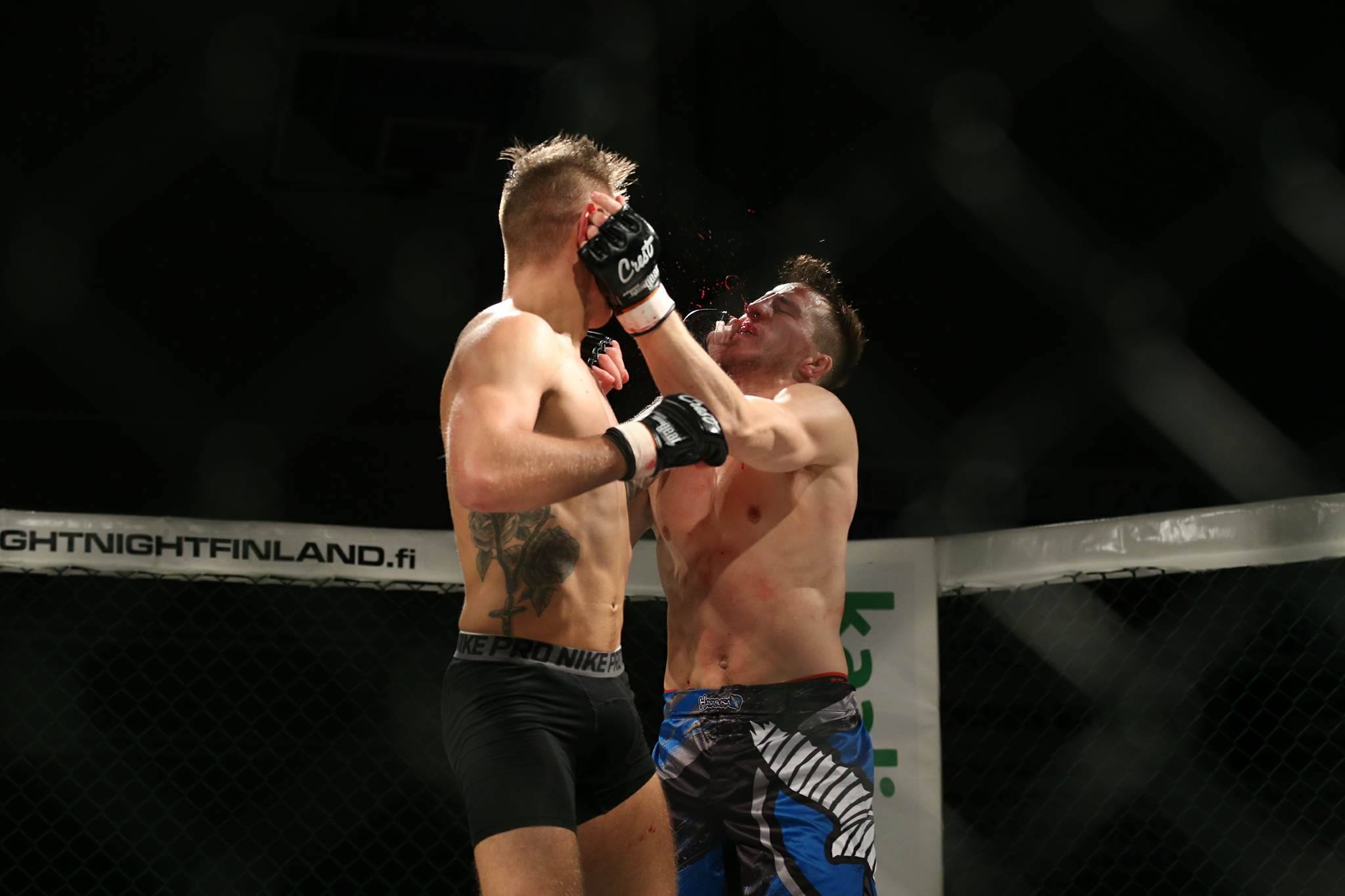 Mika Kuronen, FFG vs Mikko Ahmala, Hardknocks Helsinki
Round 1: Ahmala starts with a kick to the body. Kuronen shoots, but Ahmala stuffs it.
Ahmala misses a roundhouse kick. Ahmala seems to be throwing with bad intentions, but thus far Kuronen has blocked most. Kuronen shoots again, this time successfully. Half guard.
Kuronen dropping short elbows from top. Closed guard now. More strikes from Kuronen as Ahmala is still forced to stay on his back.
Round 2: Ahmala misses his first combo attempt. Kuronen seems to be stalking for a TD. Ahmala lands a knee to the body. Kuronen shoots, Ahmala evades and lands a huge knee! Kuronen is rocked and Ahmala lands more. Legs go wobbly, but Kuronen survives.
Soon Kuronen shoots and gets the take down! Closed guard.
Kuronen advances to half guard now. Ahmala goes for a heel hook, but Kuronen does well to defend it. Kuronen also dropping some heel kicks to the ribs of Ahmala now.
A lot of time in the round is spent in the 50/50 position while Ahmala is fishing for a heel hook. It's a close round to score for sure!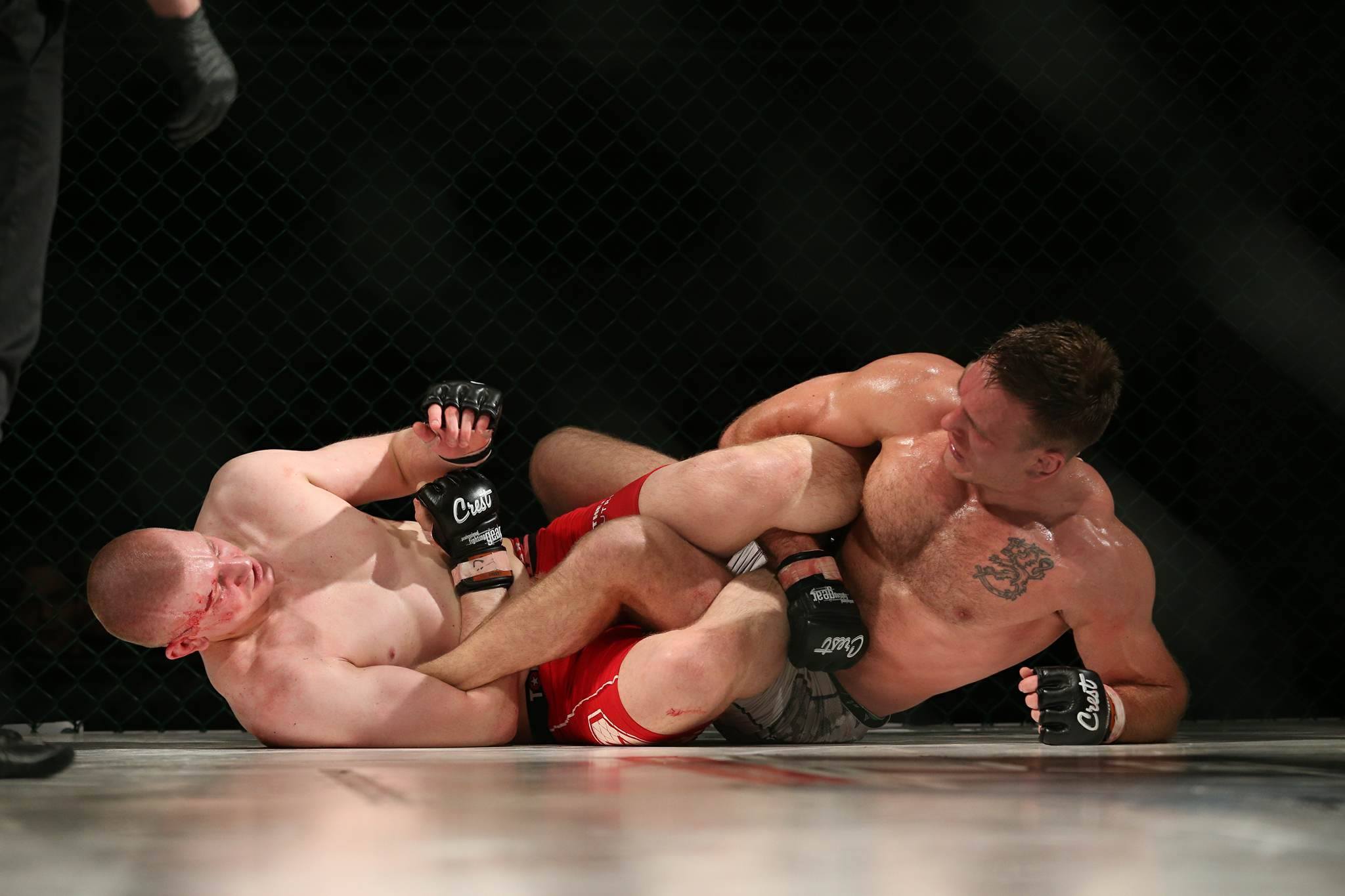 Round 3: Ahmala fires off a huge right hook which lands, but Kuronen seems ok. Kuronen shoots, Ahmala sprawls directly to mount! Moves on to back control and body triangle.
Ahmala goes for the neck, it's looking tight! Kuronen survives and then smartly goes for wrist control to protect his neck. Ahmala starts pounding Kuronen, but somehow the Turku based fighter still hangs on!
Kuronen then reverses as there is one minute left. Kuronen now in side control. Then Ahmala reverses and is now on top! What a fight!
Kuronen manages to turn it around once more just before the fight ends.
Winner: Ahmala by unanimous decision
Niko Myllynen, RNC vs Toni Lampinen, MMA Rauma
Round 1: Myllynen falls to the ground right in the start as he slips from the canvas. Lampinen lands at least five heavy kicks to the lead leg of Myllynen very early in the round.
Lampinen throws Myllynen to the ground with a hip toss, but both fighters are immediately up again. Myllynen with heavy knees to the thigh of Lampinen as he is pushing Lampinen against the cage.
Myllynen now with a lot of momentum as he charges forward with strikes. Myllynen hits Lampinen with a groin shot, who quickly recovers. Now Lampinen lands heavy strikes, but is pushed against the cage by Myllynen. Lampinen takes Myllynen down with an underhook and gets side control. Myllynen soon up again and fighters exchange very heavy punches just before the round ends.
Round 2: Myllynen again with low kicks, but Lampinen goes for a superman punch! Myllynen evades the danger and pushes Lampinen against the cage.
Lampinen controlling the back as they are standing against the cage. Gets a partial take down and takes the back mount now with both hooks in. Lampinen throwing elbows from back mount. Myllynen lands on the ground and Lampinen seeks for an RNC constantly. Myllynen now trying to shake Lampinen off and succeeds.
Myllynen now on top in the half guard of Lampinen. Myllynen dropping elbows, Lampinen restores closed guard, but Myllynen's insane ground and pound is too much! Ref stops the fight and that's all she wrote.
Good fight, good night.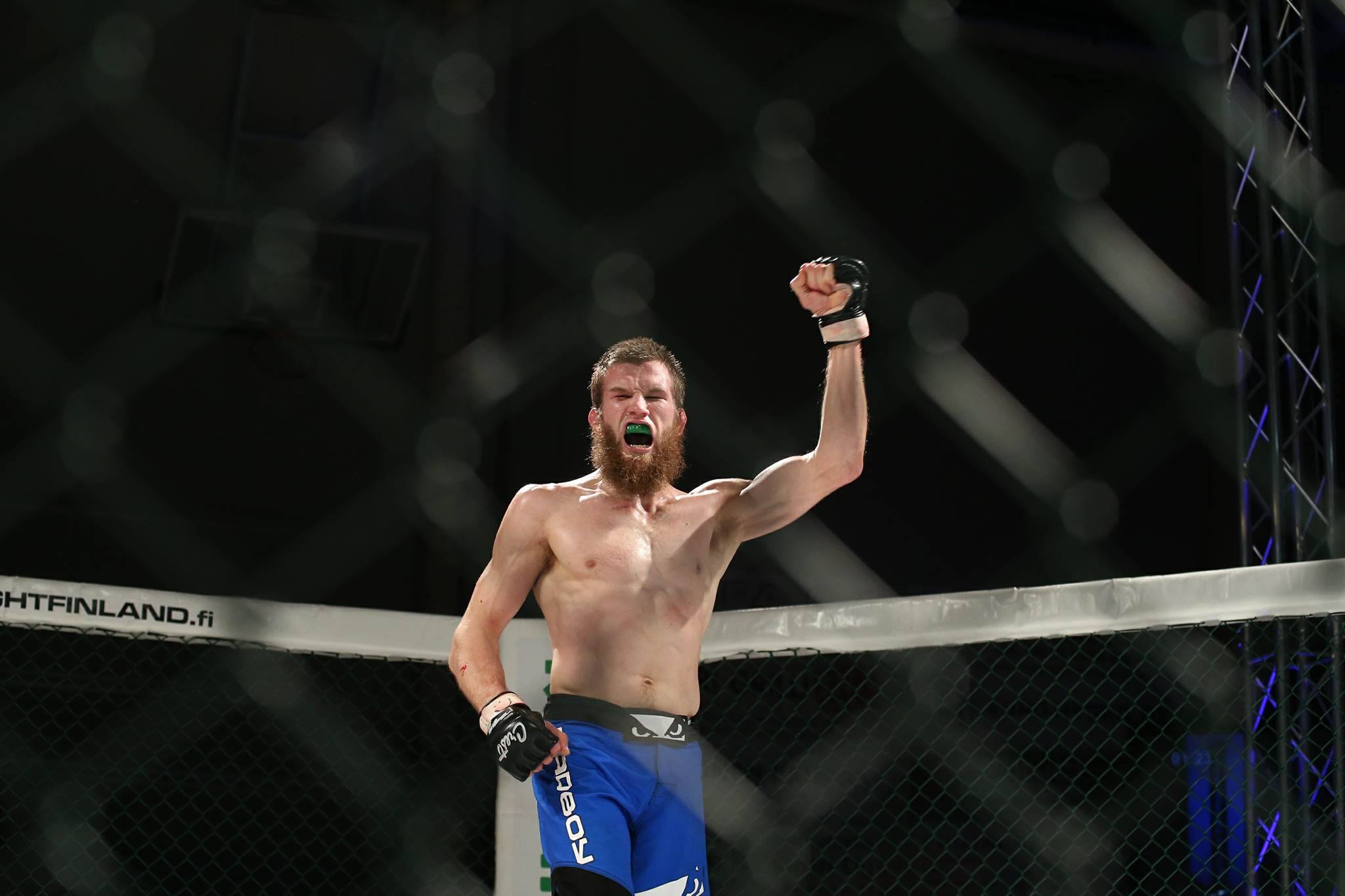 Winner: Myllynen by TKO