Cage Challenger Tampere takes place tonight and MMAViking.com is cageside to cover the event. Espoo Ringsharks' duo Joni Salovaara and Mikael Silander are headlining the card, with featherweight Salovaara (13-7) battling Frenchman Nicolas Joannes (12-8) in the main event and "the Hulk" locking horns with Germany based Bulgarian Dimitar Kostov (2-1).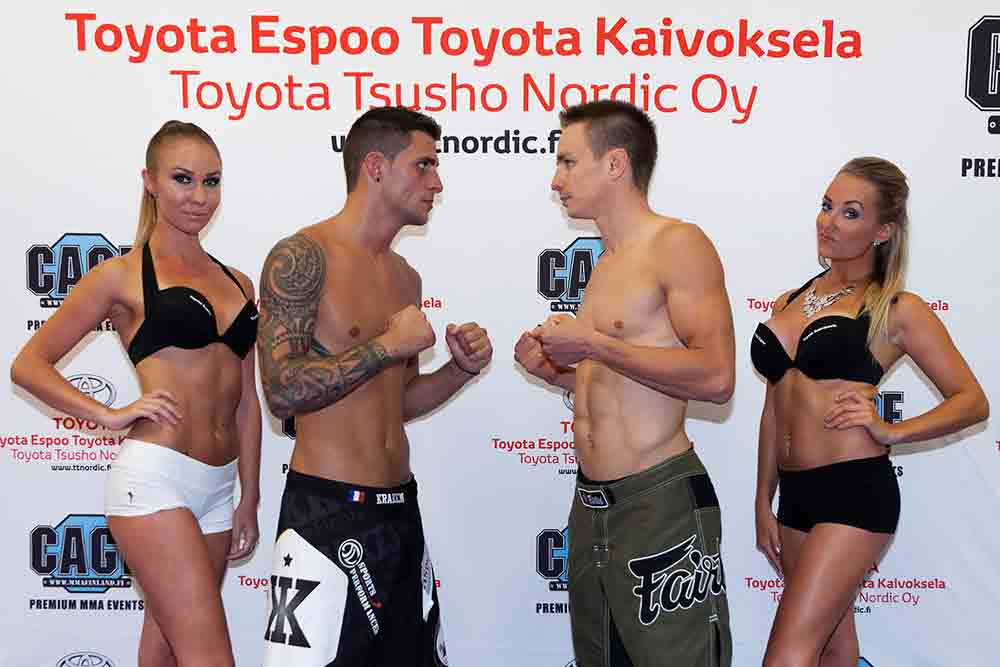 Live Results and Play-by-Play
The doors open at 17:00 local time, and fights start at 18:00.
AMATEUR MMA
Atte Ala-Kortesniemi, RNC, Finland vs Aleksi Lukkarinen Team Letic/Barreto Lahti (77,1kg)
Aleksi Lukkarinen wins via Unanimous Decision.
Toni Toivanen RNC, Finland vs Hannu Nylund, Team @Letic/Barreto Lahti (77,1kg)
Hannu Nylund wins via Unanimous Decision.
PROFESSIONAL MMA
Janne Rantanen, Espoon Fightfarm, Finland vs. Dan Gibbon, England (69 kg)
Round 1
Gibbon emerges to a respectful amount of applause, and the Finn, Rantanen, emerges to a roaring crowd. The two touch gloves and Gibbon attacks first with a front kick. Rantanen swamps him with a flurry and Gibbon answers with a takedown, only to find himself locked in a tight armbar. The referee has seen enough and only mere seconds in the bout is stopped.
Ville Heikkonen, Espoon Kehähait, Finland vs. Juhani Aho, Team Botnia Punishment, Finland (69 kg)
Round 1
Aho and Heikkonen take to the cage. Aho opens with a heavy right, then the two attempt to touch one another with the jab, until Heikkonen shoots for a takedown. The two fight for position with Heikkonen in a standing half-guard, before Heikkonen drops a heavy right hand on Aho and takes his back in the scramble. Another scramble ensues and this time Aho ends up on top, pounding Heikkonen with hard shots. Another scramble results in the two both fighting for kneebars but Heikkonen comes in first in this race and secures the submission.
Winner by submission at 2 minutes and 53 seconds of round 1, Ville Heikkonen.
Kai Karar, MMA Team 300, Finland vs. Abdourahmane Seye, France (77,1 kg)
Round 1
Kai Karar emerges to rythmic clapping, the hometown hero. The two touch gloves and The Frenchman opens up with a hard leg kick. A flurry from Seye pushes Karar to the cage and he wings a hard right hand that connects. Karar reverses him, with dual underhooks, and then is reversed himself and eats a shot below the belt. The action is resumed and Karar hits a blast-double, taking his French adversary to the canvas against the cage. A big right hand lands for the Finn, followed by another. Karar passes to half guard, then again to side control with himself between the fence and his opponent, but Seye is out and up on his feet in no time. Karar cares not for the will of his opponent, and instead imposes his own by securing his arms around the body and tossing Seye to the mat. Karar again in side control and just as the ref calls for action, Karar lands a hard left elbow to the skull of his foe. Briefly Seye regains guard, but Karar takes his prefered side control again with ease. The crowd roars as Karar ends the round with punctuating elbows.
Round 2
The two again touch gloves, though tentatively. Seye throws a left hook and lands, then Karar hits a jumping knee to the sternum as Seye rushes forward. Seye has underhooks, but Karar appears the more powerful man and holds him to the cage, throwing knees. Seye cries out as one goes low and is given time to recover. The action resumes in the center and Karar throws a high kick which lands on the arm of his opponent, then shoots for a double and secures it once more. A left hand over the top, followed by a matching right from Karar who is in Seye's guard. Elbows off the back land for Seye. A looping elbow glances off the gloves of Seye, but the 10th Planet student postures and lands 2 consecutive shots. The ref stands them up after a brief period of inactivity and Seye wings a heavy right-left-right hook to push Karar to the fence. Karar covers up and is taken down by the Frenchman. Seye resides in Karar's halfguard briefly but Karar regains guard then explodes for an armbar that fails, but Karar is able to scramble and regain the top position, where he finished the round. Karar appears blooded, the top of his head and neck stained red, and both men showing signs of exhaustion.
Round 3
Round three opens with a takedown for Seye, who immediately secures a pass to half-guard and begins to rain elbows down on his Finnish foe. Karar is overwhelmed and taking big shots, and the referee has seen enough, the fight is called to an end by referee stoppage.
Winner by TKO at 1 minute and 5 seconds of third round, Abdourahmane Seye.
Saku Heikkola, Heracles, Finland vs. Lamine Talbi, Belgium (93 kg)
Round 1
Lamine Talbi, the Belgian, enters the cage this evening to an aggressive rap and techno fusion, and Heikkola follows, heralded by his anthem "Shipping Up To Boston" by Dropkick Murphys. The two fighters touch gloves and the round begins. Heikkola opens with a huge kick to the body of the Belgian fighter, and follows with and inside leg kick. Once more the kick lands to the body for the Finn and Heikkola shoots and takes Talbi down. Talbi scrambles and the two are on their feet once more. Heikkola takes Talbi to the cage and looks for a takedown, but Talbi instead secures on of his own. Heikkola scrambles, reaching his feet, then looks for a standing guillotine. He finds it and applies pressure, but Talbi holds on and the Finn releases his deathgrip. Heikkola once more ties up with the Belgian and searches for another arm-in Guillotine choke, but once more fails to complete it. Talbi turns the corner and presses Heikkola to the fence, landing with a solid right elbow. Heikkola creates space and throws a kick to the body, but slips and Talbi is on top of him briefly before Heikkola can start a scramble. Talbi pushes Heikkola to the fence once again, but Heikkola is landing powerful elbows with his back to the cage. The round ends in this fashion.
Round 2
A kick opens round 2 for Heikkola, but Talbi scores a takedown. Heikkola creates a scramble and escapes to his feet, pushing Talbi to the cage, content to fight in the clinch with short knees to the inside thigh. Talbi escapes and hits Heikkola with a right hand, but the Finn counters with his own right to the body. Talbi seeks a takedown and achieves it, easily slipping into halfguard. Heikkola escapes to his feet and tags Talbi with a left to the body followed by the same to the head. A brief pause as the two clinch, then it becomes apparent Talbi has absorbed a blow below the belt. He is given a second then resumes the action. lands with a heavy right hand to end the round.
Round 3
The action resumes and the 2 clinch once more, Heikkola feeding Talbi 2 quick left hands before securing a toss from the clinch to and on top, raining heavy lefts on Talbi as he struggles to his feet, then pounding his sternum with knees. A short uppercut from the Finn lands from the clinch, and then the two separate. An inside legkick is checked by the Belgian. Heikkola lands with a liver kick, but Talbi returns with a leg kick and shoots for a takedown which he secures. Talbi stands from Heikkola's halfguard, and begins to kick at his downed opponents legs. Upkicks from Heikkola land with little success, and as he attempts to rise the Belgian swarms him. Talbi holds top control on Heikkola's back for a brief moment before Heikkola is able to shake him off and get to his feet, once more pressuring the Belgian against the cage. Talbi reverses but does nothing with it and the ref separates the two. A long right lands for Heikkola and then Talbi shoots for a takedown. Heikkola hits him with elbows, but the Belgian secures the takedown to end the round.
Heikkola wins by unanimous decision.
Mikael Silander, Espoon Kehähait, Finland vs. Dimitar Kostov, Bulgaria (56,7 kg)
Round 1
Kostov emerges lookong tentative at first, but lands a stiff jab, then clinches. Silander escapes and kicks Kostov hard to the body. Again. Silander takes the center of the cage and sprawls a shot from Kostov handily. Silander holds on to the neck as Kostov stands and feeds him a ruthless knee before the two break and Silander takes the center once more. Silander throws a vicious kick and the resounding crack means it went low. Kostov falls to the mat with a scream of agony.
The ref resumes the action after the low blow.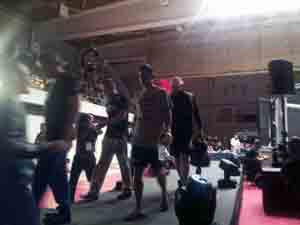 Kostov shoots and Silander fends it off but is reversed and instead finds his back on the mat. He scrambles but only manages to give up his back and Kostov hits him with a few shots, attempting to flatten him out before the round ends.
Round 2
Silander once more in the center, Kostov shoots and eats a hard knee, but completes it with a slam.Silander escapes to his feet using a guillotine to aid him but nothing comes of it.
The exchange kicks to the body as Silander gains the center. Kostov shoots, but Silander is able to defend and the two make it to their feet where Silander eats a kick to the body. Kostov comes up short with a hook uppercut combination but succeeds with the kick.
Kostov kicks again but Silander kicks his leg out and pounces, catching the Bulgarian in a guillotine as he stands, and securing the submission for the finish.
Silander wins by second round submission (guillotine).
Joni Salovaara, Espoon EspoonKehähait, Finland vs. Nicolas Joannes, France (65,8 kg)
Round 1
Head kick KO for the Finn Salovaara!  It's over and the crowd goes crazy.