Cage Warriors Fighting Championship heads to Scandinavia for the very first time this Saturday night in Copenhagen, Denmark. MMAViking.com is live at the Ballerup Super Arena for pictures, play-by-play and video. Check results from the Nordic stacked undercard here of professional and amateur bouts as they happen.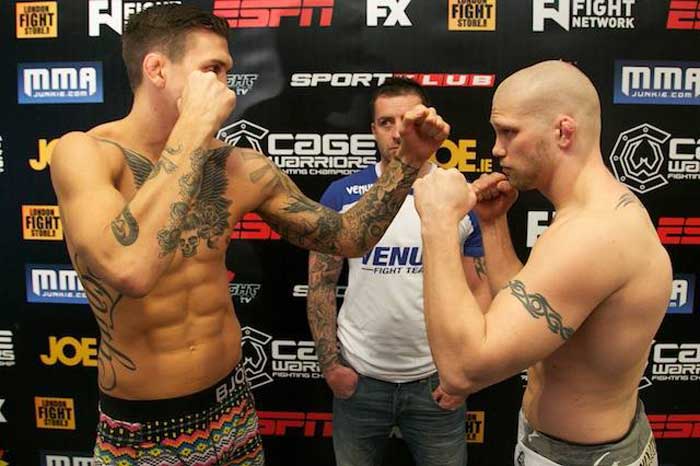 Fight Card
UNAIRED AMATEUR BOUTS
Anna Elmose (Rumble Sports. Denmark) vs Sinead Kavanagh (SBG Ireland, Ireland)
Round 1: Elmose got a lot of cheers, from the crowd. Spotted Nicolas Dalby in the crowd. He's out to support his teammate from Rumble Sports. Elmose got the best start, getting an early takedown. The fight got to a bit of stalemate here, with Elmose not being able to improve her position much and Kvanagh just holding on. The Irish corner was clearly hoping for a standup, which they also got. In the standup Elmose went for the clinch while Kavanagh tried to create distance to get some combinations in. During the last ten seconds Elmose got a couple of good shots in, but overall Kavanagh looked a bit better in the standup.
Round 2: Kavanagh keeps controlling the standup. Getting more good combinations in and Elmose only getting in a few good shots. Elmose tries to get the clinch or takedown, but can't get close to her opponnent; Kavanagh has a clear reach advantage. Kavanagh lands more good combinations and keeps Elmose away. Eventually Elmose gets a hold of Kavanagh, but to no avail: Kavanagh kept control of the rest of the fight. But a bit surprisingly, for me at least, Anna Elmose takes the win by decision.
Anna Elmose wins by majority decision
Jon Østergaard (Rumble Sports, Denmark) vs Mathias Smedsted (Fightcenter Herning, Denmark)
Early takedown by Smedsted. After a bit of scrambling, Østergaard goes for a couple of leglocks. He does not submit Smedsted, but it's enough of a threat to get Smedsted to stand up again. Smedsted tries again to attack Østergaard who is still on his back, but another leglock attach turns the tide, and Østergaard is suddenly on top. The two fighters keep scrambling on the ground and switches positions. During the last minute of the fight, Østergaard ends up on top, and gets a hold of Smedsteds arm and secures a round one win by armbar.
Jon Østergaard wins by armbar in the first round
Dan Dahl (Aalborg Martial Arts, Denmark) vs Hamuza Bukenya (Fightgym.dk, Denmark)
Bukenya, has Morten Djursaa in his corner, who fought Nicolas Dalby in his previous fight. The two guys keeps the fight on the feet and exchange shots. Bukenya gets some good legkicks in. Dahl decides to go for a clinch attempt, but Bukenya defends for some time. However, Dahl is relentless and secures a takedown after a clinch up against the cage. In the scramble up against the cage, Dahl gets a hold of Bukenyas head and sinks it in for a win by guillotine choke.
Dan Dahl wins by guillotine choke in the first round
UNAIRED PRELIMS
Haci Firat Dogan (Sweden) vs. Mathias Lodahl (Denmark)
The two guys get in to a clinch early on. Dogan presses Lodahl up against the cage and looks for a takedown. Lodahl gets in control again and starts clinching. Looks like he hit Dogan with a knee to the forehead, but it didn't hurt the swede. Lodahl goes for a takedown, with a huge slam on Dogan. But the Swede gets up again. Lodahl gets another big slam in on his opponent and gets a hold of the neck of Dogan and clinches in a rear naked choke.
Mathias Lodahl wins by rear naked choke in the first round
Binh Son Le (Sweden) vs. Shamal Tashkilot (Denmark)
Round 1: Got in to this fight a bit late after an interview with Lodahl. The two fighters were still on their feet at this point, with Tashkilot going for a clinch attempt. Tashkilot goes for a big slam and looks for the rear naked choke. But Binh manages to fight out of it and get back up. Tashkilot hangs on and once again secures a slam and tries to get a submission. But the round ends.
Round 2: Like the first round, Tashkilot goes after the clinch and the takedown. He presses Binh up against the cage and gets him to the ground but is unable to keep him down. Eventually, Binh gets a takedown of his own but has a hard time improving his position. He keeps active enough, so the referee does not stand them up. Binh gets in a few shots and elbows before the round ends.
Round 3: The two fighters keep it standing up for some time, exchanging punches.  Neither of them goes all-in in this round and for some reason Tashkilot seems reluctant to go for the takedown in this round. But he got in some good shots. During the last 10 seconds, they go to the ground but the time rounds out and we have to wait for a decision.
Shamal Tashkilot wins by unanimous decision
Rioo Ibrahim (Sweden) vs. Alexander Jacobsen (Norway)
Rioo won pretty fast by rear naked choke.
Winner in the first round by rear naked choke: Rioo Ibrahim
FACEBOOK PRELIMS
Emma Delaney (England) vs. Lina Akhtar Lansberg (Sweden)
Round 1: Delaney gets the takedown early and looks for a rear naked choke. This went on for the majority of the round, but Akhtar defended well and avoided a first round loss.
Round 2: Early takedown from Delaney once again. She works hard to improve her advantage. Lina turns it around at 2:30 to get on top. The referee decides to stand them up with 30 seconds remaining.
Round 3:  Emma has a huge bump on her forehead coming into the round. Lina gets on top and finishes the fight by TKO.
Winner by TKO in round 3: Lina Akhtar Lansberg
Håkon Foss (Norway) vs. Per Franklin (Sweden)
Franklin got a kick in early on, that landed straight in Franklins groin. Franklin quickly recovered though. Franklin took Foss down, but Foss wrapped his legs around the neck of Franklin and won by triangle choke.
Winner in the first round by triangle choke: Håkon Foss
Jussi Halonen (Finland) vs. Frodi Vitalis Hansen (Denmark)
The fighters clinch up early on, with Halonen pressing Hansen up the cage. Hansen trying to get in some kicks to the head. Both fighters got a takedown in during the first half of the round, but neither got much out of it. Frodi got another takedown doing the last 30 seconds of the fight. When Halonen got up, Hansen kicked him in the head on his way up, and totally rocked the Finn. It ended up being the end of the fight. The ref deemed the kick to be an illegal blow to the head of a downed opponent.
Winner due to disqualification: Jussi Halonen.
Stay tuned for exclusive fight photos and post-fight video interviews.